How To Book FOO FIGHTERS For Your Event!
Foo Fighters may be available for your next special event!



Hits include: "All My Life", "Best of You",
"Long Road to Ruin", "Let It Die", "Resolve",
"Learn To Fly", "Something From Nothing",
"Rope", "The Pretender", "Walk", "Wheels",
"No Way Back", "These Days", "This Is A Call",
"Outside", "Bridge Burning", "Back And Forth",
"Congregation", "Times Like These", "My Hero",
"Everlong", "Breakout", "I'll Stick Around",
"Monkey Wrench", "Big Me", "Stacked Actors",
"Walking After You", "Darling Nikki", "Low",
"St Cecilia", "Next Year", "Baker Street",
"DOA", "The Feast And The Famine",
"Miracle", "Keep The Car Running"
"Outside", "Saint Cecilia", "Run",
"Love Dies Young", "No Son of Mine",
"The Sky Is a Neighborhood",
"The Line", "Shame Shame",
"Waiting on a War", "Making a Fire".
How to Hire FOO FIGHTERS For Your Event!
Popular requests:
BOOKING FEE (booking price, booking cost).
GRAMMY AWARD winning Foo Fighters are an American rock band formed in 1994 in Seattle, Washington.
Foo Fighters was founded by former Nirvana drummer Dave Grohl as a one-man project, following the dissolution of Nirvana after the suicide of Kurt Cobain.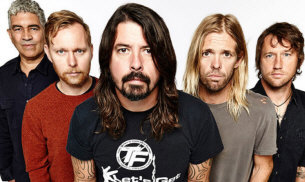 Hire Foo Fighters for your festival or concert plans!
The group took its name from foo fighter, a nickname coined by Allied aircraft pilots for UFOs and other aerial phenomena.
On June 1, 2017, their single "Run" was released. Run topped the US Billboard Mainstream Rock Songs chart the following month. Concrete and Gold was officially released on September 15, 2017. The album is noted as deriving influence from Pink Floyd, Led Zeppelin, and The Beatles. Concrete and Gold also features Justin Timberlake on vocals for "Make It Right", Shawn Stockman of Boyz II Men on backing vocals for the song, "Concrete and Gold", and Paul McCartney on the drums for "Sunday Rain".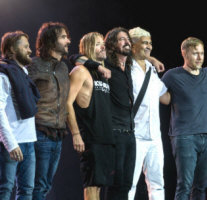 Hire Foo Fighters for your special event!
Over the course of their career, Foo Fighters have won 12 Grammy Awards, including Best Rock Album four times. They were inducted into the Rock and Roll Hall of Fame in 2021, their first year of eligibility.
Foo Fighters have been described as grunge, alternative rock, post-grunge, hard rock, and pop rock. The band members meld melodic and heavy elements.
Their discography includes ten studio albums, ten extended plays (EPs), six video albums, and 57 singles (including promotional releases).
Hire Foo Fighters for your party or event!
Foo Fighters may be available for your next special event!
Book Foo Fighters, now!
For other great suggestions for booking music acts, look here.

For more suggestions, proceed to the next page.
Click here --
Alternative Music Roster
Or, click on one of the below links --
Music Menu
Fast Index
Entertainers Directory
Home