How To Book FRANKIE J For Your Event!
Frankie J may be available for your next special event!



Born in Tijuana, Mexico, but raised in San Diego, Frankie J has been making music since his teenage years, both as a solo artist and as a member of Los Kumbia Kings. In 2003, he released the R&B-flavored album "What's A Man To Do," finding a hit single with the track "Don't Wanna Try."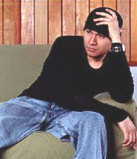 Shortly thereafter, he dropped a self-titled Spanish LP, which furthered his growing rep and cross-cultural appeal. In early 2005, Frankie J scored another hit with the romantically minded single "Obsession (No Es Amor)." That was followed with the full-length "The One," featuring collaborations with Irv Gotti, Lil Flip, Baby Bash, and Mario Winans.
Frankie and his family moved to San Diego, California, when he was 2. Both his grandfather and father were musical and as a young child Frankie loved to sing and would often entertain his family. Spanish was Frankie's first language and the first music to which he was exposed was the rhythmic sounds of his native land such as Cumbias Rancheras and Bandas. "Spanish music and the language are really my roots," Frankie offers, "but I also listened to the same stuff other kids liked like Run-DMC, Kurtis Blow, the Fat Boys and Michael Jackson. When I was 8, I was really into Michael Jackson and breaking, and as I got older I was really into artists like Brian McKnight, Stevie Wonder and K-Ci & JoJo. You know, the real honest R&B."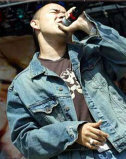 Encouraged by his family, Frankie J began to develop more of an interest in singing and by the time he was in high school he had begun participating in talent shows and performing at school functions, which was his first taste of what it's like to sing in front of an audience. The experience thrilled him and motivated him to pursue music seriously. So seriously that, by the time Frankie was 15, he was signed as a Latin Freestyle artist by a small dance music label in Canada.
Frankie J recorded a few singles and his energetic sound garnered a small following and soon bigger labels came knocking. In 1997 Frankie signed with the now defunct Hola Recordings, the brain-child of dance music legend and producer Jellybean Benitez. Unfortunately for Frankie, his album never saw the light of day and in 1999 he left Hola to join the already established Latin pop group Los Kumbia Kings. Sharing lead vocal duties with another singer, Frankie J would perform the group's English language songs, wrote many of their more R&B influenced hits, toured, and performed with the popular act for three and half years. Frankie appeared on television, sang at the Billboard Latin Music Awards and traveled the world. "It was an amazing experience, but I knew that in my heart I wanted to do my own material and being in a group made that impossible."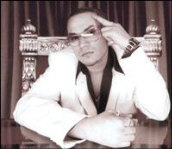 The desire to make it on his own motivated Frankie J to leave the Grammy-nominated group and test the waters as a solo artist. Frankie entered the studio in the winter of 2003 and completed "What's A Man To Do?," his solo debut, in a month. Soon his single, "Don't Wanna Try," began to create a buzz at radio, retail, and video outlets. For this talented artist, the affirmation of his efforts was a dream come true, "This is what I've always wanted to do and to have people like it is wonderful."
Asked what he wants fans to hear when they check out his music, Frankie replies, "The truth behind somebody's life. My songs are all very real and in many ways I worked out a lot of the stress and emotions of my own life through my music. I deal in situations that are close to the heart and I know that things like that are timeless."
Hit songs include --
Obsession (No Es Amor)
How To Deal
Don't Wanna Try
Pensando En Ti
Ya No Es Igual
More Than Words
That Girl
Daddy's Little Girl
We Still
Tienes Que Creer En Mi
Frankie J may be available for your next special event!
Watch videos:
YouTube

Genre: R&B
Genre: Latin
Styles:
.Adult Contemporary. / AdultContemporary
.Contemporary R&B. / ContemporaryR&B
.Adult Contemporary R&B. / AdultContemporaryR&B
.Latin Pop. / LatinPop


Years active:
x90s, x00s, x10s, x20s

Born: ..in Mexico
Born: ..in Tijuana
Born: Dec 7, 1975

Raised: ..in California
Raised: ..in San Diego

Based: ..in US
Based: ..in California / based nCalifornia
Based: ..in San Diego / based SanDiegoCA

Tag: FormerMemberOf