How To Book FRANZ FERDINAND For Your Event!
Franz Ferdinand may be available for your next special event!



Hits include: "Do You Want To",
"Take Me Out", "No You Girls",
"Always Ascending", "The Fallen",
"Ulysses", "Right Action",
"Love Illumination", "Evil Eye",
"Bullet", "Fresh Strawberries",
"Feel the Love Go", "This Fire",
"Glimpse of Love", "Billy Goodbye".
How to Hire FRANZ FERDINAND For Your Event!
Popular requests:
BOOKING FEE (booking price, booking cost)
.
Franz Ferdinand are a Scottish rock band formed in Glasgow in 2002. The band is one of the more popular post-punk revival bands, garnering multiple UK top 20 hits. They have been nominated for several Grammy Awards and have received two Brit Awards—winning one for Best British Group—as well as one NME Award.
Stylistically, the band has been labeled as "indie rock, post-punk revival, dance-punk, dance-rock and art rock."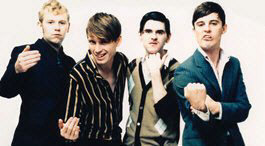 Hire Franz Ferdinand for your festival or concert plans!
Franz Ferdinand has covered a number of songs including the LCD Soundsystem's "All My Friends" which appeared as a B-side on the single and LCD Soundsystem covered their song Live Alone in return. Franz Ferdinand also covered Gwen Stefani's top 5 hit "What You Waiting For?", Blondie's "Call Me", Britney Spears' "Womanizer" and David Bowie's song "Sound and Vision", featuring Girls Aloud on backing vocals, for a compilation disc marking the 40th anniversary of BBC Radio 1, along with other leading artists.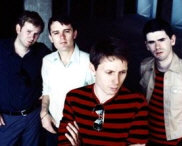 Hire Franz Ferdinand for your special event!
In 2004, their single "Take Me Out" reached No. 32 on the Billboard 200 and sold over a million copies in the United States. Franz Ferdinand received a generally strong positive response from critics. NME rated it 9 out of 10 and said that the band was the latest in the line of art school rock bands featuring the Beatles, The Rolling Stones, The Who, Roxy Music, the Sex Pistols, Wire, Travis and Blur.
In 2005, the band performed "Take Me Out" as a live medley with Los Lonely Boys, Maroon 5, Black Eyed Peas and Gwen Stefani at the 47th Annual Grammy Awards, in which "Take Me Out" was nominated for Best Rock Performance by a Duo or Group with Vocal and Franz Ferdinand was nominated for Best Alternative Album. "Take Me Out" was featured on the video games NHL 2005, Madden NFL 2005 and the breakthrough game Guitar Hero. The album has sold around 3.6 million copies worldwide.
In 2012, Franz Ferdinand performed at Lollapalooza alongside Red Hot Chili Peppers, The Black Keys, Jack White, Florence + the Machine, The Shins, Frank Ocean, The Head & the Heart, Alabama Shakes, Walk Off the Earth and Of Monsters and Men.
On the evening of March 9, 2022, Franz Ferdinand performed at Night for Ukraine, a fundraising benefit held at the Roundhouse in north London, with the funds raised being donated to the Disasters Emergency Committee appeal, to provide aid to people fleeing Ukraine following the Russian invasion.
Their discography includes five studio albums, one remix album, two compilation albums, two live albums, one video album, six extended plays, 26 singles, four promotional singles and 31 music videos.
Hire Franz Ferdinand for your party or event!
Franz Ferdinand may be available for your next special event!
Book Franz Ferdinand, now!
For other great suggestions for booking music acts, look here.

For more suggestions, proceed to the next page.
Click here --
Alternative Music Roster
Or, click on one of the below links --
Music Menu
Fast Index
Entertainers Directory
Home