Visit new page >>>
THE FRAY
How To Book THE FRAY For Your Event!
The Fray may be available for your next special event!



How to Hire THE FRAY For Your Event!
The Fray is an American rock band from Denver, Colorado, formed in 2002 by schoolmates Isaac Slade and Joe King. Their debut album, How to Save a Life, released in 2005, was certified double platinum by the RIAA and platinum in Australia, Canada, New Zealand and the United Kingdom.
Guitarist King and Slade, who plays piano, both share lead vocal and songwriting duties. "Although we started working on our songs separately," says Slade, "most of our new songs are true collaborations."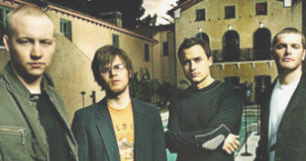 Hire the Fray to entertain at a company's special event!
In less than a year, The Fray went from being virtually unknowns to the top of Denver's A-list. The Fray's work, both on stage and in studio, generated an accelerating buzz unlike anything Colorado had seen before. Word of mouth caused people to check them out and once they did, the reaction was overwhelmingly positive.
The Fray garnered an early following through impressive area gigs and the support of local radio, which led to a listener-driven campaign to get the band a record contract. With strong word-of-mouth, the band won "Best New Band" honors from Denver's Westword magazine and got substantial airplay on two of Denver's top rock stations - the demo version of "Over My Head (Cable Car)" became KTCL's top 30 most played song of 2004 in just 4 months.
Hire the Fray for your festival or concert plans!
The Fray's tight arrangements, haunting melodies and evocative lyrics result in a sound that is extremely polished by any standards. The Fray doesn't fit easily into any niche, and they don't need to: word of mouth has been good enough. The songs stand on their own, no clever marketing or catering to genres necessary.

The first single from "How to Save a Life," "Over My Head (Cable Car)" climbed into the top 10 on the Billboard singles chart, has been certified platinum.
It turns out that The Fray's music has resonated with lots of people: they were one of the most licensed bands of 2006, with their music being featured on Scrubs, Grey's Anatomy, What About Brian, NCIS, One Tree Hill and Bones as well as in HBO's summer promos.
Joe King: "I would say my favorite so far would be the HBO spot and the Grey's Anatomy spot, both using 'How To Save A Life.' I remember last year seeing the Aqualung HBO spot and was shocked and almost jealous by how good it was. I called our managers and asked if we could get a spot like that, and I remember him saying, 'That's a tough one.' When I watched our HBO spot I didn't move, I don't even remember breathing because I had the chills."
Hits include: "You Found Me", "Never Say Never",
"Absolute", "Over My Head (Cable Car)",
"Look After You", "All At Once", "Heartless",
"How To Save A Life", "Syndicate", "Heartbeat",
"Love Don't Die", "Break Your Plans".
Hire The Fray for your party or event!
The Fray may be available for your next special event!
Book The Fray, now!
For other great suggestions for booking music acts, look here.

Genre: Rock 1
Genre: Rock 3
Styles:
.Adult Alternative Pop/Rock. / AdultAlternativePopRock
.American Trad Rock. / AmericanTradRock
.Alternative/Indie Rock. / AlternativeIndieRock
Soft Rock / SoftRock
.Piano Rock. / PianoRock


Years active:
x00s, x10s, x20s
2002-present

Formed: ..in Colorado / formed nColorado
Formed: ..in Denver / formed DenverCO
Formed: in 2002

Based: ..in US
Based: ..in Colorado / based n Colorado