How To Book FUEL For Your Event!
Fuel may be available for your next special event!


On a steamy September night, Fuel front man Brett Scallions stalks the stage of New York's Roseland Ballroom. He clearly enjoys the sight of a packed house, occasionally propping himself precariously on a monitor and playfully taunting the crowd – not surprising for a guy who admits that he loves the freedom of throwing off his guitar and "getting in everyone's face. It's clear that New York fans don't mind one bit.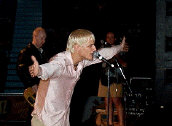 As Fuel lashes into the last caustic song of the set, "Ozone," Scallions closes his eyes and sings with savage ecstasy as thrashing moshers are lifted on raised arms just a few feet away from him. Drummer Kevin Miller is stripped to the waist and sweat-soaked, slamming the skins with carnal rage. Guitarist/songwriter Carl Bell and bassist Jeff Abercrombie, weave around Scallions, creating the glorious wall of electric fury that makes Fuel one of the most explosive hard rock acts to emerge in recent memory.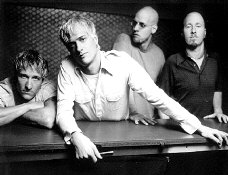 Riding on a wave of success generated from their runaway hit single, the gorgeous and gritty "Shimmer," the guys who made Harrisburg, Pennsylvania a hot music scene have a lot to celebrate these days.
Fuel's debut album "Sunburn" was certified gold and hit the No. 1 slot on Billboard's "Heatseekers" chart. The follow-up single to "Shimmer," the more aggressive "Bittersweet," is riding the active rock and modern charts. The band recorded a new song entitled "Walk The Sky" for the platinum Godzilla soundtrack with Pearl Jam producer Brendan O'Brien.
The guys had their first taste of television, performing on "Late Night with Conan O'Brien." They have played large festivals throughout the country with everyone from the Foo Fighters to Green Day. In October '98, Fuel's "Shimmer" video was nominated for two Billboard Music Video Awards, for Best New Artist Clip in both the Alternative/Modern Rock and Hard Rock/Metal categories.
Most notably, the guys have been overwhelmed by enthusiastic press response. "Breezy melodies with full-out metallic aggression," wrote Rolling Stone, and Entertainment Weekly praised the band's "brutish guitar stylings and familiar, yet contagious choruses." New York Times music critic Jon Pareles caught a live gig and admired how the band played with "passion and precision," noting Fuel's "sharper riffs making way for clear melodies."
"On many occasions Carl and I will walk out into these arenas mid-afternoon before soundcheck," says Miller. "The seats are empty and we just sit there, put our foreheads together and say 'is this really happening to us?' It's like an out-of-body experience."
"Writing is like therapy for me," says Bell. "It helps you decode what's going on in your life." Currently working on new songs while the band tours, Bell admits to spending hours sometimes searching for the right word, the most compelling lyric that matches the melody in his head. "There has to be something that hooks me," he points out. "You have to find it quickly and then slowly flesh out the details."
Carl Bell and Jeff Abercrombie grew up as boyhood friends in a small Western Tennessee town ("Carl's mother used to baby-sit me when I was in diapers," recalls Abercrombie with a smile). Growing up without television in a "two stop light" town, Bell's primary entertainment as a teenager was listening to the 500 vinyl albums his older brother won from a Memphis radio station. "Instead of coming home and watching 'Gilligan's Island,'" says Bell, "I'd throw on a Stones record."
Although both boys started out playing guitar, Abercrombie jokes that Bell slyly convinced him to play the bass "'cause it was cooler." In a town so small that there were only 27 people in Bell's graduating class, the guys found themselves struggling to find fellow musicians. Abercrombie was actually the first to meet Brett Scallions, who grew up in the town of Brownsville, Tennessee and was trying to get by playing small gigs with various musicians.
As a young singer Scallions worshipped the vocals of The Cult's Ian Astbury, but Scallions' own powerful voice resonates with an unique, expressive energy. Fuel finally crystallized when Scallions joined the band on lead vocals and rhythm guitar. The group recorded an eight-song demo cassette which sold nearly 5,000 copies at shows and stores. That first flush of success convinced them that a move to a larger city with greater radio, gig and media options was essential. Although Harrisburg, Pennsylvania may not rank with Seattle or Austin as user-friendly music towns, Fuel made the most of a great location that placed them in a central point near Philadelphia, New York, Baltimore and Washington, D.C.
"We began to build a loyal following," says Scallions. "The fan base supported us from day one and it just grew and grew." In fact, upon the release of the band's self-produced, promoted and financed EP Porcelain, local radio stations immediately jumped on an early version of "Shimmer," garnering the band early airplay, sold-out gigs, positive press and the attention of record companies. Shortly after a gig at the Electric Factory in Philadelphia, Fuel was signed to 550 Music.
At the same time, drummer Kevin Miller befriended Bell, Scallions, and Abercrombie while playing with another East Coast band. After recording "Sunburn" with an outside session drummer, Fuel approached Miller to join them – beginning with a high-profile showcase at New York's C.B.G.B.'s, with a mere six hours of rehearsal time.
"It was my first show and they threw me right in the melting pot," laughs Miller. "I figured that I had honed my skills for years and years for a moment like this, so it was either put up or shut up!"
As gifted musicians and dynamic performers with a gold certified debut album and hits on radio and MTV, Fuel has had a truly meteoric rise through the ranks of up-and-coming rock bands. Now they're hungry to hit the road for their own headline gigs, like their appearance at Seattle's Bumbershoot Festival. All four musicians are quick to confess that they thrive on the adrenaline rush of Fuel's raucous live shows.
"I like to establish to everyone early in the set that you're coming on our ride," says Scallions, "and it's going to be a lot wilder than you expected."
Hit songs include --
Hemorrhage (In My Hands)
Falls On Me
Shimmer
Innocent
Bad Day
Bittersweet
Won't Back Down
Jesus or A Gun
Sunburn
Million Miles
Wasted Time
Other notable songs include --
Innocent
Walk the Sky
Down
Prove
Easy
New Thing
Mary Pretends
Fuel may be available for your next special event
Watch videos:
YouTube

Genre: Rock 2
Genre: Rock 3
Styles:
.Post-Grunge. / PostGrunge
.Heavy Metal. / HeavyMetal
.Alternative Metal. / AlternativeMetal
.Alternative Pop/Rock. / AlternativePopRock
.Alternative/Indie Rock. / AlternativeIndieRock
.Hard Rock. / HardRock


Years active:
x90s, x00s, x10s, x20s
1989-present

Formed: ..in Pennsylvania / formed nPennsylvania
Formed: ..in Harrisburg / formed HarrisburgPA
Formed: in 1989

Based: ..in Florida / based nFlorida
Based: and
Based: ..in California / based nCalifornia
Based: ..in Los Angeles / based LosAngelesCA