Visit new page >>>
FUTURE
How To Book FUTURE For Your Event!
Future may be available for your next special event!



Hits include: "Turn On The Lights",
"Move That Doh", "Where Ya At",
"Neva End", "Xanny Family", "Jersey",
"Same Damn Time", "Commas",
"Fly S**t Only", "Blow A Bag",
"Trap N****s", "Rich $ex", "Stick Talk",
"Real And True", "Real Sisters",
"Magic", "Shhh...", "March Madness",
"Thought It Was A Drought", "I Won",
"Tony Montana", "Go Harder",
"Karate Chop", "Shit", "Honest",
"Move That Dope", "Low Life",
"Fuck Some Commas", "Jumpman",
"Used to This", "Draco", "Selfish",
"Mask Off", "Pie", "Extra Luv",
"Incredible", "You da Baddest",
"Patek Water", "Bum Bum Tam Tam",
"King's Dead", "Fine China", "Wicked",
"Crushed Up", "Jumpin' On a Jet",
"I Won", "First Off", "100 Shooters",
"Love You Better", "Hard for the Next",
"Hold That Heat", "Worst Day",
"Keep It Burnin", "Life is Good",
"Too Easy", "Wait for U", "Trillionaire".
How to Hire FUTURE For Your Event!
Popular requests:
BOOKING FEE (booking price, booking cost)
.
GRAMMY AWARD winning Nayvadius DeMun Wilburn, better known by his stage name, Future, is an American rapper and singer, born and raised in Atlanta, Georgia. Due to the sustained contemporary popularity of his musical style, he is commonly regarded as one of the most influential rappers of his generation.
After amassing a series of mixtapes between 2010 and 2011, Future signed a major record label deal with Epic Records and Rocko's A1 Recordings, which helped launch Future's own label imprint, Freebandz.

Hire Future for your festival or concert plans.

In 2011, Future signed a recording contract with A1 Recordings and Epic Records and released the albums Pluto (2012) and Honest (2014), which contained the platinum singles "Turn On the Lights", "Honest", "Move That Dope" (featuring Pharrell Williams and Pusha T), and "I Won" (featuring Kanye West).

In 2015, Future released the mixtapes Beast Mode (with Zaytoven), 56 Nights, and What a Time to Be Alive (with Drake); the latter included the song "Jumpman". He then achieved critical and commercial success with DS2 (2015) and its singles "Fuck Up Some Commas" and "Where Ya At" (featuring Drake) and followed it up with Evol (2016) and its lead single "Low Life" (featuring The Weeknd).
Future's eponymous fifth album and its successor, Hndrxx, (both 2017) made him the first artist in history to debut two albums in consecutive weeks atop the US Billboard 200; the former contained the international hits "Used to This" (featuring Drake) and "Mask Off".

After departing A1, Future released the albums The Wizrd (2019) and High Off Life (2020), which featured the RIAA certified Diamond single "Life Is Good" (featuring Drake).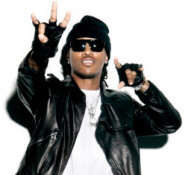 Hire Future for your very special event or occasion.

He released the full-length collaborative projects Super Slimey (2017) with Young Thug, Wrld on Drugs (2018) with Juice Wrld, and Pluto x Baby Pluto (2020) with Lil Uzi Vert.
In 2021, Future achieved his first number-one single on the Hot 100 after a record-breaking 125 entries after featuring with Young Thug on Drake's "Way 2 Sexy". The album, I Never Liked You (2022), spawned his second number-one hit, "Wait for U" (featuring Drake and Tems). The song won a Grammy Award for Best Melodic Rap Performance, while its parent album received a nomination for Best Rap Album.
Among the best-selling musicians, Future's accolades include 2 Grammy Awards.

His discography includes nine studio albums, one compilation album, one collaborative album, 24 mixtapes, two extended plays, and 117 singles (including 61 as a featured artist).
Hire Future for your party or event!
Future may be available for your next special event!
Book Future, now!
For other great suggestions for booking music acts,
look here.

For more suggestions, proceed to the next page.
Click here --
Rap Music Roster
Or, click on one of the below links --
Music Menu
Fast Index
Entertainers Directory
Home