How To Book GAME For Your Event!
Game may be available for your next special event!

(aka "The Game")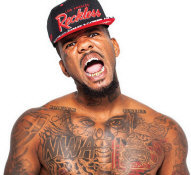 How to Hire GAME For Your Event!
Popular requests:
BOOKING FEE (booking price, booking cost).
Game is from the birthplace of Gangsta Rap, Compton, California. But this is a new, different Westside story, one that joins with the Eastside while paying respects to rap's hardcore pioneers of the '80s, NWA. Game, a former gangbanger, who turned to rap after being shot five times and left for dead, is about peace not war. Having worked closely with Dr. Dre on his debut album, this Game is for real.
"The Game Vol. 1," (Aftermath/G Unit/Interscope), the debut album from Game (a/k/a Jayceon Taylor), announced the arrival of the most significant West Coast gangsta rapper since Snoop Dogg more than a decade earlier. With guest spots from 50 Cent, Nate Dogg and several others, as well as producers from Dr. Dre to Kanye West to Just Blaze and tracks such as "Like Father Like Son," "Church For Thugs," "Dreams," "Where I'm From" and "Westside Story," "The Game Vol. 1" resurrected the truth, spirit and hope of hardcore rap.
"A lot of rap today is bubblegum bullshit that says nothing and means nothing to anybody living in the 'hood," says the rapper with a tattoo of NWA's Eazy-E on his right forearm. "I'm not knocking anybody's hustle but I can't feel what's in hip-hop today. Everybody's rapping but they're not saying anything. NWA, Biggie, 2Pac, Snoop and Jay-Z all had something to say then Biggie, Pac and Eazy died and it was devastating. We almost let rap die until the Great White Hype (Eminem) saved hip-hop and 50 dropped the gangsta wake-up call. I feel like it's my turn now and I can fill the shoes."

Hire Game for your festival or concert plans.
What all three have in common is the guiding hand of Dr. Dre, Compton's own and one of the founding members of NWA. "The best moment I've had in rap was walking into his studio in 2002 and Dre saying he heard a mix tape of my freestyles and wanted to sign me," says Game. "Trying to act cool? I was frozen. I'm still starstruck with Dre. He's been almost 20 years at the top. That I get to soak up the game from a musical genius like him gives me a 20-year head start on everybody else. He's like the father I never had. Everything about a father throwing a baseball to his son in the suburbs, that's what NWA was to me. They were the only role models I had, besides Michael Jordan. Eazy was the father of hardcore and I don't understand why he only gets honorable mention when people talk about rap."
Game's beloved grandmother nicknamed him Game because he was always game for anything – basketball, running track, riding bikes, playing in the streets. Family problems related to his father caused him to be placed in a foster home from the third grade to the ninth grade. "My childhood was f----d up, but it wasn't really that different from anyone else who lived in the 'hood," he says. Soon after he was returned to his mother, one of his older brothers, Jevon, was shot and killed. Game then started running behind another older brother, Big Fase 100, who had been taken in by the Cedar Block Piru Bloods, even though they grew up in a Crip neighborhood called Santana Block on Compton's East Side.

Hire Game for your special event.
Fase tried to keep him away from thuggin', but once it became clear that Game was going to be there, his brother was determined to teach him how to survive on the streets. Then, after graduating high school in 1999, an older adopted brother, Charles, was shot and killed. "People don't know what type of toll that takes on your life," he says. "Especially being young and just fresh out in the world." A one-time star shooting guard for Compton High School who was offered scholarships to various colleges, the 6-foot-4 Game now started gangbangin' hard – car thefts, drug dealing and shootings. Finding him too much to handle, his mother kicked him out of her house.
In 2000, Game and his brother moved into the projects in a nearby city and took over its drug trade. Their success attracted rivals. Late on the night of October 1, 2001, Game was alone in their apartment when there was a knock on the door. Game became victim to a home invasion. "That was the biggest learning experience ever in my life. This sounds crazy, but I appreciate that happening to me, because I'd probably be dead if it didn't. Anybody who gets shot and survives feels lucky. On the other hand I went through so much already that I felt somebody owed me. Now I could live out my dreams."
He sent his brother to buy new copies of all the classic rap albums, East Coast and West Coast – Dre's "The Chronic," Big's "Ready To Die," Jay-Z's "Reasonable Doubt," Ice Cube's "Death Certificate," Snoop's "Doggystyle," 2Pac's "All Eyez On Me," every Kool G Rap record, and anything from NWA. He studied them carefully over the next five months. In December 2001, he rapped for the first time. "I mixed everybody's style into one. That's why some people feel that I sound like I'm from the East Coast even though I rap about the West Coast."
"I'm telling my story. I'm out to please no one but myself. I'm not telling anybody to sell drugs or pick up guns. When I sold drugs it was because it was my last resort, because I had four sisters and an older brother and we were eating Cheerios on Thanksgiving. When I picked up a gun it was because my life was threatened. If you don't want to hear that; then don't listen. I'm not glorifying the life I lived because I wouldn't wish that on anybody. I'm just one human being raised in the 'hood who wanted nothing more than to get out."
His sole regret is that his grandmother – the only person who ever believed he could make it out – passed away before she could see his success, not just in rap but in life: In summer 2003, Game became a father for the first time with son, Harlem Caron Taylor. He says the best moment he's ever experienced was watching his son's mother give birth: "That was some next level s--t. I've never been so happy. I wanted to bring him into the world so much that I was going, 'Come on!'"
There's pride and even optimism for the future. "As humans we grow and the next album will be about how I'm living now - and I'm loving life."
Hit songs include --
Rolex Sweep
Sunglasses at Night
Too Many
Man
Bad Boy
Rescue Me
So Alive
Hold On
Make Peace Not War
That's Not Me
Shutdown
Ladies Hit
SquadMan

Hire Game for your party or event!
Game may be available for your next special event!
Book Game, now!
For other great suggestions for booking music acts, look here.
Listen to music:
YouTube Music | Spotify

Genre: Rap
Styles:
.Gangsta Rap. / GangstaRap
.Hardcore Rap. / HardcoreRap
.West Coast Rap. / WestCoastRap
.Pop-Rap. / PopRap


Years active:
x00s, x10s, x20s

Born: ..in California / born nCalifornia
Born: ..in Compton / born ComptonCA
Born: Nov 27, 1979

Based: ..in US
Based: ..in California / based nCalifornia
Based: ..in Los Angeles area / based LosAngelesCA