Visit new page >>> GARY ALLAN
How To Book GARY ALLAN For Your Event!
Gary Allan may be available for your next special event!



Hits include: "Every Storm (Runs Out Of Rain)",
"Man To Man", "Nothing On But The Radio",
"Tough Little Boys", "Watching Airplanes",
"Pieces", "The One", "Life Ain't Always Beautiful",
"Right Where I Need To Be", "Best I Ever Had",
"It Would Be You", "A Feelin' Like That",
"Smoke Rings In The Dark", "Songs About Rain",
"Learning How To Bend", "Get Off On The Pain",
"Man Of Me", "Today", "She's So California",
"Her Man", "Lovin' You Against My Will",
"It Ain't The Whiskey", "From Where I'm Sitting",
"Forever And A Day", "No Man In His Wrong Heart",
"Living In A House Full Of Love", "I'll Take Today",
"Hangover Tonight", "Kiss Me When I'm Down",
"Please Come Home For Christmas".
How to Hire GARY ALLAN For Your Event!
Popular requests:
BOOKING FEE (booking price, booking cost)
.
Gary Allan Herzberg is an American country music artist. "Just another hat act." Those are words Gary Allan has heard whispered before.
Debuting when he did in 1996, at a time when Nashville was scratching a rash of suburban cowboy hat-wearing newcomers, it was perhaps an inevitable response. But he had the edge of experience.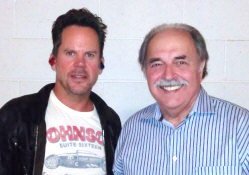 Gary Allan with
Richard De La Font
Having honed an individual style on the honky-tonk circuit in his native California since age 12, Gary Allan is nothing if not resilient, and like the long line of honky-tonk icons whose music has inspired him – Lefty Frizzell, Merle Haggard, Johnny Horton, Waylon Jennings, George Jones, Willie Nelson, Buck Owens – he has learned that the best way to meet a challenge is head-on. With a smile.
"There were these guys at Buck's place last night," Allan says, the day after giving a by-invitation performance at a Bakersfield birthday celebration for Buck Owens. "I was signing their Gretsch guitars. They were way into punk, and they said, 'Man, we thought you were just another hat act out of Nashville, and you rawk!' When people see you're real, they're so impressed, and they so want something like that. I've had those guys at my shows since I was 15. Our shows are different that way – I don't worry about politics too much. I go in and I have fun."

Hire Gary Allan for your festival or concert plans!
If Gary Allan sounds relaxed, he has earned the right. After playing countless smoky bars with his dad as a teen, he led his own band through the clubs and fairs of Southern California for several years before signing with Decca Records and releasing two albums that each generated Top 10 hits (single "It Would Be You" climbed to #5). His third album, "Smoke Rings In The Dark," was by far his most honest and rewarding release to-date.
The hard-working entertainer achieved that feat following the most tumultuous year the music industry's seen in decades. When Decca closed in January of that year, corporate maneuvers could have relegated Allan to the "Whatever Happened To...?" column in tabloid rags. Instead, he was one of only four artists picked up by parent company MCA. His new deal afforded him the time and resources to create a more mature, career-defining record.
While Nashville contemporaries issue safe pop garnished with occasional steel licks, Gary Allan synthesizes the hard honky-tonk vibe with the high-energy immediacy of his live shows.
A great singer sounds like they've climbed inside the song and are living it as they sing. There's no distance between their vocal and the song's emotion. When Gary Allan sings, whether he's parsing a lyric with humor or pain, he sounds like he's down with the dust and sweat and compromise of everyday life – no high-glam stylings here.
Capturing that mix – the light and the dark, the laughter with the anger, the conservative and the unusual – goes to the heart of the sometimes contradictory cultural traditions that helped shape the divorced father of three. Gary Allan calls the region around Orange County, California, home – an area rich in country music history. It's one of the few places in Southern California with working cattle ranches, where cowboys still rope and brand and go two-stepping at night.
"We get asked a lot at shows, 'What's a guy from California doin' playin' country music?'" Allan says. "There's a lot happening on the West Coast. And it's different than Nashville. I never heard the terms 'radio-friendly' or 'commercial value' until I got to Nashville. When we were writing songs in California, we wrote 'em for how we thought they would come off in a club -- y'know, 'How's this gonna be to sing live to people?'"
A short drive west from those cowboy roundups are the beach communities where Gary Allan loves to surf – and where the punk and modern-rock scene still thrives. Interestingly, many of its pierced and tattooed denizens are also exuberant fans of country legends like Johnny Cash, Buck Owens and Hank Williams. Allan sees them at his own shows, and believes they respond to country music's relevancy.
"It's real life," he says. "The great country songs, they're powerful. I don't care what kind of music you listen to, they have a lot of soul. That's what a lot of country's lacking today."
Allan's record deal was cinched by his extensive performance experience on the club circuit, where, like any stage-savvy veteran, he learned to listen to his audience and what makes them respond. For Gary Allan, it's the live moments connecting him to an audience through song that still define country music.
Hire Gary Allan for your party or event!
Gary Allan may be available for your next special event!
Book Gary Allan, now!
For other great suggestions for booking music acts, look here.
Watch videos.
YouTube |
Vimeo