How To Book GEORGE CLINTON For Your Event!
George Clinton may be available for your next special event!


"The Godfather of Funk"
Rock and Roll Hall of Fame
-- inducted 1997
Few performers have contributed as much to the innovation and expansion of black music over the last thirty years as George Clinton. In conjunction with his musical collectives Parliament and Funkadelic, as a solo artist, or with a number of loosely-based offshoot outfits, George Clinton set trends that still reverberate in pop music today. Artists from Prince and the Red Hot Chili Peppers to rappers like Public Enemy and Dr. Dre have at one time or another looped, sampled, or paid homage to this pioneer of funk.

Born in 1940, George Clinton began singing as a teenager in Plainfield, New Jersey, (where he did double time as a barber), with a doo-wop vocal group called the Parliaments. The group had been performing for more than a decade when, in 1967, it scored an unexpected hit with "(I Just Wanna) Testify." But due to a contract squabble, the band temporarily lost the rights to its name. Clinton then moved to Detroit seeking to establish a new musical identity, working for a time as a house writer for Motown.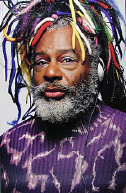 As the sixties came to a close, George Clinton became enamored with protest music and Detroit acid-rock bands like the MC5, The Stooges, and Alice Cooper. He also saw in Jimi Hendrix and Sly Stone black musicians who had successfully reached white audiences without resorting to what he believed was the over-polished style of Motown's successful artists.
His goal was a new hybrid that would combine the harder edges of classic R&B, the improvisational leanings of hard rock, and the showmanship of performers like James Brown (whose former bass player Bootsy Collins joined up with Clinton in 1972). With that concept in mind, Funkadelic was born. The collective absorbed those influences and spewed them out with a more politicized, overtly soulful sound, best reflected on albums like their self-titled debut, "Funkadelic" (1970), and "Maggot Brain" (1971). This new fusion of psychedelic guitar distortion, bizarre sound effects, and cosmological rants with danceable beats and booming bass lines became the definition of funk.
In 1974, George Clinton regained the rights to his group's original name, shortened it to Parliament, and turned his funk collective into a two-headed beast. Funkadelic put the emphasis on guitar, and its songs often included extended solos and long instrumental passages. The group was still signed to the Detroit-based Westbound label (switching to Warner Bros. in 1976). Parliament inked a deal with high-profile Casablanca Records, and its songs were generally shorter vocal showcases (all five original Parliaments sang in the reborn group), with a focus on bass and keyboards augmented by horns. In time, further splinter groups spun out from the Clinton camp, including Brides of Funkenstein, Parlet, and Bootsy's Rubber Band.
Between 1975 and 1978, the Parliament/Funkadelic collective toured extensively and released close to ten albums between them. Parliament's finest hour was "Mothership Connection" (1976), which featured clever send-ups of James Brown and Sly Stone, as well as funk's all-time anthem, "Tear the Roof Off the Sucker (Give Up the Funk)."
Funkadelic's best came with "One Nation Under a Groove" (1978), an irresistible and spiritual concept album. Onstage, spectacle ruled the day, with an enormous spaceship set, outrageous costumes, and marathon performances.
Of course, George Clinton didn't do it alone: while the lineups changed constantly over the years, the level in musicianship in Parliament/Funkadelic was always superb. Such masters as keyboardist Bernie Worrell, guitarist Eddie Hazel, saxophonist Maceo Parker, trombonist Fred Wesley, and bassist Bootsy Collins all served considerable tours of duty, and influenced legions of musicians after them. Worrell's synthesized bass line, first used on 1977's "Funkentelechy vs. the Placebo Syndrome," is still being imitated today, and it goes without saying that without Bootsy, there would be no Flea.
Yet as his bands' sounds folded into the mainstream, George Clinton became involved in more problematic entanglements. There were financial problems, disgruntled bandmates, and personal struggles with drug use. The final Parliament and Funkadelic albums ("Trombipulation" and "The Electric Spanking of War Babies," respectively) were released in 1981. George Clinton re-emerged in late 1982 as a solo artist and released "Computer Games," an album which spawned the hit single "Atomic Dog."
In 1983, George Clinton began a sabbatical from live performance, during which time he witnessed rap and hip-hop making full use of his material through samples and stylistic nicks while he struggled as a solo performer. He signed to Prince's Paisley Park label in 1989, and released "The Cinderella Theory." Since that time, P-Funk has been rejuvenated with CD reissues of the Parliament and Funkadelic back catalogs (the original LPs had been out of print for several years) and the reborn road show, now dubbed George Clinton and the P-Funk All-Stars. The 1993 album "Hey Man, Smell My Finger" (with special guests Ice Cube and the Red Hot Chili Peppers) helped land George Clinton a place on the Lollapalooza tour the following summer, exposing his funk jamboree to a brand new group of converts. In the summer of 1996, Clinton released his solo album, "The Awesome Power of a Fully Operational Mothership" (TAPOAFOM for short), which reunited him with Bernie Worrell and Bootsy Collins.
At the dawn of the new millennium, the Parliament/Funkadelic juggernaut has shown no signs of slowing down, remaining active on the recording and touring fronts. In the summer of 2002, George Clinton & Parliament/ Funkadelic completed an ambitious world tour of the United States, Europe, Australia and Japan.
Hit songs include --
Atomic Dog
Paint The White House Black
Do Fries Go With That Shake?
Nubian Nut
Double Oh-Oh
Loopzilla
If Anybody Gets Funked Up (It's Gonna Be You)
Last Dance
Hey Good Lookin'
Ain't Nothin' But A Jam Y'all
Bullet Proof
Get Dressed
George Clinton may be available for your next special event!
Watch videos.
YouTube

Rock and Roll Hall of Fame information
Concert Schedule – by Ticketmaster
Concert Schedule – by Live Nation
Genre: R&B
Genre: Reggae
Styles:
.Urban. / xUrban
.Funk. / xFunk
.Contemporary Reggae. / ContemporaryReggae
.Soul. / xSoul


Years active:
x70s, x80s, x90s

Born: ..in North Carolina / born nNorthCarolina
Born: ..in Kannapolis / born KannapolisNC
Born: Jul 22, 1940

Raised: ..in New Jersey / nNewJersey
Raised: ..in Plainfield / PlainfieldNJ

Based: ..in US
Based: ..in Florida / based nFlorida
Based: ..in Tallahassee area / based TallahasseeFL area
Based: ..in Monticello / based MonticelloFL