How To Book GEORGE STRAIT For Your Event!
George Strait may be available for your next special event!



Hits include: "Ace In The Hole",
"All My Ex's Live In Texas",
"Baby's Gotten Good At Goodbye",
"Carrying Your Love With Me",
"Does Fort Worth Ever Cross Your Mind",
"Famous Last Words Of A Fool",
"Carried Away", "Give It Away",
"Easy Come, Easy Go",
"Baby Blue", "Check Yes Or No",
"Am I Blue", "Blue Clear Sky",
"I Gotta Get To You", "The Breath You Take",
"Here For a Good Time",
"Love's Gonna Make It Alright",
"Drinkin' Man", "Give It All We Got Tonight",
'I Believe", "I Got a Car",
"Let It Go", "Cold Beer Conversation",
"Every Little Honky Tonk Bar",
"The Weight of the Badge".
How to Hire GEORGE STRAIT For Your Event!
Popular requests:
BOOKING FEE (booking price, booking cost)
.
GRAMMY AWARD winning George Harvey Strait Sr., known professionally as George Strait, is an American country music singer, songwriter, actor, and music producer.

Strait's success began when his first single "Unwound" was a hit in 1981, signaling the arrival of the neotraditional movement. During the 1980s, seven of his albums reached number one on the country charts. In the 2000s, Strait was named Artist of the Decade by the Academy of Country Music, elected into the Country Music Hall of Fame, and won his first Grammy award for the album, Troubadour. Strait was named CMA Entertainer of the Year in 1989, 1990 and 2013, and ACM Entertainer of the Year in 1990 and 2014. He has been nominated for more CMA and ACM awards and has more wins in both categories than any other artist.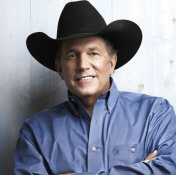 Hire George Strait for your festival or concert plans.
By 2009, he broke Conway Twitty's previous record for the most number-one hits on Billboard's Hot Country Songs chart when his 44 number one singles surpassed Twitty's 40. Strait has amassed 60 number-one hits. "Give It All We Got Tonight" was number one in 2013, breaking a record also previously set by Twitty. Strait currently holds the record for most number one songs on all charts by an artist in any genre of music.
George Strait is also known for his touring career when he designed a 360-degree configuration and introduced festival style tours. For example, the Strait Tours earned $99 million in three years. His final concert for The Cowboy Rides Away Tour at AT&T Stadium in Arlington, Texas, in June 2014, drew 104,793 people, marking a new record for largest indoor concert in North America.
Strait has sold more than 100 million records worldwide, making him one of the best-selling music artists of all time. His certifications from the RIAA include 13 multi-platinum, 33 platinum, and 38 gold albums. His best-selling album is Pure Country (1992), which sold 6 million (6× platinum). His highest certified album is Strait Out of the Box (1995), which sold 2 million copies (8× Platinum due to being a box set with four CDs).
According to the RIAA, Strait is the 12th best-selling album recording artist in the United States overall selling more than 69 million records across the United States. His influential and record-breaking legacy of his pioneering neotraditionalist country style has garnered him as the "King of Country Music".
Strait's style of country music has been largely labeled as neotraditional country, which relies on traditional instrumentation in country music, i.e. fiddle and pedal steel guitar. His style has also been labeled as Texas country, Western swing, and honky-tonk.
Hire George Strait for your party or event!
George Strait may be available for your next special event!
Book George Strait, now!
For other great suggestions for booking music acts, look here.

For more suggestions, proceed to the next page.
Click here --
Country Music Roster
Or, click on one of the below links --
Music Menu
Fast Index
Entertainers Directory
Home