How To Book GEORGE THOROGOOD For Your Event!
George Thorogood & The Destroyers may be available for your next special event!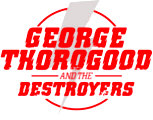 How to Hire GEORGE THOROGOOD For Your Event!
Popular requests:
BOOKING FEE (booking price, booking cost)
.
White blues guitarist George Thorogood first became interested in music, notably Chicago blues, when he saw John Paul Hammond performing in 1970. Three years later he formed the Destroyers in Delaware before moving them to Boston where they backed visiting blues stars.
Thorogood played early in his career as an opener for Hound Dog Taylor and the Houserockers and was greatly influenced by them. Other musicians worth mentioning are John Lee Hooker (Thorogood has said that he is the best man to play with Hooker because they both play as "wrong"), Elmore James, Chuck Berry, Willie Dixon, Muddy Waters and Howlin' Wolf.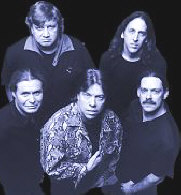 Hire George Thorogood and the Destroyers for your festival or concert plans!
The Delaware Destroyers comprised Thorogood (guitar), Michael Levine (bass), and Jeff Simon (drums). School friend Ron Smith played guitar on and off to make up the quartet. There was briefly another bass player, Bill Judefind. According to some sources the Destroyers played quite often like the Houserockers, without a bass player. In 1974 they recorded some demos in Boston, which were later released in 1979 as an MCA rip-off-album called "Better Than The Rest."
No record company was really interested in them, so they kept on playing blues in small clubs. It was not until hot July night in 1975 when diehard blues fanatic John Forward was looking for some live blues in Boston area. He decided to go to Joe's Place in Cambridge although he had never heard of George Thorogood and Delaware Destroyers who played there. He got extremely excited about them, named himself as Fan Number 1 and put them in touch with independent folk label Rounder.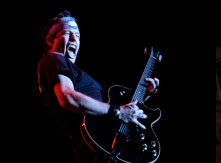 Hire George Thorogood and the Destroyers for your company's special event!
They made their first album in 1975, but the album was not released until 1977 because of many different reasons. Some say that Thorogood was too "rocking" for folk label Rounder, but Rounder claims that they had no suitable photos for the album (!!). During recording sessions bass player Levine was fired or resigned and was replaced by Bill Blough.
After some good publicity about their first album, Thorogood & Destroyers released their second album in 1978, "Move It On Over." That got much more fame and made Thorogood & Destroyers known even in Finland. The title track, a cover of Hank Williams' classic, was pulled as a single and received heavy FM airplay, helping the album to the American Top 40 and go gold.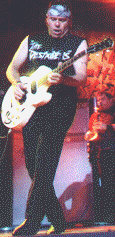 Hire George Thorogood and the Destroyers.
Smith left in 1980 and was replaced by saxophonist Hank Carter. Carter, who lived in the same city as Thorogood, was considered as the toughest player in town (even tougher than Thorogood) and nobody had the guts to ask him to join The Destroyers until 1980. Carter accepted their offer immediately and is still playing with them after almost 20 years.
George Thorogood, a former semi-professional baseball player, took time away from music that season to play ball, but by 1981 was back in the fold as the band opened for The Rolling Stones at several of their American gigs. The venues were unfamiliar to Thorogood, since normally he shunned large areas for smaller clubs, even going to extent of playing under false names to prevent the smaller venues from being overcrowded.
George Thorogood & Destroyers' famous tour in 1981 was called 50/50. That meant they toured 50 states in 50 days and played a gig in every one of them. No nights off!
After their third album in 1980, "I'm Wanted," with Rounder they signed to EMI. Their breakthrough album, "Bad To The Bone," was released in 1987. The title track got put to the movie "Christine" and they made their first music video from that same song featuring Thorogood and Bo Diddley playing some pool. The title track of the album became their first major crossover hit, thanks to MTV's saturation airplay of the song's video. The album went gold and spent nearly a full year on the charts.
In 1985 Destroyers released their perhaps best selling album, "Maverick." A song from that album, "I Drink Alone," even got to the "Don't Drink and Drive" campaign. In the same year they appeared at Live Aid playing with blues legends Albert Collins and Bo Diddley.
In 1986 EMI noticed how popular George Thorogood And The Destroyers really were and released a live album called simply "Live." Every two years after that, they have continued releasing albums. In the spring of 1997 they released "Rockin' My Life Away."
Nobody seems to know anything about George Thorogood's personal life. He doesn't want to talk about it, claiming that he is a ageless man who enjoys rough life and endless touring. He is interested only in music, beer, whiskey, women and baseball. He understands someone writing about John Lee Hooker or James Brown – people who've made an incredible impact on music history. But the Destroyers? We're like a burger joint, he says. Then again, there's nothing wrong with selling cheeseburgers as long as they're quality cheeseburgers, he adds and says that's the way he thinks of the Destroyers.
Because George's philosophy is to provide his legions of fans with the music they have come to crave – for as long as they're enjoying themselves – he's ebulliently optimistic about his immediate and long-term future.
He's always been cutting edge, both a forerunner and veteran. That's why everyone from The Rolling Stones and Little Feat to the Allman Brothers and ZZ Top have sought him out for tours. To quote his favorite comedian, Jackie Gleason, "How sweet it is!"
Hit songs include --
Nobody But Me
Gear Jammer
Move It on Over
Bad to the Bone
Reelin' and Rockin'
Born to Be Bad
Treat Her Right
I'm a Steady Rollin' Man
One Bourbon, One Scotch, One Beer
Night Time
House of Blue Lights
I'm Wanted
Who Do You Love?
I Drink Alone
Willie and the Hand Jive
Get A Haircut
Gone Dead Train
Howlin' for My Baby
I Don't Trust Nobody
If You Don't Start Drinkin' (I'm Gonna Leave)
George Thorogood & The Destroyers may be available for your next special event!
Hire George Thorogood for your party or event!
George Thorogood may be available for your next special event!
Book George Thorogood, now!
For other great suggestions for booking music acts, look here.

Genre: Blues
Genre: Rock 1
Styles:
.Classic Rock. / ClassicRock
.Blues-Rock. / BluesRock
.Slide Guitar Blues. / SlideGuitarBlues
.Album Rock. / AlbumRock
.Boogie Rock. / BoogieRock
.Hard Rock. / HardRock


Years active:
x70s, x80s, x90s, x00s, x10s, x20s
1973-present

Born: ..in Delaware / born nDelaware
Born: ..in Wilmington / born WilmingtonDE
Born: Dec 24, 1950

Raised: ..in Delaware (northern Delaware)

Based: ..in US
Based: ..in New Jersey / based nNewJersey
Based: ..in Newark / based NewarkNJ
Based: and
Based: ..in California / based nCalifornia
Based: ..in Los Angeles / based LosAngelesCA