Visit new page >>>
GODSMACK
How To Book GODSMACK For Your Event!
Godsmack may be available for your next special event!



Hit songs include: "Awake",
"Love-Hate-Sex-Pain", "The Enemy",
"Whisky Hangover", "I Stand Alone",
"Speak", "Straight Out of Line",
"Running Blind", "Shine Down",
"Keep Away", "Voodoo", "Serenity",
"Touche", "Whatever", "Bad Religion",
"Times Bad Times", "Re-Align",
"Bad Magick", "Saints and Sinners",
"Saints and Sinners", "1000hp"
"Rocky Mountain Way", "Good",
"Something Different", "What's Next",
"Inside Yourself", "Come Together",
"Bulletproof", "When Legends Rise",
"Under Your Scars", "Unforgettable",
"Greed", "Surrender", "Soul on Fire".
How to Hire GODSMACK For Your Event!
Popular requests:
BOOKING FEE (booking price, booking cost).
Godsmack is a Boston-based band who is simply too undeniable to be ignored. Their self-titled major label debut isn't a calculated, big-budget offering. In fact, it started out as a self-released CD the band recorded in 1996 for about $2,500 with money they borrowed from a friend. Expecting maybe to make back the costs of recording, they peddled the disc to a local radio station. WAAF embraced the song "Keep Away" and began playing the song on its weekly evening program.
Meanwhile, the band was performing regularly on the Boston club scene and soon drew the attention of Paul Geary, a long-time friend of Sully Erna's and former drummer and manager of the group, Extreme, who inevitably signed the band to his management company PGE.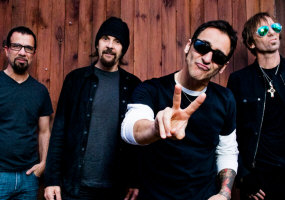 Hire Godsmack for your festival or concert plans!
Before long, airplay increased dramatically. With the blistering track "Whatever" (a combustive cut that grooves as it grinds) being spun regularly on WAAF, sales grew at a staggering rate. The disc became the #2 best-selling album at Newbury Comics.
"I was really shocked," recalls Sully, "Our album began selling 900 to 1000 copies a week!" After meeting with several interested labels, Godsmack chose to sign with Republic Records in July 1998.
Before Sully Erna formed Godsmack, he played drums in a band called Strip Mind, which broke up in 1994. For a year, he went into hibernation, then he started getting that itch to write music again. So, he called up his friend/bassist Robbie Merrill and asked him if he was interested in jamming on some new stuff. The two hooked up with drummer Tommy Stewart (ex-Lillian Axe) and local guitarist Lee Richards. A few months later, both Richards and Stewart quit the band. Guitarist Tony Rombola skillfully slipped into the guitar slot and a guy named Joe Darko filled the drumseat for a few years, although he didn't actually play on the band's record. That honor was held by Sully, who has been playing drums since age four. In 1997, after the band's star sign had begun to rise, Darko left and Godsmack invited original drummer Stewart back into the fold.
"There are a lot of emotional highs and lows in my songs, but they're genuine emotions" says Sully, "I seem to do my best writing when I'm down. For me, writing is a release of energy." In addition to channeling his energies through Godsmack's aggressive music, he channels that energy via more spiritual paths as well.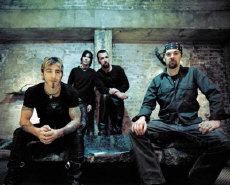 Hire Godsmack for your very special event or occasion.
In 2000, Godsmack performed at Ozzfest on the main stage along with others including Ozzy Osbourne, Static-X, Incubus, P.O.D., Queens of the Stone Age and Black Label Society. Soon after, Godsmack's single, "Awake", debuted at No. 5 on the national sales chart, and spawned more rock radio hits, including the chart-topping title track.
On March 16, 2004 The Other Side, an acoustic EP, was released. The album debuted at number five on the Billboard 200, a relatively high position for an acoustic EP.
In 2004, Godsmack opened for Metallica's Madly in Anger with the World tour, and headlined the tour along with Dropbox. Afterwards, in autumn 2004, the band played several acoustic shows to promote The Other Side, while at the same time continuing to open for Metallica.
In November 2008, Larkin announced that the band would be reforming and recording a new album. The following summer, the band toured as support to Mötley Crüe's Crüe Fest 2 tour and released a non-album single, "Whiskey Hangover".
In July 2015, the band revealed dates for an upcoming North American fall headline tour. The run included dates with Sevendust.
On July 25, 2019, the song "Under Your Scars" hit number 1 for two weeks for the first time on the Billboard Mainstream Rock Songs chart.
Godsmack has been described as post-grunge, nu metal, alternative metal, and heavy metal. The band's primary influences include Aerosmith, Alice in Chains, Black Sabbath, Led Zeppelin, Metallica, Pantera and Rush according to Erna, Larkin, and Rombola. Erna has cited Layne Staley as his primary influence.
Their discography includes eight studio albums, one EP, two compilations, three video albums, and thirty-one singles.
Hire Godsmack for your party or event!
Godsmack may be available for your next special event!
Book Godsmack, now!
For other great suggestions for booking music acts, look here.

Genre: Rock 2
Styles:
.Industrial Metal. / IndustrialMetal
.Post-Grunge. / PostGrunge
.Alternative Metal. / AlternativeMetal
.Heavy Metal. / HeavyMetal
.Nu Metal. / NuMetal


Years active:
x90s, x00s, x10s, x20s
1995-present

Formed: ..in Massachusetts / formed nMassachusetts
Formed: ..in Boston area / formed BostonMA
Formed: ..in Lawrence / formed LawrenceMA
Formed: in 1995

Based: ..in US
Based: ..in Massachusetts / based nMassachusetts
Based: ..in Boston area / based BostonMA