Visit new page >>> GOO GOO DOLLS
How To Book The GOO GOO DOLLS For Your Event!
The Goo Goo Dolls may be available for your next special event!



How to Hire Goo Goo Dolls For Your Event!
Popular requests:
BOOKING FEE (booking price, booking cost).
The Goo Goo Dolls are an American rock band formed in 1986 in Buffalo, New York.

After starting off as a cover band and then developing a punk sound, The Goo Goo Dolls experienced mainstream success following the 1995 release of their breakthrough single, "Name". The band is renowned for its biggest hit, "Iris", released in 1998. The song spent nearly 12 straight months on the Billboard charts and held the number one position on the Hot 100 Airplay chart for 18 weeks. In October 2012, "Iris" was ranked #1 on Billboard's "Top 100 Pop Songs 1992–2012" chart. Other notable singles include "Slide", "Black Balloon", and "Broadway" from 1998's Dizzy Up the Girl; "Here Is Gone" from 2002's Gutterflower; and "Better Days", "Give a Little Bit", and "Stay with You" from 2006's Let Love In.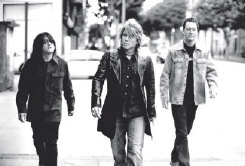 Hire Goo Goo Dolls for your festival or concert plans!
The Goo Goo Dolls has had 19 top ten singles on various charts, has sold more than 15 million records worldwide, and has been nominated for four Grammy Awards.
While it's true that success too often breeds complacency, for the Goo Goo Dolls it's only served to bring them closer to the fundamentals of their long-term partnership. "We never really bought in to the whole rock star myth," John Rzeznik continues, before adding with a laugh, "Well, we might have 'rented in' for a weekend here and there, but in the end it always comes back to the music. For us, success - real success - is one song at a time."
Hire Goo Goo Dolls for your very special event or occasion!
That's the way it has always been for the Goo Goo Dolls. From their earliest days on the rough-and-tumble Northeast music scene through years of playing according to bassist Robby Takac - "every one night stand in America, twice," through their obligatory stint in the indie records realm, the band have combined an unerring instinct for original and authentic music with a hardcore work ethic that is nothing short of inspirational.
It was that mix of talent and sweat equity that paid off with the 1998 release of "Dizzy Up The Girl," a breakthrough in every sense of the word, with worldwide sales approaching six million and counting and a string of smash singles including the epochal "Iris," as well as "Slide," "Black Balloon" and the title track.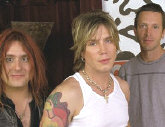 Hire Goo Goo Dolls!
Together, Dizzy's hits have racked up an historic one million radio spins to date. Two solid years of international touring followed the album's release and, while the band and its fans could be forgiven for concluding that the Goo Goo Dolls had finally "arrived," it was that restless urge to turn the next creative corner that kept the trio cranking.
It was in the fall of 2001 that John and Robby, along with drummer Mike Malinin and producer Rob Cavallo (the man behind the boards for "Dizzy Up The Girl") began assembling the elements of a new album. "Of course, our success was a factor going in," asserts John. "How could it not be? We worked our asses off to get to this place, and we didn't want to disappoint ourselves or our fans. But more than that, we wanted to see where the music would take us. We had been living in a fishbowl for three years, and it felt good to get back to basics."
"I think, if there's a theme to these songs, it is about being honest with yourself and with others, and seeking out those who will return the favor," John ventures. "Our experiences over the past three years have taught us to appreciate friendship, love and loyalty…those basic human values. When we're writing about characters we've encountered and scenes we've survived, it's that need for connection that comes through and hopefully everyone can relate to that. Otherwise, you're just talking to yourself."
Hit songs include --
Black Balloon
Give A Little Bit
Iris
Let Love In
Name
Slide
Stay With You
Better Days
Broadway
Here Is Gone
Sympathy
We Are The Normal
Long Way Down
Naked
Before It's Too Late (Sam and Mikaela's Theme)
Dizzy
Lazy Eye
Big Machine
Only One
There You Are
Hire The Goo Goo Dolls for your party or event!
The Goo Goo Dolls may be available for your next special event!
Book The Goo Goo Dolls, now!
For other great suggestions for booking music acts, look here.

Genre: Rock 1
Genre: Rock 3
Styles:
.Adult Alternative Pop/Rock. / AdultAlternativePopRock
.Post-Grunge. / PostGrunge
.Alternative Pop/Rock. / AlternativePopRock
.Hard Rock. / HardRock
Contemporary Pop/Rock / ContemporaryPopRock


Years active:
x80s, x90s, x00s, x10s, x20s
1986-present

Formed: ..in New York / formed nNewYork
Formed: ..in Buffalo / formed BuffaloNY
Formed: in 1986

Born:
Johnny Rzeznik
Dec 5, 1965
Robby Takac
Sep 30, 1964

Based: ..in US