Richard De La Font Agency, Inc.
Legendary 5-Star Service and Reputation
Providing Excellence in Entertainment Since 1970

Booking Good Charlotte
Book punk rock music artists - book Good Charlotte
Joel Madden, Benji Madden, Billy Martin,
Paul Thomas, Dean Butterworth
Post-Grunge, Punk-Pop, Punk Revival,
Alternative Pop/Rock, Alternative/Indie Rock

Booking Information
About This Company
Alternative Music Roster | Music Menu
Fast Index | Home | Search
Printable Page
---
How To Book GOOD CHARLOTTE For Your Event!
Good Charlotte may be available for your next special event!



Twin brothers Benji and Joel (born 3/11/79) grew up in a lower middle-class family in the town of Waldorf, Maryland – "the middle-of-nowhere suburbs," says Benji.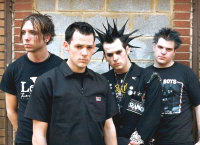 "Ours was definitely a dysfunctional family situation," he admits, "but luckily me and Joel always had each other. When things started to fall apart, we just got into music." The twins' older brother Josh turned them on to influential albums by Rancid, Minor Threat, The Cure, the Smiths, and many more.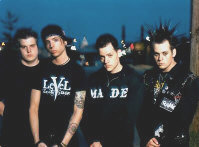 Benji began teaching himself guitar at 16; Joel gravitated towards lead vocals. "Right away, Joel and I started thinking up songs," Benji recalls. "We'd go straight to our room after school, singing and playing for hours every day."

After Paul (bass) and Billy (guitar) joined, Good Charlotte took their name from a children's book and played their first gig in a neighbor's basement for an audience of 20. "We only played our own songs – we weren't good enough to learn anyone else's songs!"

The brothers dedicated themselves to their music, although they had almost no money for equipment and no connections in the industry. They cut their first demo, wrote their own bio, and began mailing packages off to a list of record companies obtained from a magazine.

"I wrote this letter saying, we're Good Charlotte and if you sign us now it will be a lot cheaper than if you wait!" recalls Benji. "Our ignorance was kind of a blessing. We couldn't be discouraged by knowing too much about how the business really works."

Benji and Joel graduated high school in June 1997, and for a graduation present the twins' mother presented them with a pair of open airline tickets to California. "Some of our favorite bands like Green Day had started out at this East Bay club called 924 Gilman Street. So when we graduated, that summer we made a pilgrimage to visit the club. We'd never even been on a plane before, but we have an aunt in Berkeley who let us crash with her."

The brothers returned to Maryland, newly inspired and more determined than ever. They left home and moved to Annapolis, played many more shows both electric and acoustic, and worked "all kinds of shitty jobs I've had over 30 of them," says Benji. "It was a struggling time in our lives, but it was also a great time. It's good to be hungry sometimes."

When Billy joined on second guitar, Good Charlotte was complete. The band won a local contest, and their song "Can't Go On" was included on a sampler of area talent. They attracted the interest of a manager, and Lit offered a support slot on a series of sold-out East Coast dates.

"We had no money, no transportation, and no way to do the gigs. Our mom was living in like a shed on a neighbor's property, and the only thing she really owned was a mini-van. She said, "You guys take the mini-van to play the shows and I'll catch rides or walk to work". That just shows you how she's been there for us the whole time."

"By the time we played New York with Lit, in December 1999, all the labels turned out. We signed our deal in May 2000, in the studio where we were recording, and the album "Good Charlotte" (Epic) came out in September."

By then, the quintet was on the road non-stop. Three months of dates with MXPX segued into the 2001 W.A.R.P. tour, then into more gigs up until Christmas Day (off), followed by still more gigs including a trip to Australia and New Zealand (where their debut went platinum). Through this intensive roadwork, Good Charlotte built an avid fan base – and MTV took notice, giving extensive airplay to the band's videos for "Little Things," "Motivation Proclamation" and "Festival Song."

Honesty is the thread that runs through every song on "Young and the Hopeless" and binds Good Charlotte to their devoted fans. "I don't think we're better than any other band," says Benji, "although I do think we're more sincere, more real, than some of them. We want to be judged for what we're really doing, not put in a genre with a bunch of other bands with which we have nothing in common."
Hit songs include --
Lifestyles of the Rich and Famous
Girls and Boys
The Anthem
I Don't Wanna Be In Love (Dance Floor Anthem)
Hold On
I Just Wanna Live
Predictable
Little Things
The River
The Young and The Hopeless
The Chronicles of Life and Death
Keep Your Hands Off My Girl
Like It's Her Birthday
Good Charlotte may be available for your next special event

Genre: Rock 3
Styles:
.Post-Grunge. / PostGrunge
.Punk-Pop. / PunkPop
.Alternative Pop/Rock. / AlternativePopRock
.Punk Revival. / PunkRevival
.Alternative/Indie Rock. / AlternativeIndieRock

Years active:
x90s, x00s, x10s, x20s
1995-present
Formed: ..in Maryland / formed nMaryland
Formed: ..in Waldorf / formed WaldorfMD
Formed: in 1995

Based: ..in US
---
Concert Schedule – by Ticketmaster
Concert Schedule – by Live Nation

---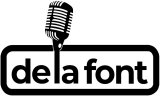 Booking Information
Music Menu
Fast Index | Home | Search
Frequently Asked Questions About How To Hire GOOD CHARLOTTE for a private party or special event.
HOW TO BOOK GOOD CHARLOTTE?
(i.e., how to hire GOOD CHARLOTTE for an event)
You are currently on the official site of De La Font Agency. For more than 50 years, we have successfully helped official talent buyers around the world secure quality talent.
We welcome the opportunity to be of service to you. Let's do this the right way! Let's save you time and frustration!
Simply click on the "Let's Get Started!" link found on this page. Then, send us your request for booking information.
Include information about your plans for your event and how taking steps to hire GOOD CHARLOTTE (or someone similar) might be of special interest.
If you decide you want to look at other names, simply include your talent-fee budget range and indicate that you want to see who else you might be able to afford with such a budget. We can send you a list of names that are affordable and in the style of music you prefer. We hope to save you time and frustration!
HOW MUCH DOES IT COST TO BOOK/HIRE GOOD CHARLOTTE?
(i.e., what is the booking fee to hire GOOD CHARLOTTE for an event?)
(i.e., what is GOOD CHARLOTTE booking fee to perform at an event?)
Official booking fees for GOOD CHARLOTTE, or any other celebrity, are determined based on a number of factors and may change at anytime without prior notice.

Factors influencing pricing vary and may include date, location, type of event, whether a private party or a public concert, the artist's calendar, whether the artist is on tour or not, how well tickets are selling at the artist's concerts, the current demand for the artist's music, market activity, etc.

As you might expect, the more in-demand the artist is, the more buyers are prepared to pay. Of course, this causes the artist's price to increase as the artist becomes more popular or decrease when becoming less popular.

Exclusive agents with exclusive representation frequently quote a range instead of a specific price, since changes can occur at anytime. Generally, the artist's manager has a role in the decision to accept any particular offer from a talent buyer.

To learn the most current artist's pricing, or the estimated artist's fee for your particular event, simply click on the "Let's Get Started!" link found on this page. Then, send us your request for booking information.
IS GOOD CHARLOTTE AVAILABLE TO WORK MY EVENT?
(i.e., what is GOOD CHARLOTTE's availability?)
To learn the artist's current availability for your special event, simply click on the "Let's Get Started!" link found on this page. Then, send us your request for booking information.

Once we have your event/party information, we will be better able to assist you with putting your entertainment talent booking plans in place as your entertainment consultant. Let's get this done right! We look forward to working with you!
---