Visit new page >>>
GORILLAZ
How To Book GORILLAZ For Your Event!
Gorillaz may be available for your next special event!



Hits include: "Clint Eastwood", "19-2000",
"Dare", "Dirty Harry", "Feel Good Inc.",
"Kids With Guns", "Empire Ants",
"Glitter Freeze", "On Melancholy Hill",
"Orchestral Intro", "Rhinestone Eyes",
"Pirate Jet", "Some Kind of Nature",
"Superfast Jellyfish", "To Binge",
"Doncamatic", "Saturnz Barz",
"Ascension", "Humility", "Stylo",
"Broken", "Momentary Bliss",
"New Gold", "Cracker Island".
How to Hire GORILLAZ For Your Event!
Popular requests:
BOOKING FEE (booking price, booking cost).
GRAMMY AWARD winning Gorillaz are an English virtual band formed in 1998 by musician Damon Albarn and artist Jamie Hewlett, from London, England. Their discography includes eight studio albums, three compilation albums, eleven extended plays, one remix album, and forty-five singles.
The band primarily consists of four fictional members: 2-D (vocals, keyboards), Murdoc Niccals (bass guitar), Noodle (guitar, keyboards, vocals), and Russel Hobbs (drums). Their universe is presented in music videos, interviews, comic strips and short cartoons. Gorillaz' music often features collaborations with a wide range of featured artists, with Albarn as the only permanent musical contributor.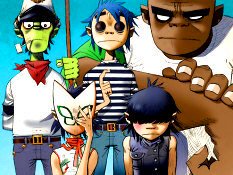 Hire Gorillaz for your festival or concert plans!
The band's 2001 debut album, Gorillaz, which featured dub, Latin and punk influences, went triple platinum in the UK and double platinum in Europe, with sales driven by the success of the album's lead single "Clint Eastwood". Their second studio album, Demon Days (2005), went six times platinum in the UK and double platinum in the US and spawned the successful lead single "Feel Good Inc.".
The album, Plastic Beach, was recorded throughout 2008 and 2009 in London, New York City and Syria. Plastic Beach saw Gorillaz move into a more electronic pop sound. Plastic Beach also featured the largest cast of collaborators featured yet on a Gorillaz album with an incredibly eclectic, surprising cast of people" including artists such as Snoop Dogg, Mos Def, Bobby Womack, Little Dragon, Lou Reed and Gruff Rhys among others.

Humanz was released on 28 April 2017, the band's first new studio album in 7 years. Humanz again featured a large cast of featured artists, including Popcaan, Vince Staples, DRAM, Jehnny Beth, Pusha T, Peven Everett, Danny Brown, Grace Jones and Mavis Staples, among others

On 20 July 2017, the band released "Pac-Man", the fifth episode of Song Machine, in honour of Pac-Man's 40th anniversary. The track features American rapper, Schoolboy Q.

On 9 September, 2020, the band released "Strange Timez", the sixth episode of Song Machine. The track features Robert Smith, from the Cure.
On 1 October, 2020, the band released "The Pink Phantom", the seventh episode of Song Machine. The track features Elton John and American R&B recording artist, 6lack.
On 23 October 2020, Gorillaz also announced the title and tracklist for Song Machine, Season One: Strange Timez, featuring further guest appearances from Elton John, 6lack, JPEGMafia, Kano, Roxani Arias, Moonchild Sanelly and Chai, among others.

In August 2022, the band performed a new song "New Gold" featuring Tame Impala and Bootie Brown at All Points East in London.

On 31 August 2022, the band released "New Gold" as their second single for their upcoming album, announced on the same day to be titled Cracker Island, set to be released on 24 February 2023. The album, also features appearances from Stevie Nicks, Bad Bunny, Beck, and Adeleye Omotayo.

Writers and critics have variously described Gorillaz as art pop, alternative rock, hip-hop, electronic, trip hop, pop, dark pop, alternative hip-hop, rap rock, indie rock, bedroom pop, dance-rock, new wave, funk, worldbeat, and experimental rock.

Gorillaz' main musical influences include Fishmans, Massive Attack, the Specials, Big Audio Dynamite, Public Image Ltd, Tom Tom Club, Fun Boy Three, Unkle, A Tribe Called Quest, and fellow collaborators De La Soul, as well as The Human League, The Kinks, XTC, Simple Minds, Sonic Youth, Pavement, Ween, Portishead, Beck, Wire, Fela Kuti, Sly and the Family Stone, Earth Wind and Fire, Augustus Pablo, Zapp, and DJ Kool Herc.
Gorillaz' primary visual influences include Hanna-Barbera, Looney Tunes, Mad magazine, The Simpsons, AD, and Métal hurlant.

Musical artists who have been influenced by Gorillaz include Major Lazer, Dethklok, Rat Boy, Chromeo, Flume, Foster the People, The 1975, 5 Seconds of Summer, Awolnation, Paramore, Grimes, Kesha, A.G. Cook, Finneas, Oliver Tree, Flatbush Zombies, Vic Mensa, IDK, Trippie Redd, The Internet, ASAP Rocky, Lupe Fiasco, Brockhampton, Odd Future and Billie Eilish.
Gorillaz has presented itself live in a variety of different ways throughout the band's history, such as hiding the touring band from the audience's view in the early years of the project, projecting animated band members on stage via computer graphics and traditional live touring featuring a fully visible live band. The band has sold more than 26 million records worldwide and is cited by Guinness World Records as the world's "Most Successful Virtual Band".
They have won a Grammy Award, two MTV Video Music Awards, an NME Award and three MTV Europe Music Awards. They have also been nominated for 11 Brit Awards and won Best British Group at the 2018 Brit Awards.
Hire Gorillaz for your party or event!
Gorillaz may be available for your next special event!
Book Gorillaz, now!
For other great suggestions for booking music acts, look here.

For more suggestions, proceed to the next page.
Click here --
Electronica Music Roster or Alternative Music Roster
Or, click on one of the below links --
Music Menu
Fast Index
Entertainers Directory
Home