How To Book GRAND FUNK RAILROAD For Your Event!
Grand Funk Railroad may be available for your next special event!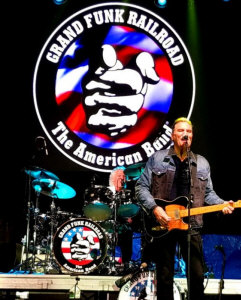 At its sweat-dripping best, the legendary rock band Grand Funk Railroad emits a surging, elemental blast of hard rock heat. Now rock fans everywhere will be thrilled to learn they can once again warm themselves in front of the fire.
The top selling American rock group of the '70s is back. Grand Funk is newly reformed, stoked by the reissue of the group's catalog on CD and the new box set "Thirty Years of Funk," The Anthology by EMI-Capitol records. The group is also featured regularly on VH-1's Behind the Music.
Guitarist Mark Farner is no longer in Grand Funk Railroad, and drummer Don Brewer and bassist Mel Schacher have added three impressive new members: former KISS guitarist Bruce Kulick, vocalist Max Carl (formerly fronted Jack Mack and the Heart Attack and 38 Special) and keyboardist Tim Cashion (formerly with Bob Seger and Robert Palmer. Carl also worked with the late Tommy Bolin before he joined Deep Purple.
Grand Funk Railroad's hits include; "Time Machine, "Closer to Home," "Mean Mistreater," "Feelin' Alright," "Gimme Shelter," "We're an American Band," "Walk Like a Man (You Can Call Me Your Man)," "The Loco-Motion," "Shinin' On" and "Bad Time."
Generally acknowledged as one of the precursors to heavy metal, Grand Funk laid the groundwork for such bands as Foreigner, Journey, Van Halen and Bon Jovi with its signature hard driving sound – a combination of soulful vocals, muscular instrumentation and forceful pop melodies.
The fact that Grand Funk's legacy still looms large over the pop music landscape more than thirty years after its 1969 birth in Flint, Michigan, is also a testament to the group's influence and staying power. Mega-hits "We're An American Band," "I'm Your Captain/Closer To Home," "Locomotion," and "Some Kind Of Wonderful" still receive continuous airplay on Classic Rock radio. Legend has it that Prince named his first rock band Grand Central as a nod to Grand Funk.
Internationally acclaimed, Grand Funk Railroad has toured the world, selling out in the U.S., Canada, Europe, Japan and South America. A 1971 performance at New York's Shea Stadium sold out faster than the Beatles. The group's widespread appeal is also evident in its considerable recording achievements. Over their career, Grand Funk has had 19 charted singles, 8 Top 40 hits and two Number One singles ("We're An American Band" and "Locomotion," both selling more than one million each). The group has 12 gold and 10 platinum records with record sales in excess of 25 million copies sold worldwide.
Formed in 1969, Grand Funk Railroad was born out of the ashes of Terry Knight & The Pack, another band from Flint, Michigan. Currently the group includes original founding members Don Brewer (vocals and drums, writer and singer of the hit, "We're An American Band") and bassist Mel Schacher. Joining Don and Mel is an all-star cast featuring singer Max Carl (38 Special, Jack Mack and the Heart Attack, Max Carl and Big Dance), lead guitarist Bruce Kulick (12 years with KISS and credits with Michael Bolton, Meat Loaf and Billy Squier) and keyboardist Tim Cashion (Bob Seger and Robert Palmer).
Together, Brewer and Schacher have created a dynamic and multi-talented five piece band that will not only carry on the tradition of Grand Funk hits, but also has the potential to create a new chapter in the legacy of Grand Funk Railroad. Grand Funk Railroad's train is back on track.
"We're Comin' To Your Town, We'll Help You Party It Down, WE'RE AN AMERICAN BAND!"
Hit songs include --
We're An American Band
The Loco-Motion
Some Kind of Wonderful
Bad Time
Shinin' On
Walk Like A Man
Closer To Home
Footstompin' Music
Rock 'N Roll Soul
Can You Do It
Mean Mistreater
Time Machine
Take Me
Feelin' Alright
Gimme Shelter
Sally
Heartbreaker
Upsetter
Mr. Limousine Driver
Grand Funk Railroad may be available for your next special event!
Watch videos.
YouTube

Genre: Rock 1
Styles:
.Classic Rock. / ClassicRock
.Detroit Rock. / DetroitRock
.Album Rock. / AlbumRock
.Boogie Rock. / BoogieRock
.Arena Rock. / ArenaRock
.Hard Rock. / HardRock


Years active:
x60s, x70s, x80s, x90s, x00s, x10s, x20s
1969-present

Formed: ..in Michigan / formed nMichigan
Formed: ..in Flint / formed FlintMI
Formed: in 1969

Based: ..in US