Visit new page >>>
GREEN DAY
How To Book GREEN DAY For Your Event!
Green Day may be available for your next special event!


Hits include: "J.A.R. (Jason Andrew Relva)",
"Good Riddance (Time of Your Life)",
"21 Guns", "American Idiot", "Oh Yeah",
"Basket Case", "Longview", "Warning",
"Boulevard of Broken Dreams", "Holiday",
"Wake Me Up When September Ends",
"Brain Stew", "Geek Stink Breath",
"Hitchin' a Ride", "She", "Waiting",
"Working Class Hero", "Welcome to Paradise",
"Redundant", "Walking Contradiction",
"Jesus of Suburbia", "Bang Bang",
"Father of All", "Back in the USA",
"Revolution Radio", "Still Breathing",
"Let Yourself Go", "Kill the DJ", "Oh Love",
"When It's Time", "Last of the American Girls",
"Father of All...", "21st Century Breakdown".
"Stray Heart", "Minority".
How to Hire GREEN DAY For Your Event!
GRAMMY AWARD winning Green Day is an American rock band formed in the East Bay of California in 1987 by lead vocalist and guitarist Billie Joe Armstrong, together with bassist and backing vocalist Mike Dirnt.
Green Day was part of the California punk scene. Childhood friends Billie Joe Armstrong (guitar, vocals) and Mike Dirnt (bass; born Mike Pritchard) formed their first band, Sweet Children, in Rodeo, California, when they were 14 years old. By 1989, the group had added drummer Al Sobrante and changed their name to Green Day. That year, the band independently released their first EP, 1,000 Hours, which was well-received in the punk scene.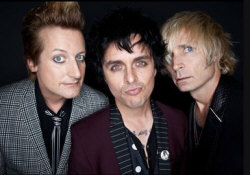 Hire Green Day for your festival or concert plans!
Soon, the group had signed a contract with the local independent label, Lookout! Records. "39/Smooth", Green Day's first album, was released later that year. Shortly after its release, the band replaced Kiftmeyer with Tre Cool (born Frank Edwin Wright, III); Tre Cool became the band's permanent drummer.
Throughout the early '90s, Green Day continued to cultivate a cult following, which only gained strength with the release of their second album, 1992's Kerplunk. The underground success of Kerplunk led to a wave of interest from major record labels; the band eventually decided to sign with Reprise.
For most of 1993, Green Day supported another California punk band, Bad Religion, as an opening act for their Recipe for Hate Tour.
In 1994, alongside fellow California punk bands Bad Religion, the Offspring, Rancid, Pennywise and Social Distortion, Green Day is credited with popularizing mainstream interest in punk rock in the U.S.
Dookie, Green Day's major label debut, was released in the spring of 1994. Thanks to MTV support for the initial single "Longview," Dookie became a major hit.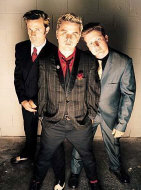 Hire Green Day for your company's special event!
The album continued to gain momentum throughout the summer, with the second single "Basket Case" spending five weeks on the top of the American modern rock charts. At the end of the summer, the band stole the show at Woodstock '94, which helped the sales of Dookie increase. By the time the fourth single "When I Come Around" began its seven-week stay at number one in the modern rock charts in early 1995, Dookie had sold more than five million copies in the US alone; it would eventually top eight million in America, selling more than eleven million copies internationally. Dookie also won the 1994 Grammy for Best Alternative Music Performance.
In the fall of 1995, Green Day quickly followed Dookie with Insomniac; during the summer, they hit number one again on the modern rock charts with "J.A.R.," their contribution to the Angus soundtrack. Insomniac performed well initially, entering the US charts at number two, and selling more than two million copies by the spring of 1996, yet none of its singles – including the radio favorite "Brain Stew/Jaded" – were as popular as those from Dookie.
In the spring of 1996, Green Day abruptly cancelled a European tour, claiming exhaustion. Following the cancellation, the band spent the rest of the year resting and writing new material. The end result is, what is called by many, the best album of their career, Nimrod.
"Nimrod" was well received by most critics and fans. The album sold 80,000 copies in its first week to land at #10 on the Billboard charts. The first single from "Nimrod" was "Hitchin' A Ride." The single made it to #5 on the modern rock charts and was in heavy rotation on MuchMusic and MTV.
The next single the band released would not make it to number one (its highest position was #2), but it is now probably the most well known song Green Day ever wrote. Featuring Billie Joe on acoustic guitar and vocals, "Time Of Your Life" became the song to play in any remotely sad situation. The song was even used on the last ever episode of the hit TV show "Seinfeld" (it was also the most watched finale in the history of TV).
In late 1999, after nearly two years with barely any mention of the band, Green Day returned to play Neil Young's "Bridge School Benefit Concert," their first live acoustic performance.
In the fall of 2000, Warning: was released, and is by far Green Day's most ambitious album to date. Just four weeks after the release of "Minority," it sat atop Billboard's Modern Rock chart; no other Green Day song has hit the top that fast.
In 2015, the band was inducted into the Rock and Roll Hall of Fame, their first year of eligibility.
Members of the band have collaborated on the side projects Pinhead Gunpowder, The Network, Foxboro Hot Tubs, The Longshot, and The Coverups. They have also worked on solo careers.
Green Day's sound is often compared to first wave American and British punk rock bands such as the Ramones, Sex Pistols, The Clash, The Dickies, and Buzzcocks. Stylistically, several publications have characterized as punk rock, pop-punk, skate punk, alternative rock, and power pop.
Outside of their punk influences, Green Day have also cited hard rock bands the Kinks, the Who, and Cheap Trick. They also have cited Operation Ivy as a big influence.
During the American Idiot and 21st Century Breakdown era of Green Day, the band was influenced by the Who, U2, Motown albums, and musicals, such as Grease.
The band has been cited as an influence by a variety of artists, including Avril Lavigne, Fall Out Boy, Blink-182, Lady Gaga, Wavves, Fidlar, Tegan and Sara, Bowling for Soup and Sum 41.
Their discography includes 13 studio albums, four live albums, four compilation albums, one soundtrack album, four video albums, 11 extended plays, four box sets, 43 singles, 10 promotional singles and 47 music videos.
Hire Green Day for your party or event!
Green Day may be available for your next special event!
Book Green Day, now!
For other great suggestions for booking music acts, look here.

Genre: Rock 3
Styles:
.Punk-Pop. / PunkPop
.Post-Grunge. / PostGrunge
.Punk Revival. / PunkRevival
Skate Punk / SkatePunk
.Alternative Pop/Rock. / AlternativePopRock
.Alternative/Indie Rock. / AlternativeIndieRock


Years active:
x80s, x90s, x00s, x10s, x20s
1987-present

Formed: ..in California / formed nCalifornia
Formed: ..in Berkeley / formed BerkeleyCA
Formed: in 1987

Based: ..in US
Based: ..in California / based nCalifornia