Visit new page >>>
GRIMES
How To Book GRIMES For Your Event!
Grimes may be available for your next special event!



Hits include: "Flesh Without Blood",
"Go", "Violence", "Delete Forever",
"We Appreciate Power", "Genesis",
"So Heavy, I Fell Through the Earth",
"My Name Is Dark", "4ÆM",
"Player of Games", "Shinigami Eyes".
How to Hire GRIMES For Your Event!
Popular requests:
BOOKING FEE (booking price, booking cost).
Claire Elise Boucher, known professionally as Grimes, is a Canadian musician, singer, songwriter, and record producer.
Her music early work has been described as "lo-fi R&B." Overall, her work has been categorized as synth-pop, electropop, art pop, indie pop, dream pop, and experimental pop and also incorporates dance, hip-hop, and rock. Her lyrics often touch on science fiction and feminist themes. As of this writing, she has released five studio albums.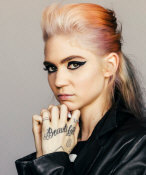 Hire Grimes for your festival or concert plans!
On March 15, 2015, Grimes and Bleachers released their collaboration, "Entropy" for the HBO TV show Girls. In the summer of 2015, Grimes toured with Lana Del Rey for several of her Endless Summer Tour dates.
In 2016, Grimes helped write Troye Sivan's song "Heaven" from the album, Blue Neighbourhood.
On April 10, 2018, Grimes was featured on "Pynk," the third single from Janelle Monáe's album, Dirty Computer.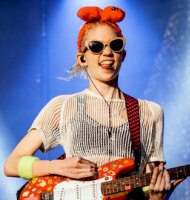 Hire Grimes for your company's special event!
Grimes appeared on Bring Me the Horizon's "Nihilist Blues" from their sixth album, Amo.
In June 2021, she appeared in Doja Cat's music video "Need to Know".
In July 2021 Grimes, alongside will.i.am, Alanis Morissette, Nick Lachey, and Rocsi Diaz were revealed as judges on Alter Ego, a new singing competition series in which the contestants make the use of motion capture technology to portray themselves as "dream avatars".
Grimes made a cameo appearance in the short film, Discord: The Movie, alongside Awkwafina, Danny DeVito, and J Balvin.
In December 2021, Grimes teased a collaboration with the Weeknd on Discord saying that the collaboration would be released in 2022.
Grimes is an opening act on select dates for Swedish House Mafia's "Paradise Again Tour" alongside Kaytranada, ZHU, and Alesso. The tour ran from July 29 to November 13, 2022.
While making her third studio album, Grimes was listening to Aphex Twin, Black Dice, Dungeon Family, Michael Jackson, New Edition, Outkast, Nine Inch Nails, Burial, TLC, Mariah Carey.
Grimes' music has been described with a number of labels, including synth-pop, electropop, art pop, indie pop, dream pop, experimental pop, pop, avant-garde pop, lo-fi, dance, witch house, electronic, glo-fi, bedroom pop, and electronica with elements of rock, hip-hop, R&B, folk, drum and bass, and classical.
Her work has been likened to various artists, including Björk, Julianna Barwick, Siouxsie Sioux, and Enya. She has stated that she loves British rock bands like Bring Me the Horizon and The Foals.
Grimes considers her female pop idols/influences to be Mariah Carey, Dandi Wind, and Beyoncé.
Some of her other influences include Jedi Mind Tricks, Kenji Kawai, Yoko Kanno, Yayoi Kusama, Geinoh Yamashirogumi, Alicia Keys, Panda Bear, Bikini Kill, Kate Bush, Al Green, Salem, Marilyn Manson, Trent Reznor, Tool, Yeah Yeah Yeahs, Paramore, Enya, Joanna Newsom, medieval music, medieval choral music, K-pop, and The Legend of Zelda.
Her discography includes five studio albums, one remix album, one DJ mix, three extended plays (EPs), thirteen singles (including five as a featured artist), four promotional singles and twenty-one music videos.
Hire Grimes for your party or event!
Grimes may be available for your next special event!
Book Grimes, now!
For other great suggestions for booking music acts, look here.

For more suggestions, proceed to the next page.
Click here --
Electronica Music Roster or Alternative Music Roster
Or, click on one of the below links --
Music Menu
Fast Index
Entertainers Directory
Home