How To Book GRIMES For Your Event!
Grimes may be available for your next special event!


Hits include: "Flesh Without Blood",
"Go", "Violence", "Delete Forever",
"We Appreciate Power", "Genesis",
"So Heavy, I Fell Through the Earth",
"My Name Is Dark", "4ÆM",
"Player of Games", "Shinigami Eyes".
Claire Elise Boucher, known professionally as Grimes, is a Canadian musician, singer, songwriter, and record producer.
Her music early work has been described as "lo-fi R&B." Overall her work has been categorized as synth-pop, electropop, art pop, indie pop, dream pop, and experimental pop and also incorporates dance, hip hop, and rock. Her lyrics often touch on science fiction and feminist themes. As of this writing, she has released five studio albums.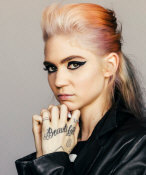 Grimes considers her female pop idols/influences to be Mariah Carey, Dandi Wind, and Beyoncé.
Some of her other influences include Jedi Mind Tricks, Kenji Kawai, Yoko Kanno, Yayoi Kusama, Geinoh Yamashirogumi, Alicia Keys, Panda Bear, Bikini Kill, Kate Bush, Al Green, Salem, Marilyn Manson, Trent Reznor, Tool, Yeah Yeah Yeahs, Paramore, Enya, Joanna Newsom, medieval music, medieval choral music, K-pop, and The Legend of Zelda.
Hire Grimes for your party or event!
Grimes may be available for your next special event!
Book Grimes, now!
For other great suggestions for booking music acts,
look here.
Watch videos
YouTube

For more suggestions, proceed to the next page.
Click here --
Electronica Music Roster or Alternative Music Roster
Or, click on one of the below links --
Music Menu
Fast Index
Entertainers Directory
Home