How To Book GUCCI MANE For Your Event!
Gucci Mane may be available for your next special event!



Hits include: "Freaky Gurl",
"Making Love to the Money",
"Bingo", "Go Ahead", "Stoopid",
"Spotlight", "I Think I Love Her",
"Gucci Time", "Beat It Up", "Icy",
"Mouth Full Of Golds", "Wasted",
"She Be Puttin' On", "Lemonade",
"1st Day Out tha Feds", "06 Gucci",
"Back on Road", "Blood All on It".
"Both", "Last Time", "Make Love",
"I Get the Bag", "Serial Killers",
"Solitaire", "Wake Up in the Sky",
"Big Booty", "Publicity Stunt",
"King Snipe", "Champions",
"Rumors".
How to Hire GUCCI MANE For Your Event!
Popular requests:
BOOKING FEE (booking price, booking cost)
.
Radric Delantic Davis, known professionally as Gucci Mane, is an American rapper and record executive. He helped pioneer the hip-hop subgenre of trap music alongside fellow Atlanta-based rappers T.I. and Young Jeezy, particularly in the 2000s and 2010s. He has been called an "avatar of East Atlanta," and the most influential underground rapper of the 2000s.

In 2005, Gucci Mane debuted with Trap House, followed by his second and third albums, Hard to Kill in 2006 and Back to the Trap House in 2007.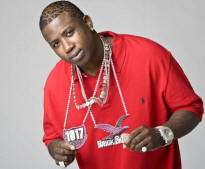 Hire Gucci Mane for your festival or concert plans.

In 2007, he founded his own label, 1017 Records. He has worked with artists such as the Weeknd, Drake, Lil Wayne, Chris Brown, Selena Gomez, Usher, Bruno Mars, and Marilyn Manson. His mixtape releases and trap music have influenced fellow Atlanta rappers like Young Thug, 21 Savage, and Lil Yachty.

In 2009, following a string of critically and commercially successful mixtape releases, Gucci Mane released his fourth studio album, The State vs. Radric Davis, his first gold-certified album.
In 2016, Gucci Mane was featured on Master P's mixtape titled The G Mixtape; along with others including 2 Chainz, A$AP Ferg, E-40, The Game, Jeremih, Lil Wayne, Usher, Travis Scott and Yo Gotti. That same year his collaboration with Rae Sremmurd, titled "Black Beatles", provided Gucci Mane with his first number-one single on the US Billboard Hot 100 chart.

On July 3, 2020, Gucci Mane released the 24-track So Icy Summer compilation album, marking his first project of 2020, following East Atlanta Santa 3 in 2019. On July 30, he collaborated with rapper Mulatto for the single "Muwop", a play on his moniker "Guwop".

His discography includes fourteen studio albums, two collaborative albums, six compilation albums, one soundtrack, 8 extended plays (EPs), 75 mixtapes and 100 singles (including 52 as a featured artist) and 10 promotional singles.
Hire Gucci Mane for your party or event!
Gucci Mane may be available for your next special event!
Book Gucci Mane, now!
For other great suggestions for booking music acts, look here.

For more suggestions, proceed to the next page.
Click here --
Rap Music Roster
Or, click on one of the below links --
Music Menu
Fast Index
Entertainers Directory
Home