Visit new page >>>
HAIM
How To Book HAIM For Your Event!
Haim (HY-im) may be available for your next special event!



Hits include: "The Wire",
"Forever", "Falling", "My Song 5",
"If I Could Change Your Mind",
"Little of Your Love", "Summer Girl",
"Now I'm In It", "Want You Back",
"Hallelujah", "The Steps",
"I Know Alone", "Don't Wanna",
"Gasoline".
How to Hire HAIM For Your Event!
Popular requests:
BOOKING FEE (booking price, booking cost)
.
Haim is an American pop rock band, based in Los Angeles and comprising three sisters, Este (bass guitar and vocals), Danielle (lead vocals, guitar, and drums), and Alana Haim (guitars, keyboards, and vocals). In addition to their primary instruments, each is proficient in several others. The group's pop sound on their studio work stands in contrast to the more rock-based music of their live shows.

Their discography includes three studio albums, five extended plays, 17 singles (plus 5 as a featured artist), six promotional singles, and 17 music videos.

After playing shows supporting Edward Sharpe and the Magnetic Zeros, the Henry Clay People and Kesha, Haim released the EP Forever, which included three songs, in February 2012 as a time-limited free download on their website.

The band began recording material for their first album, Days Are Gone (2013), in sessions between touring dates, including appearances at the Glastonbury Festival. The album charted in the top ten in several countries, including the number-one spot in the UK.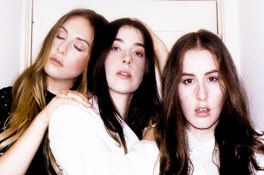 Hire Haim for your festival or concert plans!
In the summer of 2015, Haim opened for Taylor Swift, at select dates on The 1989 World Tour. The group have become friends with singer-songwriter Taylor Swift, and together they have visited Catalina and Maui, Hawaii.
On November 11, 2018, the group performed at Vetsaid 2018, within a lineup alongside Ringo Starr, James Taylor and Don Henley of the Eagles.

On March 6, 2019, the band announced they were headlining the 14th annual Pitchfork Music Festival in Chicago alongside headliners Robyn and the Isley Brothers.

In 2021, Haim was nominated in two categories at the 63rd Annual Grammy Awards, including for Album of the Year (Women in Music Pt. III), making them the first all-female rock band to hold the distinction, along with a Best Rock Performance nomination for "The Steps".
The group's background in wedding bands from their days as Rockinhaim has led them to cover many different songs live and for radio sessions, including Miley Cyrus' "Wrecking Ball", Sheryl Crow's "Strong Enough" and the Strokes' "I'll Try Anything Once". Este acts as the group's MC onstage, announcing most of the songs. Many of her on-stage antics, such as her blunt and coarse banter with the audience, frequent illeism and her facial expressions (known as the "bass face") while playing, are staples of the band's live shows and, to a lesser extent, the band's public image.

The band's sound has been described as "nu-folk-meets-nineties-R&B" and "music that sounds like it was written on a lakeside retreat attended by Stevie Nicks, John Waite and En Vogue".
Haim's music has generally been categorized as soft rock and pop rock, with significant influences of R&B. Critics have frequently compared their sound to Fleetwood Mac, which the group has acknowledged as an influence, though they are "squeamish" about the comparison. The band has also cited Joni Mitchell, Prince, Aaliyah, TLC, Destiny's Child and Spice Girls as influences.
Danielle contributed extensively to Father of the Bride, the fourth studio album by Vampire Weekend, as well as providing drums on several songs on Immunity by Clairo.
Hire Haim for your party or event!
Haim may be available for your next special event!
Book Haim, now!
For other great suggestions for booking music acts,
look here.

For more suggestions, proceed to the next page.
Click here --
Alternative Music Roster
Or, click on one of the below links --
Music Menu
Fast Index
Entertainers Directory
Home