Visit new page >>>
HALESTORM
How To Book HALESTORM For Your Event!
Halestorm may be available for your next special event!



Hits include: "Love Bites (So Do I)",
"I Miss The Misery", "Freak Like Me",
"Apocalyptic", "Amen", "Mz. Hyde",
"Bet You Wish You Had Me Back",
"Familiar Taste Of Poison",
"Mayhem", "Uncomfortable",
"Here's To Us", "It's Not You",
"Black Vultures", "Do Not Disturb",
"Vicious", "Back from the Dead",
"The Steeple", "Wicked Ways",
"I Get Off", "I Am The Fire".
How to Hire HALESTORM For Your Event!
Popular requests:
BOOKING FEE (booking price, booking cost).
Grammy Award winning Halestorm is an American rock band from Red Lion, Pennsylvania, Siblings Arejay and Elizabeth "Lzzy".
Hale began actively writing and performing original music in 1997 when they were 10 and 13 years old. Lzzy started learning piano at the age of 5; she later progressed to a keytar, and Arejay the drums. She took guitar lessons at 16. The teen siblings released two EPs titled Forecast for the Future in 1997 and (Don't Mess With The) Time Man in 1999. In 2003, Joe Hottinger joined the band. In Halestorm's earlier days, Lzzy and Arejay's father, Roger Hale, played bass before Josh Smith joined the group in 2004.
Halestorm is well-known for their near non-stop touring, often performing as many as 250 shows a year.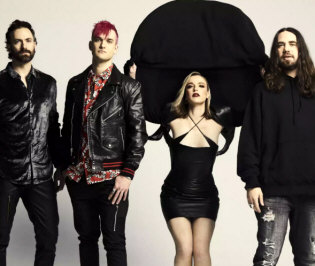 Hire Halestorm for your festival or concert plans!
Since 2006, they have toured with many hard rock and heavy metal acts including Alice Cooper, Alter Bridge, Chevelle, Seether, Flyleaf, Staind, Papa Roach, Trapt, Rob Zombie, Three Days Grace, Theory of a Deadman, Buckcherry, In This Moment, Disturbed, Shinedown, Avenged Sevenfold, Stone Sour, Skillet, Hellyeah, Evanescence, the Pretty Reckless, Sevendust, Lita Ford, Godsmack and Bullet for My Valentine. Halestorm appeared on the first annual Rockstar Energy Drink Uproar Festival.
On June 28, 2005, the group signed a recording contract with Atlantic Records, and released a live EP titled One and Done on April 28, 2006. The EP, now out of print, featured an early live version of "It's Not You." Their self-titled debut album was released on April 28, 2009. The song "I Get Off" served as the album's lead single. Both the song and video for their second single, "It's Not You", were released in late November 2009.
In October 2010, the band traveled to Japan to participate in the Loud Park Festival. Halestorm also appeared on the 2010 Taste of Chaos tour.
On November 16, 2010, Halestorm released a live CD/DVD entitled Live in Philly 2010, which was recorded at The TLA in Philadelphia in early 2010.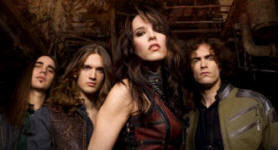 Hire Halestorm for your very special event or occasion.
On December 5, 2012, during a show at the Majestic Theater in Madison, Wisconsin, before Lzzy could start her piano ballad "Break In", guitarist Joe Hottinger ran up to her from off stage and told her that the song "Love Bites...(So Do I)" was nominated for a Grammy in the Best Hard Rock/Metal Performance Category. The song won a Grammy Award for Best Hard Rock/Metal Performance on February 10, 2013.
In 2015, their third album, Into the Wild Life, peaked at number five on the Billboard 200. The band's fourth album, Vicious (2018), debuted at number eight on the chart, becoming their second top 10 record.
On August 14, 2020, Halestorm released an EP called Reimagined. It features six songs, with five reworked Halestorm songs, including "Break In", featuring Amy Lee of Evanescence, and a cover of Dolly Parton's "I Will Always Love You".
Their discography includes five studio albums, one live album, ten extended plays, twenty-one singles, ten promotional singles and twenty-one music videos.

Hire Halestorm for your party or event!
Halestorm may be available for your next special event!
Book Halestorm, now!
For other great suggestions for booking music acts, look here.

For more suggestions, proceed to the next page.
Click here --
Metal Music Roster
Or, click on one of the below links --
Music Menu
Fast Index
Entertainers Directory
Home