Visit new page >>>
HALSEY
How To Book HALSEY For Your Event!
Halsey may be available for your next special event!



Hits include: "Colors", "Ghost",
"New Americana", "Gasoline",
"Castle", "Is There Somewhere",
"Bad At Love", "Now Or Never",
"Heaven In Hiding", "Lie",
"Walls Could Talk", "Him & I",
"Alone", "Eastside", "Without Me",
"11 Minutes", "Nightmare",
"Graveyard", "You Should be Sad",
"The Other Girl", "Be Kind",
"Life's a Mess", "So Good",
"I am Not a Woman, I'm a God",
"Stay With Me".
How to Hire HALSEY For Your Event!
Popular requests:
BOOKING FEE (booking price, booking cost)
.
Ashley Nicolette Frangipane, known professionally as Halsey, is an American singer. Gaining attention from self-released music on social media platforms, she was signed by Astralwerks in 2014 and released her debut EP, Room 93, later that year. Halsey released her debut studio album, Badlands, in 2015. The album was later certified Double Platinum by the Recording Industry Association of America (RIAA), as were its tracks "Colors" and "Gasoline".
In 2020, Billboard reported that Halsey has sold more than 1 million albums and received more than 6 billion streams in the United States. She is noted for her distinctive singing voice.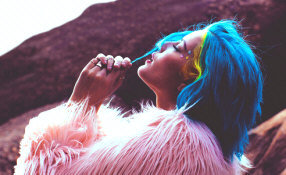 Hire Halsey for your festival or concert plans!
Her awards include three Billboard Music Awards, as well as a Billboard Women in Music Award, an American Music Award, one GLAAD Media Award, an MTV Video Music Award, and nominations for three Grammy Awards. Halsey was named Songwriter of the year by BMI Film & TV Awards in 2021. She was also included on Time magazine's annual list of the 100 most influential people in the world in 2020.
During Halsey's childhood, her mother listened to the Cure, Alanis Morissette, and Nirvana, while her father listened to the Notorious B.I.G., Slick Rick, Bone Thugs-n-Harmony, and Tupac Shakur. She has said that their musical tastes have been a great influence on her. She has called Panic! at the Disco the "band that changed [her] fucking life" and credits Lady Gaga for giving her the strength to be herself.
Her other influences include Mick Jagger, David Bowie, Bob Dylan, Jimi Hendrix, Christina Aguilera, Marilyn Manson, Beck, Kanye West, Amy Winehouse, the Weeknd, Alex Turner, Bright Eyes, and the Wonder Years.
Halsey is noted for her distinctive "indie" style of singing, which has garnered controversial feedback. She sings with an accent different from her speaking voice. She is known as a pop, electropop, synth-pop, art pop, alternative pop, R&B, indie pop, and alternative R&B artist.
Her discography includes four studio albums, one live album, 14 extended plays (including one standard EP, seven compilation EPs, five remix EPs, and two live session EPs), nine promotional singles, 33 music videos, and 24 singles (including three as a featured artist),.
Hire Halsey for your party or event!
Halsey may be available for your next special event!
Book Halsey, now!
For other great suggestions for booking music acts, look here.
LListen to music:
YouTube Music | Spotify

For more suggestions, proceed to the next page.
Click here --
Alternative Music Roster or Electronica Music Roster
Or, click on one of the below links --
Music Menu
Fast Index
Entertainers Directory
Home