How To Book MC HAMMER For Your Event!
M.C. Hammer may be available for your next special event!



M.C. Hammer, an immensely popular rap artist, synthesized the street sounds of black cultural alienation, or his interpretation thereof, to great commercial gain. After failing in professional baseball and attending a college course in communications, M.C. Hammer (named after his likeness to baseball's big hitter, Henry 'Hammerin' Hank' Aaron) joined the US Navy for three years. Indeed, his first forays into music were financed by baseball players Mike Davis and Dwayne Murphy, allowing him to form Bustin' Records and release the solo single, "Ring 'Em.'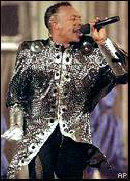 He had previously been part of religious rap group the Holy Ghost Boys. Together with a backing band consisting of two DJs and singers Tabatha King, Djuana Johnican and Phyllis Charles, he cut a 1987 debut set, "Feel My Power." A minor hit, it did enough to bring MC Hammer to the attention of Capitol Records. After contracts were completed, including a reported advance of $750,000 (unheard of for a rap artist), the album was reissued under the title "Let's Get It Started." Such success was overshadowed, however, by that of the follow-up, 1990's "Please Hammer Don't Hurt 'Em."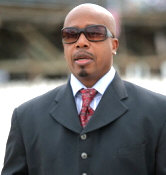 Following massive exposure due to sponsorship deals with British Knights footwear and Pepsi-Cola, the album began a residency at the top of the US charts for a record-breaking 21-week run. The US/UK Top 5 single, "U Can't Touch This," embodied his appeal, with near constant rotation on pop channel MTV, and dance routines that were the equal of Michael Jackson. The single sampled Rick James' "Super Freak," creating a precedent for follow-ups "Have You Seen Her" (the Chi-Lites) and "Pray" (Prince's "When Doves Cry"), the latter achieving his highest chart position when it reached US number 2.
Hammer was being praised as a suitable role model for black youth (not least by himself), and was honored by "M.C. Hammer Days" in Los Angeles and Fremont. "Here Comes The Hammer" became an unexpected failure by stalling at number 54 in the US charts, despite its appearance on the soundtrack to "Rocky V." A multitude of awards, including Grammys, Bammys and International Album of The Year at the Juno awards in Canada, reflected the global success of the album and the M.C. Hammer name – at this point in his career. His exposure to US audiences included the television adventures of cartoon hero "Hammerman," and a Mattel Hammer doll with attached ghetto blaster.
The follow-up, "Too Legit To Quit," was released under the name Hammer. The sleeve notes to the album expanded on his desire for black youth to rid themselves of drugs and resurrect their Christian morality through self-education. Despite a soundtrack hit with "Addams Groove," heavily promoted in The Addams Family movie, Hammer's fortunes declined.
In 1992, The San Francisco Examiner reported that Hammer faced financial ruin after poor attendances for his Too Legit To Quit tour, promoting an album that had seen him tracing a more R&B-based groove. Though MC Hammer denied there was any truth in such stories, it was obvious a re-think was needed.
By 1994, there was a huge image switch, from harem pants and leather catsuits to dark glasses and a goatee beard. The resultant album pulled in producers G-Bomb from Grand Jury Records, the Hines brothers from Detroit, Teddy Riley and members of the Dogg Pound, and specifically went after the Oakland G-funk sound of artists such as Too $hort. The "new" Hammer returned with "The Funky Headhunter" (a gangsta rap album) and a rebellious ghetto image. Though "The Funky Headhunter" briefly peaked at No. 2 and went gold, Hammer quickly abandoned his look and returned to pop-rap with 1995's "Inside Out."
After declaring bankruptcy in 1997, Hammer publicly announced that he would take responsibility for his past actions and from now on would use his musical talents, such as they are, to praise God and emphasize traditional family values.
Hammer's "Family Affair" album was released in 1998. In November 2001 he released his new studio album, "Active Duty."
Hit songs include --
U Can't Touch This
Pray
It's All Good
Pray
Pumps And A Bump
Too Legit To Quit
Turn This Mutha Out
Have You Seen Her?
Pump It Up
They Put Me In The Mix
Addams Groove
Goin' Up Yonder
Help The Children
Sultry Funk
Do Not Pass Me By
Here Comes The Hammer
This Is The Way We Roll
Dancin' Machine
Don't Stop
M.C. Hammer may be available for your next special event!
Watch videos
YouTube

Genre: Rap
Styles:
.Party Rap. / PartyRap
.Pop-Rap. / PopRap
.West Coast Rap. / WestCoastRap
.New Jack Swing. / NewJackSwing


Years active:
x80s, x90s, x00s, x10s, x20s

Born: ..in California / born nCalifornia
Born: ..in Oakland / born OaklandCA
Born: Mar 30, 1963

Based: ..in US
Based: ..in California / based nCalifornia
Based: ..in San Francisco area / based SanFranciscoCA
Based: ..in Tracy / based TracyCA

Travels out of Oakland, California