Visit new page >>>
HARD-FI
How To Book HARD-FI For Your Event!
Hard-Fi may be available for your next special event!





Hits include: "Suburban Knights",
"Hard To Beat", "Tied Up Too Tight",
"Better Do Better", "Cash Machine",
"Living For The Weekend",
"Hard To Beat", "I Shall Overcome",
"Can't Get Along Without You",
"Good For Nothing".
How to Hire HARD-FI For Your Event!
Popular requests:
BOOKING FEE (booking price, booking cost).
Hard-Fi are an English indie rock band, formed in 2003 in Staines-upon-Thames, Surrey. Their discography includes three studio albums, one live album, one compilation album, one remix album, one extended play and 11 singles.
They found their success with chart topping "Hard To Beat" and "Cash Machine" singles, which reached the top 15 chart in the UK.

"Hard-Fi" is the name given to the sound produced by Lee "Scratch" Perry, a reggae and dub artist, at his Black Ark recording studio. Being admirers of Perry's work, the band named themselves after his distinctive sound. Archer said, "Since then I've been desperately trying to find the biography where I read it, but I may have dreamt it."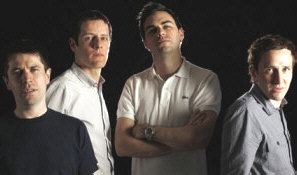 Hire Hard-Fi for your festival or concert plans!
Hard-Fi's lyrics are based mostly on working class life, the band themselves coming from a self-sufficient suburban lifestyle in Staines. This is notable in tracks such as "Suburban Knights" ("Those bills keep dropping through my door") and "Living for the Weekend" ("I've been working all week - I'm tired"), while other songs such as "Tonight", despite still being about suburban life, focus more on ambitions. Some songs are also based on social realism, "Feltham is Singing Out" is inspired by Zahid Mubarek, who was sent to the Feltham Young Offenders' Institution and was murdered by his racist cellmate.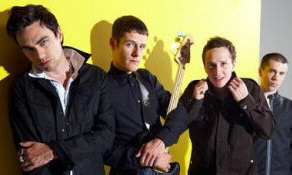 Hire Hard-Fi for your company's special event!
In June 2005 the band were one of the acts opening for Green Day, alongside Taking Back Sunday and Jimmy Eat World on their two-day residency of the Milton Keynes Bowl. Simple Plan were initially booked though cancelled only a few weeks before the show, and Hard-Fi were made as a last minute booking and opened on both days.

In February 2006, the band were nominated for two BRIT Awards, Best British Group and Best British Rock Act, alongside international superstars such as Gorillaz, Franz Ferdinand and Oasis. Richard spoke about the nominations, "I don't think we'll win it, especially best group when you've got Coldplay, Franz Ferdinand and Gorillaz in there, they're kind of big hitters, but you never know". "Last week I would have probably said 'nah it's all rubbish', but now I'm nominated it's great but what is good is that there's a real wide spread of stuff there, but there's no Best Dance award and the urban category is more pop than what's quality."
Other songs, such as "Better Do Better" and "Move on Now", are centered around the premise of how hard romantic relationships can be. Once Hard-Fi were becoming successful, Richard's mother died and the song "Help Me Please" is about how difficult it was for him having his dreams come true after many unsuccessful bands but realizes he has no parents to share the joy with. Similarly, "The King" is about Richard returning to Staines and finding everything completely different, and realizing everything of which he knew and loved had disappeared. He describes "Little Angel" as Christina Aguilera having a fight with The Clash in a Northern Soul club.
Hire Hard-Fi for your party or event!
Hard-Fi may be available for your next special event!
Book Hard-Fi, now!
For other great suggestions for booking music acts, look here.

For more suggestions, proceed to the next page.
Click here --
Alternative Music Roster
Or, click on one of the below links --
Music Menu
Fast Index
Entertainers Directory
Home