Highway 101 may be available for your next special event!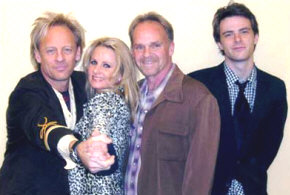 Hits include: "Honky Tonk Baby",
"(Do You Love Me) Just Say Yes",
"Somewhere Tonight", "Who's Lonely Now",
"Whiskey, If You Were a Woman",
"The Bed You Made for Me", "Setting Me Up",
"Honky Tonk Heart", "This Side of Goodbye",
"Someone Else's Trouble Now",
"Baby, I'm Missing You", "Cry, Cry, Cry",
"All The Reasons Why", "Bing Bang Boom",
"The Blame", "You Baby You",
"Walkin', Talkin', Cryin', Barely Beatin' Broken Heart".

Booking Highway 101:
Serious requests only.
For more suggestions, proceed to the next page.
Click here --
Country Music Roster
Or, click on one of the below links --
Music Menu
Fast Index
Entertainers Directory
Home