Visit new page >>>
HINDER
How To Book HINDER For Your Event!
Hinder may be available for your next special event!





Hits include: "Get Stoned",
"Lips of An Angel", "How Long",
"Use Me", "Better Than Me",
"Homecoming Queen",
"Without You", "Thing For You",
"All American Nightmare",
"What Ya Gonna Do", "The Life",
"Loaded And Alone", "Save Me",
"Thing For You", "Up All Night",
"Is It Just Me", "Talk to Me",
"Hit the Ground", "Remember Me",
"Making It Hard", "Long Gone".
How to Hire HINDER For Your Event!
Popular requests:
BOOKING FEE (booking price, booking cost).
Hinder is an American rock band from Oklahoma City, Oklahoma. They formed in 2001 by lead singer Austin John Winkler, guitarist Joe "Blower" Garvey, and drummer Cody Hanson with bassist Mike Rodden and guitarist Mark King joining in 2003.
The group's most successful song to date, "Lips of an Angel", was released in 2006 and reached the top five of multiple national record charts, including topping the Australian and New Zealand singles charts. The band was inducted into the Oklahoma Music Hall of Fame in 2007.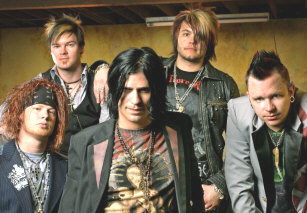 Hire Hinder for your festival or concert plans.
The band released four studio albums with Winkler; Extreme Behavior (2005), Take It to the Limit (2008), All American Nightmare (2010). Five of the band's single have reached the top ten of the Billboard Mainstream Rock airplay chart, having reached the tier with All American Nightmare.
Hinder went on to release Welcome to the Freakshow (2012). Cody Hanson, along with former lead singer Austin John Winkler, wrote the majority of the band's music on their first four albums. After Winkler left the band in 2013, they looked for a new lead vocalist, and added Marshal Dutton. They have since released When the Smoke Clears (2015) and The Reign (2017) with their new vocalist.
In December 2018, the band announced a winter 2019 tour with Soil. In early January 2019, the band announced their new single titled "Halo" would be released January 25; this single serves as their lead single for their untitled upcoming seventh studio album which was to be released later that year. In July 2019, the band released a cover of the hit song "Life in the Fast Lane".
In February 2020, Hinder announced an Extreme Behavior 15th-anniversary tour for the summer and fall of 2020. The tour was delayed due to the COVID-19 pandemic. In August 2022, Hinder's cover of the Prince song titled "Pussy Control" was uploaded to YouTube.
Hinder has performed more than 1300 concerts throughout the course of their career. In September 2022, Hinder performed at Blue Ridge Rock Fest with others, including Slipknot, Disturbed, 3 Doors Down, Ice Cube, Buckcherry, Halestorm, Mudvayne, Nelly and Daughtry.
The band's influences include Bush, Collective Soul, Creed, Foo Fighters, Kiss, Nirvana, Led Zeppelin, Aerosmith, Def Leppard, Bon Jovi and Mötley Crüe.
Their discography includes six studio albums, two extended plays, twenty-nine singles, one promotional single, and fifteen music videos.
Hire Hinder for your party or event!
Hinder may be available for your next special event!
Book Hinder, now!
For other great suggestions for booking music acts, look here.

For more suggestions, proceed to the next page.
Click here --
Metal Music Roster or Alternative Music Roster
Or, click on one of the below links --
Music Menu
Fast Index
Entertainers Directory
Home