How To Book THE HIVES For Your Event!
The Hives may be available for your next special event.



The sound of The Hives is like a velvet glove with brass knuckles. Brutal and sophisticated at the same time, but based on youth, energy, taste and a bag of tricks borrowed from 50's Rock n' Roll, 60's garage-rock and 70's punk-rock with new wave and everything after and in between. All this is then molded into a sound that is approximately 100% The Hives.

In 2001, they played 250+ shows, wowed audiences from Tokyo to Trondheim, from Glasgow to Georgia, and reintroduced rock in the mainstream and truly became everybody and their mama's new favorite band. Their plan had already been in action for 7 years. Formed in the small, industrial town of Fagersta, Sweden in 1993, the Hives, then in their early teens, were saved from boredom and despair by Mr. Randy Fitzimmons. He came to them with the idea to start a musical group based on everything he and the band found exciting.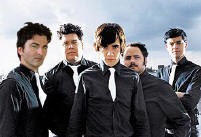 After teaching themselves to play instruments and then practicing, perfecting and polishing their craft, they released their first album "Barely Legal" in 1997 to much acclaim. A perfect statement of teenage will power over pretty much everything else, it was hailed by people fed up with the staleness of contemporary rock. Here was a band with roots, but a mind of their own. Style and grace, yet swerve and brute force - not to mention the sheer energy to power the watch on your wrist and the sun in the sky.
Touring commenced and took them several laps around Sweden and Europe, gathering a cult following that grew steadily upon each visit. Dressed in black and white and looking out of sight, the gloves were off and they were ready for anything.
They record a record so good the world can't ignore it. They release "Veni, Vidi, Vicious" and nothing is ever the same. Rave reviews, more touring and that steadily growing cult following that can no longer fit into the clubs they play.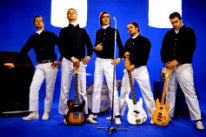 Cue big time UK industry guy and all around music fan Alan McGee (Oasis, Primal Scream, Creation Records) sees the Hives on German TV and decides that this is important. He has the band put together a form of greatest hits for his Poptones label. "Your New Favorite Band," as the result is dubbed, catches a sleeping England by surprise. Rock music that is exciting and dangerous not really being the toast of the town lately.

Cue "Rock is back!" headlines in newspapers and on TV. "We always knew the world would catch on, we just had to wait them in," as the band themselves say. Cue hits "Hate To Say I Told You So" and "Main Offender" and things are drastically different. People in the UK once again connect rock bands with showmanship, excitement and an actual good time. Your new favourite band? Yes. Indeed.

In the space of a few short months, the band then go on to conquer America and beyond. People everywhere now talk about, listen to and praise our five heroes. The world seems a little bit blacker and a little bit whiter. Phase Two is complete. Time to initiate Phase Three.

After touring for three years, the Hives suddenly decide on a full stop. A new record deal is signed and they go back to Hive Manor, their HQ in Fagersta, Sweden. Here they will spend all their time until they come up with a new sound, they promise. A more metronomic, monotonous and mechanical sound. "After playing the same songs for three years, we wanted to surprise ourselves again," they say. This is where the traces end.

After much research, the members of the Hives discovered that the sound had to be located in their own backyard. Two weeks after touring stopped, digging would start. Reports of strange noises heard all over Fagersta commenced. As the '90s layer was still covered in smelly crap, the first layer to be thoroughly searched contained the bleeps and blops of '80s new wave. Interesting! They dug further. The metallic kerrang of '70s punk. Wow! They dug further still. The shaking hair and swinging hips of '60s rock and soul. Useful! Go back further. Slapback echo, twangy guitar - this must be the '50s. Go back further. The primal force and sheer joy of '40s R&B. Good.
The sound is equal parts of the end of something old and the start of something new.
As The Hives explode across the world's stages once more, they are rightly confident that they have at their disposal all the musical fire-power to complete the job.
Hit songs include --
Hate to Say I Told You So
Walk Idiot Walk
Tick Tick Boom
Go Right Ahead
Other notable songs include --
Automatic Schmuck
Die, All Right!
Hail Hail Spit N' Drool
Here We Go Again
Main Offender
Outsmarted
Supply and Demand
The Hives Are Law, You Are Crime
Untutored Youth
The Hives may be available for your next special event.
Watch videos:
YouTube

Genre: Rock 3
Styles:
.Punk Revival. / PunkRevival
.Garage Punk. / GaragePunk
.Garage Rock. / GarageRock
.Post-Punk Revival / PostPunkRevival
.Alternative Pop/Rock. / AlternativePopRock
.Alternative/Indie Rock. / AlternativeIndieRock


Years active:
x90s, x00s, x10s, x20s
1993-present

Formed: ..in Sweden
Formed: ..in Fagersta
Formed: in 1993

Based: ..in Sweden