How To Book HOZIER For Your Event!
Hozier (HOH-zee-er) may be available for your next special event!



Hits include: "Take Me To The Church",
"Someone New", "From Eden",
"Work Song", "Jackie And Wilson",
"Cherry Wine", "To Be Alone",
"Angel Of Small Death And The Codeine Scene",
"Like Real People Do", "Sedated",
"Nina Cried Power", "Movement",
"Almost (Sweet Music)",
"The Parting Glass".
Andrew John Hozier-Byrne, known mononymously as Hozier, is an Irish musician, singer, and songwriter.
His music primarily draws from folk, soul, and blues, often using religious and literary themes. He had his international breakthrough after releasing his debut single "Take Me to Church", which has been certified multi-platinum in several countries.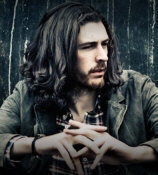 Born and raised in County Wicklow, Ireland, Hozier released his debut EP in 2013, featuring "Take Me to Church", which became a rock radio hit in the U.S. and peaked at number two on the Billboard Hot 100. His debut studio album was released in March 2014 to critical acclaim. It has been certified 6× platinum in Ireland and multi-platinum in several countries.
In September 2018, Hozier released an EP titled Nina Cried Power and featured the title track as a single, reaching number one on the Billboard Adult Alternative Songs chart. He released his second album Wasteland, Baby! in March 2019, which debuted atop the Irish Albums Chart and the Billboard 200, and has since been certified gold in the U.S.

Musically, Hozier has listed as musical and vocal influences, artists such as Aretha Franklin, Johnny Cash, Woody Guthrie, Van Morrison, Ella Fitzgerald, St Vincent, Feist, Little Green Cars, Paul Simon, Willie Dixon, and Lisa Hannigan.
Hire Hozier for your party or event!
Hozier may be available for your next special event!
Book Hozier, now!
For other great suggestions for booking music acts,
look here.
Watch videos
YouTube

For more suggestions, proceed to the next page.
Click here --
Alternative Music Roster or Blues Music Roster
Or, click on one of the below links --
Music Menu
Fast Index
Entertainers Directory
Home