Visit new page >>>
IGGY POP
How To Book IGGY POP For Your Event!
Iggy Pop may be available for your next special event!



Hits include: "Home", "Candy",
"Livin' On the Edge of the Night",
"Wild America", "Real Wild Child",
"Little Know It All", "Cold Metal",
"Cry for Love", "Bang Bang",
"Beside You", "Gardenia",
"Frenzy".
How to Hire IGGY POP For Your Event!
Popular requests:
BOOKING FEE (booking price, booking cost)
.
James Newell Osterberg Jr., known professionally as Iggy Pop, is an American singer, musician, songwriter and actor.
Designated the "Godfather of Punk", he was the vocalist and lyricist of proto-punk band The Stooges, who were formed in 1967 and have disbanded and reunited many times since.

Initially playing a raw, primitive style of rock and roll, the Stooges sold few records in their original incarnation and gained a reputation for their confrontational performances, which often involved acts of self-mutilation by Iggy Pop. He had a long collaborative and personal friendship with David Bowie over the course of his career, beginning with the Stooges' album Raw Power in 1973. Both musicians relocated to West Berlin to wean themselves off their respective drug addictions and Iggy Pop began his solo career by collaborating with Bowie on the 1977 albums The Idiot and Lust for Life, Pop usually contributing the lyrics.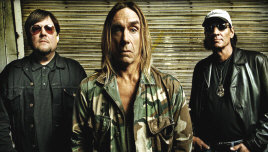 Hire Iggy Pop for your festival or concert plans!
He was one of the first performers to do a stage-dive and popularized the activity. Iggy Pop, who traditionally (but not exclusively) performs bare-chested, also performed such stage theatrics as rolling around in broken glass and exposing himself to the crowd.
In 1984 Pop contributed the title song to the film Repo Man (with Steve Jones, previously of the Sex Pistols, on guitar, and Nigel Harrison and Clem Burke, both of Blondie on bass and drums) as well as an instrumental called "Repo Man Theme" that was played during the opening credits.
In 1990, Pop recorded Brick by Brick, produced by Don Was, with members of Guns N' Roses and The B-52's as guests, as well as backup vocals by many local Hollywood groups, two of whom (Whitey Kirst and Craig Pike) would create his band to tour and perform on his Kiss My Blood video (1991), directed by Tim Pope and filmed at the Olympia in Paris.
In 2003 his album Skull Ring featured collaborators Sum 41, Green Day, Peaches, and The Trolls, as well as Ron and Scott Asheton, reuniting the three surviving founding members of the Stooges for the first time since 1974. Pop made a guest appearance on Peaches' song "Kick It" as well as the video.
In December 2020, Pop featured on a rework of Elvis Costello's song "No Flag" from Costello's 2020 album Hey Clockface. The song is a re-recording, with Pop providing the vocals, translated to French for this version.
In 2020, Pop collaborated with Morrissey on his upcoming album Bonfire of Teenagers, which was due to be released in February 2023, but in December 2022, it was announced that Capitol Records had backed out of the deal.

Throughout his career, Iggy Pop is well known for his outrageous and unpredictable stage antics, poetic lyrics, and distinctive voice.
Hire Iggy Pop for your party or event!
Iggy Pop may be available for your next special event!
Book Iggy Pop, now!
For other great suggestions for booking music acts,
look here.

For more suggestions, proceed to the next page.
Click here --
Alternative Music Roster
Or, click on one of the below links --
Music Menu
Fast Index
Entertainers Directory
Home