How To Book IMAGINE DRAGONS For Your Event!
Imagine Dragons may be available for your next special event!



Hits include: "Demons",
"I Bet My Life", "It's Time",
"Roots", "Shots", "Radioactive",
"On Top of The World", "Warriors",
"Gold", "I Was Me", "Not Today",
"I'm So Sorry", "Polaroid",
"Who We Are", "Battle Cry",
"Monster", "Dream", "Tiptoe",
"Smoke + Mirrors", "Friction",
"It Comes Back To You",
"Round And Round", "The Fall",
"Whatever It Takes", "Thunder",
"Amsterdam", "Bleeding Out".
GRAMMY AWARD winning Imagine Dragons is an American pop rock band from Las Vegas, Nevada, consisting of lead singer Dan Reynolds, guitarist Wayne Sermon, bassist Ben McKee and drummer Daniel Platzman.
The band first gained exposure with the release of their single "It's Time", followed by their award-winning debut studio album, Night Visions (2012), which resulted in the chart-topping singles "Radioactive" and "Demons". Rolling Stone named "Radioactive", which held the record for most weeks charted on the Billboard Hot 100, the "biggest rock hit of the year". MTV called them "the year's biggest breakout band", and Billboard named them their "Breakthrough Band of 2013" and "Biggest Band of 2017", and placed them at the top of their "Year in Rock" rankings for 2013, 2017, and 2018. Imagine Dragons topped the Billboard Year-End "Top Artists – Duo/Group" category in 2018.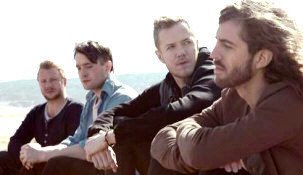 Imagine Dragons has won three American Music Awards, nine Billboard Music Awards, one Grammy Award, one MTV Video Music Award, and one World Music Award. In May 2014, the band was nominated for 14 Billboard Music Awards, including Top Artist of the Year and a Milestone Award, which recognizes innovation and creativity of artists across different genres. In April 2018, the band was nominated 11 more times for Billboard Music Awards.

Imagine Dragons has sold more than 75 million records worldwide, making them one of the world's best-selling music artists. They were the most streamed group of 2018 on Spotify and are the first rock act to have four songs, "Radioactive", "Demons", "Believer", and "Thunder", to surpass one billion streams each. According to Billboard, "Believer", "Thunder", and "Radioactive" were the three best performing rock songs of the 2010s.

Imagine Dragons' musical style has mainly been described as pop rock, electropop, pop, indie pop, indie rock, arena rock, and alternative rock. Their music also contains influences from synth-pop, dance-pop, trip hop, folk, drum and bass, dubstep, industrial, EDM, R&B, and hip hop.

Dan Reynolds cites Arcade Fire, Nirvana, Muse, The Beatles, Paul Simon, Coldplay, Linkin Park, Harry Nilsson, and U2 as some of his and the band's artistic influences. In terms of success, Reynolds credits bands like Foster the People and Mumford & Sons for bringing alternative pop music to a new level of commercial success in recent years.
Hire Imagine Dragons for your party or event!
Imagine Dragons may be available for your next special event!
Book Imagine Dragons, now!
For other great suggestions for booking music acts,
click here.
Watch videos
YouTube

For more suggestions, proceed to the next page.
Click here --
Alternative Music Roster
Or, click on one of the below links --
Music Menu
Fast Index
Entertainers Directory
Home