How To Book INCUBUS For Your Event!
Incubus may be available for your next special event!



Incubus is an American rock band from Calabasas, California. The band was formed in 1991 by vocalist Brandon Boyd, lead guitarist Mike Einziger, and drummer José Pasillas while enrolled in Calabasas High School and later expanded to include bassist Alex "Dirk Lance" Katunich, and Gavin "DJ Lyfe" Koppell; both of whom were replaced by bassist Ben Kenney and DJ Kilmore, respectively.

Incubus has attained commercial success, reaching multi-platinum sales, as well as releasing several successful singles.

Their influences include Faith No More, Mr. Bungle, Red Hot Chili Peppers, Alice in Chains, Ani DiFranco, Stone Temple Pilots, Primus, Fishbone, Suicidal Tendencies, Beastie Boys, Soundgarden, Rage Against the Machine, The Police, Jane's Addiction, and Phish.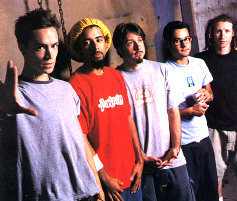 Vocalist Brandon Boyd and drummer Jose Pasillas went to elementary school together. In middle school, they met guitarist Mike Einziger, who spent most of his time playing guitar in his bedroom. Then, in high school, the trio became friends with bassist Alex Katunich, who was playing in a jazz band. In 1991, in the 10th grade, the four friends from Calabasas, California, decided to form a band simply because they loved to play music – Incubus (Latin for nightmare).
A year later the band began playing party gigs and playing all-age clubs in the San Fernando Valley and at the Roxy on the Sunset Strip. In 1994 the band released "Closet Cultivation."
They continued to play and jam. In January, 1995, they released the demo tape "Incubus."

After this, the band continued to play live shows and write music and were starting to stir up the scene. A few months after their release of the demo tape, they put out their first CD. On November 1, 1995, "Fungus Amongus" was released.

Then DJ Lyfe saw Incubus play live and asked if Incubus would be interested in using some of his hip-hop tracks. Lyfe joined full-time after one rehearsal. Incubus' unusual amalgamation of styles and high-energy shows, combined with its growing fan base, turned label heads and put the band in the enviable position of a bidding war.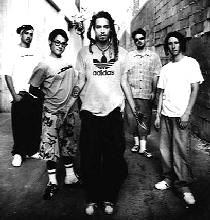 Immortal Records emerged the winner by understanding that Incubus is a touring live band, not an out-of-the-box, hit-single sensation, and intent on building its following from the ground up. With this strategy in mind, on January 7th, 1997, the quintet released the EP "Enjoy Incubus."
Before and after the release of "Enjoy Incubus" the band completed several mini-tours in support of it – touring with such bands as Far, Phunk Junkeez, Shootyz Groove, and others. Then Incubus collaborated with DJ Greyboy to put the song "Familiar" on the "Spawn" Soundtrack which was released on July 29th, 1997. On this CD were a bunch of great bands – from KoRn, to Filter, to Metallica.
Incubus was now being heard by many people who had never heard them before. The band was already writing new material for a full length CD. They took their new songs on the road: A 1997 European tour supporting Immortal label-mates KoRn. This tour was a total success. Incubus played in front of more people then they had ever before – going on stage and winning fans one by one.
After touring, the band released the album "S.C.I.E.N.C.E." on September 9th 1997. After the release of "S.C.I.E.N.C.E.," the band headed out with 311 and Sugar Ray. They were only supposed to be on the first leg of the tour. Things went so well and the response to Incubus was so great, they were asked to stay on for the remainder of the tour. While touring the US and Europe, fans of 311 and Sugar Ray saw Incubus and were amazed. This was a tour that gained them an enormous amount of fans.
In February of 1998 the band asked their DJ, DJ Lyfe (Gavin), to leave the band. They asked DJ Kilmore (Chris) to fill the position. After this very productive tour and DJ replacement, the band began tours with many bands – Snot, Hed(pe), System of a Down, Limp Bizkit, and others.
The band was part of the line-up on Ozzfest 1998, and the crowds of these shows were also very receptive to the crazy styles of the band. After Ozzfest the band participated in various tours with countless bands.
They then took some time off, and headed into the studio. After relentless work in the studio, Incubus released "Make Yourself" on October 26, 1999.
Immediately after the release of "Make Yourself," the band headed on tour with Primus and Buckethead. After releasing "Pardon Me" as a single and having MTV pick it up as buzzworthy and Spankin' New Music, the band headed out on the Sno-Core Tour with System of a Down, and Mr. Bungle. During this time, "Pardon Me" was being played all over the country.
They then went on the road with label-mates of Epic, Ultraspank. They hit gold status with their first single, "Pardon Me," while their next single "Stellar" received afternoon airplay on MTV and was in the top ten singles in the country for a number of weeks.
The band released a new EP, titled "When Incubus Attacks" on August 22, 2000.
In its first week, "When Incubus Attacks" sold almost 40,000 copies, and scored #41 on the billboard charts.
The band took a short break after finishing the Ozzfest 2000 Tour, and it was during this time that the album "Make Yourself" went platinum, pressing more than 1 Million copies.
The band went on tour with The Deftones and Taproot in the fall of 2000. The band re-released the album "Fungus Amongus" on November 7th, 2000 with the same artwork, and track-listing as before.
Hit songs include --
Anna-Molly
Drive
Megalomaniac
Stellar
Wish You Were Here
Pardon Me
Talk Show On Mute
Warning
Dig
Oil And Water
Nice To Know You
Make A Move
Circles
Love Hurts
Black Heart Inertia
Adolescents
Promises, Promises
Absolution calling
Nimble Bastard
Other notable songs include --
Make Yourself
New Skin
Favorite Things
Crowded Elevator
Hire Incubus for your party or event!
Incubus may be available for your next special event!
Book Incubus, now!
For other great suggestions for booking music acts,
look here.
Watch videos
YouTube

Genre: Rock 2
Genre: Rock 3
Genre: Rap
Styles:
.Alternative Pop/Rock. / AlternativePopRock
.Alternative/Indie Rock. / AlternativeIndieRock
.Rap-Rock. / RapRock
.Rap-Metal. / RapMetal
.Alternative Metal. / AlternativeMetal
.Funk Metal. / FunkMetal
.Heavy Metal. / HeavyMetal


Years active:
x90s, x00s, x10s, x20s
1991-present

Formed: ..in California / formed nCalifornia
Formed: ..in Calabasas / formed CalabasasCA
Formed: in 1991

Based: ..in US
Based: ..in California / based nCalifornia