How To Book INSANE CLOWN POSSE For Your Event!
Insane Clown Posse may be available for your next special event!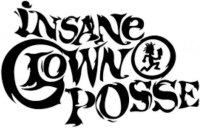 Hits include: "Hokus Pokus",
"Halls of Illusions",
"Santa's A Fat Bitch".
How to Hire INSANE CLOWN POSSE For Your Event!
Popular requests:
BOOKING FEE (booking price, booking cost).
Insane Clown Posse, often abbreviated as ICP, is an American hip-hop duo. Formed in Detroit in 1989, ICP's best-known lineup consists of rappers Violent J (Joseph Bruce) and Shaggy 2 Dope (originally 2 Dope, Joseph Utsler).
Insane Clown Posse performs a style of hardcore hip-hop known as horrorcore and is known for its elaborate live performances. The duo has earned two platinum and five gold albums. The group has established a dedicated following called Juggalos numbering in the "tens of thousands".
The songs of Insane Clown Posse center thematically on the mythology of the Dark Carnival, a metaphoric limbo in which the lives of the dead are judged by one of several entities. The Dark Carnival is elaborated through a series of stories called Joker's Cards, each of which offers a specific lesson designed to change the "evil ways" of listeners before "the end consumes us all".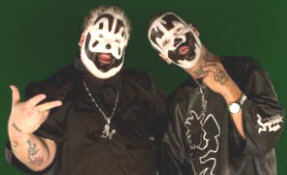 Hire Insane Clown Posse for your festival or concert plans.
Their debut album, Carnival of Carnage, featured appearances from local rappers, including Esham and Kid Rock.
At their 2010 Hallowicked concert, Insane Clown Posse announced that the second new Joker's Card would be The Mighty Death Pop! The album has two faces, the first of which was revealed at the Hallowicked concert. The Mighty Death Pop! features appearances from Tech N9ne and Hopsin.
Additionally, the album was released in three variant editions, containing three individual full-length bonus albums. The first variant edition, dubbed the Red Pop edition, contains an album of cover songs entitled Smothered, Covered & Chunked, which features appearances by Psychopathic artists, Twiztid, Anybody Killa, Blaze Ya Dead Homie, Cold 187um and Boondox, as well as Limp Bizkit frontman Fred Durst and rapper, Lil Wyte.
The second variant, the Black Pop edition, contains the album Freaky Tales, consisting of a single, album-length rap, inspired by Too Short's song of the same name. In October 2012, the group made an appearance on the Spike television series, 1000 Ways To Die, as the horror rock band, Infernal Clown Posse (Episode: Deadliest Kitch). The third variant, the White Pop edition, contains the remix album Mike E. Clark's Extra Pop Emporium, which features remixes, outtakes and leftover songs recorded during the Mighty Death Pop sessions; these tracks include appearances by Kottonmouth Kings, Three 6 Mafia, Color Me Badd, Ice Cube, Scarface, Geto Boys, Twiztid, Kreayshawn, Swollen Members and Willie D.
Insane Clown Posse has covered songs by Geto Boys, Sly Fox, and Above the Law. Bruce and Utsler were influenced by Ice Cube, Awesome Dre, Geto Boys, Esham, Gong, and Michael Jackson, who Bruce called Insane Clown Posse's biggest influence. The duo has described Insane Clown Posse musically as a cross between N.W.A, Michael Jackson and Pearl Jam. Utsler has a tattoo of Jackson, and Bruce has a poster of Jackson facing him in his recording studio when he raps. Insane Clown Posse influenced Axe Murder Boyz, Blaze Ya Dead Homie and Boondox.
Insane Clown Posse's music is typically classified as hip-hop, horrorcore, or rap rock. The duo has incorporated elements of pop music, industrial rock and funk into its sound, as well as "carnival organ riffs, power chords and shotgun blasts...banjolike plucking and Van Halen-esque guitar squeals". Bruce and Utsler's vocal style has been described as alternating between rapping and screaming.
Their discography includes sixteen studio albums, eighty-four singles, nineteen extended plays and nineteen compilations. Music videos and collaborations are also included, as are film and television appearances and home video releases.
Hire Insane Clown Posse for your party or event!
Insane Clown Posse may be available for your next special event!
Book Insane Clown Posse, now!
For other great suggestions for booking music acts, look here.

For more suggestions, proceed to the next page.
Click here --
Rap Music Roster or Metal Music Roster
Or, click on one of the below links --
Music Menu
Fast Index
Entertainers Directory
Home