How To Book JAGGED EDGE For Your Event!
Jagged Edge may be available for your next special event!


R&B music is cluttered with so many boy bands that it's hard to keep track of who's who. But when it comes to distinction and "edging out" the competition, while creating a league of their own, the men of Jagged Edge always manage to successfully stand out.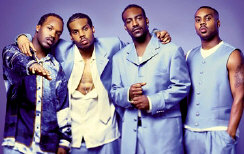 With two phenomenal past albums – 1998's RIAA gold debut "A Jagged Era," and 2000's multiple-platinum smash "J.E. Heartbreak" – notched on the group's collective belt, Richard Wingo, Kyle Norman, and twin brothers Brian and Brandon Casey released their third dynamic JE disk, "Jagged Little Thrill" in June 2001
After a solid upbringing where they honed their vocal skills in church choirs, Jagged Edge first came together in Atlanta, Georgia. Connecticut natives Brian and Brandon moved to the Peach Tree State and connected with Kyle and a few other song men. Although they planned to sign with Michael Bivins and his Biv Ten label, it wasn't meant to be. Changes were made. Xscape's Kandi Burress brought Wingo to the group. A demo was shopped.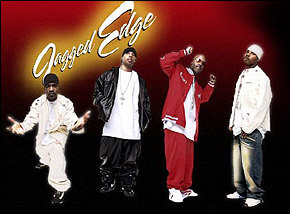 After hearing a live a cappella performance by the quartet, Jermaine Dupri quickly signed the captivating crooners to his So So Def label. Always keeping writing duties within the group, Jagged Edge has stood out from the beginning. "We've always kept all of the writing in house. Jermaine trusted us," says Kyle. "He never did that with any other group." Three albums later, Jagged Edge keep minting the hits, daring to write about, and venture into, untapped territory. "Times change and we try to keep it fresh and new. We write our lyrics to reflect events that are going on in our lives," says Wingo. "Without the meat of the music, which are the lyrics, you really don't have anything,. So we try to improve each and every time."
"A Jagged Era" was the fledgling beginning for four unknown talents and "J.E. Heartbreak" was the double-platinum breakthrough that put them on the map. But "Jagged Little Thrill" signified Jagged Edge's graduation into the school of classic R&B acts - alongside New Edition, Jodeci, and Boyz II Men. It showcases undeniable maturity, growth and confidence as four men who can effectively say what they mean, build on the old, and slide in the new, while still keeping you grooving to each tune – every time.
Awards include --
Best R&B/Soul Single, Group, Band or Duo ("Let's Get Married")
-- Soul Train Music Awards, 2001
Best R&B/Soul Album, Group, Band or Duo ("J.E. Heartbreak")
-- Soul Train Music Awards, 2001
Hits include: "Let's Get Married", "Promise",
"Where The Party At", "Walked Outta Heaven",
"I Got It", "He Can't Love U", "Gotta Be", "Baby",
"Goodbye", "Good Luck Charm", "So Amazing",
"What's It Like", "The Way That You Talk",
"All Out Of Love", "Put A Little Umph In It", "
"Keys To The Range", "Tip Of My Tongue".
Jagged Edge may be available for your next special event!

Genre: R&B
Styles:
.Contemporary R&B. / ContemporaryR&B
.Urban. / xUrban


Years active:
x90s, x00s, x10s, x20s
1995-present

Formed: ..in Georgia / formed nGeorgia
Formed: ..in Atlanta / formed AtlantaGA
Formed: in 1995

Based: ..in US
Based: ..in Georgia / based nGeorgia
Based: ..in Atlanta / based AtlantaGA