How To Book Entertainment For Your Event
Jamie Foxx may be available for your next special event!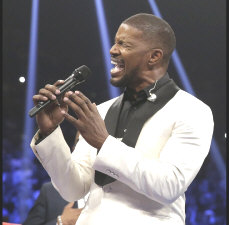 Hits include: "Fall For Your Type",
"In Love By Now", "Like A Drum",
"Blame It", "You Changed Me",
"Infatuation", "Baby's In Love",
"Unpredictable", "Extravaganza",
"DJ Play a Love Song", "Winner",
"Can I Take U Home", "Digital Girl",
"Just Like Me", "She Got Her Own",
"Living Better Now", "Experiment",
"Best Night of My Life".

Booking Jamie Foxx:
Serious requests only.
For more suggestions, proceed to the next page.
Click here --
R&B Music Roster
Or, click on one of the below links --
Music Menu
Fast Index
Entertainers Directory
Home