How To Book JAMIROQUAI For Your Event!
Jamiroquai may be available for your next special event!


How to Hire JAMIROQUAI For Your Event!
GRAMMY AWARD winning Jamiroquai are an English funk and acid jazz band from London.
Formed in 1992, they are fronted by vocalist Jay Kay, and were prominent in the London-based funk and acid jazz movement of the 1990s. They built on their acid jazz sound in their early releases and later drew from rock, disco, electronic and Latin music genres. Lyrically, the group has addressed social and environmental justice. Kay has remained as the only original member through several line-up changes.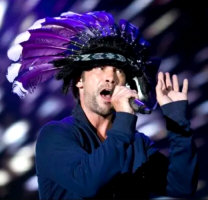 Hire Jamiroquai for your festival or concert plans!
As of 2017, Jamiroquai had sold more than 26 million albums worldwide. Their third album, Travelling Without Moving (1996), received a Guinness World Record as the best-selling funk album in history. The music video for its lead single, "Virtual Insanity", also contributed to the band's success. The song was named Video of the Year at the 1997 MTV Video Music Awards and earned the band a Grammy Award in 1998.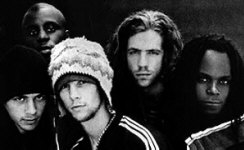 Hire Jamiroquai for your company's special event!
"A Funk Odyssey" overhauled the engine on the Jamiroquai funk machine to bring it in line with the sharpest technological dance. As club music matured, whatever boundaries were there separating Jamiroquai from a Daft Punk or a Basement Jaxx have become permeable - and Jay was there before them all.

Hire Jamiroquai.
If Bootsy Collins and Gil Scott Heron are giving you the thumbs up, contemporary hip hop names from Gang Starr's Guru to Busta Rhymes to Missy Elliott want to work with you or sample you, you must be doing a lot right. Couple that with the fact that, through the 90's, even the most dedicated media cynics were forced to accept that Jamiroquai has consistently been an amazing live band.
The multi million selling triumph of "Travelling", and the grueling world tour that accompanied it, allowed Jay to take time off in 1998, yet even that year had its moment of triumph with the number one hit single "Deeper Underground", written specially for the movie "Godzilla". With personnel shifts in the band taken care of and a studio installed in his recently purchased Buckinghamshire manor, Jay was able to test the water for his future direction with 99's four million seller "Synkronized".
As Britain's Q magazine recently put it: "Jamiroquai is the kind of pop star we could do with more of."
This big rap star is a skinny white kid, disco and funk are fully rehabilitated, and the new counter-cultural coalition is out in the streets protesting eco threats and Third World debt. Maybe it's time to credit Jay Kay for his intuition.
"I'd just like to have a good year musically," says Jay. "I can't think of anything else I want now, because it takes over your life. But I love the whole rollercoaster ride of it."
Hits include:
(Don't) Give Hate A Chance
Feels Just Like It Should
Runaway
Seven Days In Sunny June
Canned Heat
Space Cowboy
Supersonic
Little L
You Give Me Something
Light Years
Alright
Cosmic Girl
Virtual Insanity
Hire Jamiroquai for your party or event!
Jamiroquai may be available for your next special event!
Book Jamiroquai, now!
For other great suggestions for booking music acts,
look here.

Genre: R&B
Genre: Rock 1
Styles:
.Adult Alternative Pop/Rock. / AdultAlternativePopRock
.Acid Jazz. / AcidJazz
.Club/Dance. / ClubDance
.Alternative Pop/Rock. / AlternativePopRock
.Alternative Dance. / AlternativeDance
.Trip-Hop. / TripHop
.Pop/Rock. / PopRock
.Dance-Rock. / DanceRock
.Funktronica. / xFunktronica
.Funk. / xFunk
.Jazz-Funk. / JazzFunk
.Nu Funk. / NuFunk
.Blue-Eyed Soul. / BlueEyedSoul


Years active:
x90s, x00s, x10s, x20s
1992-present

Formed: ..in England
Formed: ..in London
Formed: in 1992

Based: ..in England