How To Book JANE'S ADDICTION For Your Event!
Jane's Addiction may be available for your next special event!



Hits include: "Been Caught Stealing",
"Just Because", "Irresistible Force",
"Jane Says", "Ripple", "Classic Girl",
"True Nature", "Underground",
"So What!", "Stop!", "Mountain Song".
How to Hire JANE'S ADDICTION For Your Event!
Popular requests:
BOOKING FEE (booking price, booking cost)
.
Jane's Addiction is an American rock band from Los Angeles, formed in 1985. Their discography includes four studio albums, two live albums, four compilation albums, seventeen singles and ten music videos.
The band consists of vocalist Perry Farrell, guitarist Dave Navarro, drummer Stephen Perkins and bassist Eric Avery. Jane's Addiction was one of the first bands from the early 1990s alternative rock movement to gain both mainstream media attention and commercial success in the United States.
A pioneer of alternative metal, Jane's Addiction is credited for the mainstream exposure of the alternative music scene in the 1990s. The band is also associated with the funk metal genre.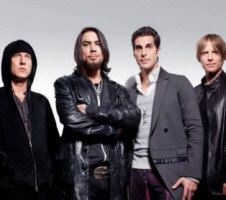 Hire Jane's Addiction for your festival or concert plans!
Emerging from Los Angeles' glam metal and goth scene, Jane's Addiction's music contains elements of heavy metal, punk rock, folk, jazz fusion, funk rock, psychedelic rock and progressive rock. The band's other prominent influences included '70s heavy metal, art rock, post-punk and gender bending glam rock. The band was also labeled as "funk-punk". Their album, Strays, was labeled as "nu metal", a genre to which the band was a precursor.
In 1988, the band went on tour, opening for Iggy Pop and The Ramones. By the end of the tour, Jane's Addiction was headlining clubs and theaters.
In 1991 the band headlined for the first Lollapalooza festival, which traveled across North America. The festival, created by Farrell and Marc Geiger showcased other cult artists: Siouxsie and the Banshees, Nine Inch Nails, the Butthole Surfers, Living Colour, The Rollins Band, The Violent Femmes, and Ice-T's Body Count. The headliners began to get more exposure than ever before: "Been Caught Stealing" and "Stop!" became hits and earned rotation on MTV.
In 1997, the band reunited with Flea of the Red Hot Chili Peppers replacing Avery on bass guitar for a one-off tour.
In 2001, a second reunion took place, with Martyn LeNoble—and later Chris Chaney—occupying the role of bass guitarist.
In 2003, the band released its third studio album, Strays, before dissolving again the following year.
In 2008, the band's original line-up reunited and embarked on a world tour. Avery acrimoniously left the band in early 2010, as the group began working on new material.
In 2011, the band released its fourth studio album, The Great Escape Artist, with Chaney returning to the band for its recording and subsequent tour.
In 2016, Jane's Addiction were nominated for induction into the Rock and Roll Hall of Fame.
In August 2022, Avery rejoined the band after a twelve-year absence, ahead of a joint tour with the Smashing Pumpkins. Due to ongoing struggles with long COVID, Navarro was replaced by Queens of the Stone Age guitarist Troy Van Leeuwen for the duration of the tour.
Jane's Addiction is regarded as one of the most influential acts in alternative music. Tom Morello of Rage Against the Machine compared the band's influence to that of Nirvana. Artists influenced by Jane's Addiction include Tool, Korn, The Smashing Pumpkins, Limp Bizkit, Candlebox, P.O.D., Oceansize, Paul Banks of Interpol, Nothingface, Stabbing Westward, Incubus, System of a Down, Devin Townsend and Strapping Young Lad.
Hire Jane's Addiction for your party or event!
Jane's Addiction may be available for your next special event!
Book Jane's Addiction, now!
For other great suggestions for booking music acts, look here.

For more suggestions, proceed to the next page.
Click here --
Alternative Music Roster or Metal Music Roster
Or, click on one of the below links --
Music Menu
Fast Index
Entertainers Directory
Home