How To Book JARS OF CLAY For Your Event!
Jars of Clay may be available for your next special event!


Jars of Clay began at Greenville College in Greenville, Illinois, when four young lads met and discovered friendship through music. They were majors in "Contemporary Christian Music," a somewhat recent department in the college. Charlie Lowell, Dan Haseltine and Matt Bronleewe had been there for the year of 1992 and played in various bands as well as producing their own studio projects. These bands included Chrysalis, Jazon, Yellow #7, Second Level, and many other school bands involving students from the CCM department as well as others.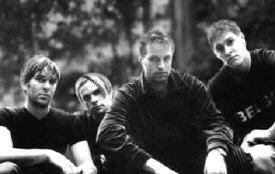 When Stephen Mason appeared on the scene in September of 1993, and had similar interests in music, the guys decided to write a song together, "just for fun." Dan had met Stephen because he had a Toad the Wet Sprocket shirt on, a band which they both admired for their unique sound.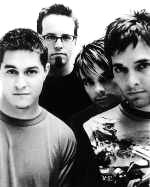 The band wrote and recorded a song called "Fade to Grey," which included many drum loops and samples, a very techno-oriented song. It was simply a studio project for credit in a recording class. Their friends enjoyed the song and they performed it in late October for a college cafe called the "Underground Cafe," which they had put together to raise money for homeless shelters and jail ministries. The "Underground" was the dormitory that the vast majority of music majors inhabited.
The band continued classes and when they found more time, decided to play "Little Drummer Boy" for the Underground Cafe on December 7th, as it was nearing Christmas time. A strange and distorted version of "Rudolph the Red-Nosed Reindeer" was also played impromptu this evening, to the tune of Nirvana's "Smells Like Teen Spirit."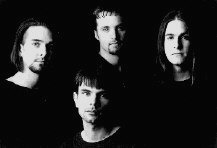 Following Christmas vacation, the four of them decided they'd like to write additional songs to add to their live repertoire and satisfy the requirements of their recording studio class, but thought it would be appropriate to give a name to these collaborations. Charlie recalled a Bible verse he had read which discussed the frailty of man, and the irony that this amazing life has been breathed into our frail, physical bodies by our Lord. This passage, which related the struggles of man and the testing of our wills and bodies, which ultimately provides us the strength to endure the hardships of life, included the phrase "Jars of Clay."
The phrase was penned by the Apostle Paul, and was from 2 Corinthians, chapter four verse seven: "But we have this treasure in jars of clay, to show that this all-surpassing power is from God and not from us." The band thought that was a good way to keep themselves humble – to have a band name that would force them to continually realize that all of their blessings had come from God, including this ability to write songs that their classmates enjoyed. So in January of 1994, Jars of Clay was born.
Signed to Silvertone/Essential Records in 1994, Jars of Clay has been busy ever since.
Jars of Clay is one of the most acclaimed Christian acts to crack the secular market since Amy Grant and Michael W. Smith first charted crossover success. They've even toured with Sting. They are well known for their songs that have been featured in such major studio films as "Hard Rain," "The Chamber," "Jack Frost" and "The Prince of Egypt" and in TV shows ranging from "Felicity" to "Providence," and many others.
Invoking images of Christ's "blood-stained brow" and "arms nailed down," Jars of Clay professes faith as well as yearning. Their cutting-edge, acoustic rock hit "Flood" implores God to "Lift me up, when I'm falling. Lift me up, keep me from drowning again ... "
Are these and other CCM artists converting nonbelievers to Christianity or merely preaching to the choir? Both. Of 78.5 million Americans who describe themselves as "active Christians," only 15 percent have ever visited a Christian bookstore - where 70 percent of all CCM is sold. Charismatics and worshipers at nondenominational churches are the most active consumers of this music.
"Christian music is not built around denominationalism," says John Styll, publisher of Contemporary Christian Music magazine in Nashville. "In fact, you rarely know the church affiliation of a given artist. The point is to glorify God, not a specific theology. Contemporary Christian Music tries to make faith somehow make sense in light of popular culture, to extend the worship experience beyond Sunday morning."
Jars of Clay offer a tonic for crazy times with their own perfect mixture of pop-infused melodic rock.
Hit songs include --
The Valley Song (Sing of Your Mercy)
Dead Man (Carry Me)
There Is A River
Sunny Days
God Will Lift Up Your Head
Love Came Down at Christmas
Wonderful Christmastime
Work
Flood
Show You Love
Crazy Times
Little Drummer Boy
Unforgetful You
Out Of My Hands
Shelter
It Came Upon The Midnight Clear
Other notable songs include --
Overjoyed
Crazy Times
Liquid
Love Song for a Savior
Boy on a String
Blind/Four Seven
Worlds Apart
Like a Child
Jars of Clay may be available for your next special event!
Watch videos:
YouTube

Genre: Gospel
Styles:
.Alternative CCM. / AlternativeCCM
.Adult Alternative Pop/Rock. / AdultAlternativePopRock
.CCM. / xCCM
.Christian Rock. / ChristianRock
.Acoustic. / xAcoustic


Years active:
x90s, x00s, x10s, x20s
1993-present

Born:
Charlie Lowell
Oct 21, 1973
Dan Haseltine
Jan 12, 1973
Steve Mason
Jul 18, 1975
Matt Odmark
Jan 25, 1974

Formed: ..in Illinois / formed nIllinois
Formed: ..in Greenville / formed GreenvilleIL
Formed: in 1993

Based: ..in US
Based: ..in Tennessee / based nTennessee
Based: ..in Nashville / based NashvilleTN