How To Book JASON MRAZ For Your Event!
Jason Mraz may be available for your next special event!





Hits include: "I Won't Give Up",
"I'm Yours", "More Than Friends",
"The Remedy (I Won't Worry)",
"Have It All", "Lucky", "Love Someone",
"Curbside Prophet", "Geek In The Pink",
"Details In The Fabric", "Wordplay",
"You And I Both", "Make It Mine",
"Everything Is Sound".
How to Hire JASON MRAZ Your Event!
GRAMMY AWARD winning Jason Mraz is an American guitarist, singer and songwriter.
His discography includes seven studio albums, five live albums, two compilation albums, one video album, fourteen extended plays, twenty-eight singles (including six as a featured artist), eight promotional singles and thirteen music videos.
He rose to prominence with the release of his debut studio album, Waiting for My Rocket to Come (2002), which spawned the single "The Remedy (I Won't Worry)", that reached the top 20 on the Billboard Hot 100 chart. His next two studio albums, Mr. A-Z (2005), and We Sing. We Dance. We Steal Things. (2008), peaked in the top five on the Billboard 200, with the latter album spawning the Grammy Award winning singles "Make It Mine", and "Lucky" with Colbie Caillat.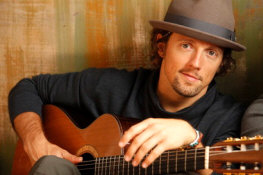 Hire Jason Mraz for your festival or concert plans!
Along with receiving two Grammy Award wins, Jason Mraz is also the recipient of two Teen Choice Awards, a People's Choice Award and the Hal David Songwriters Hall of Fame Award.
In 2002, Mraz opened for Alanis Morissette during her 2005 Jagged Little Pill Acoustic tour, and for the Rolling Stones on five dates during their 2005–06 world tour.
In March 2006, he performed in Singapore as part of the annual Mosaic Music Festival. That May, he toured mostly small venues and music festivals in the U.S., along with a few shows in the United Kingdom and Ireland where he supported James Blunt. The tour included a May 6, 2006, acoustic show with P.O.D., Better Than Ezra, Live, and The Presidents of the United States of America. Mraz was featured as a headlining guest of St. Louis's annual Fair St. Louis and performed a free concert at the base of the Gateway Arch on July 1, 2006. During this time, Mraz was also the opening act at several dates for Rob Thomas' Something to Be Tour.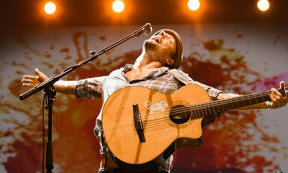 Hire Jason Mraz for your special event or occasion.
On September 20, 2008, "I'm Yours" became Mraz's first Top 10 hit on the Billboard Hot 100, peaking at #6. It ultimately spent 76 weeks on the Hot 100, longer than any other song in the magazine's 51-year history (a record since broken by Imagine Dragons with "Radioactive" in 2014). It was a major commercial success in the US, receiving a 7x multi-Platinum certification from the RIAA for digital sales of over seven million.
In 2009, while preparing for his new album, Mraz recorded "The Way Is Love", an unreleased Roy Orbison song, as a duet with Willie Nelson. In November of the same year, he released the live CD/DVD Jason Mraz's Beautiful Mess: Live on Earth, recorded in Chicago during the Gratitude Café tour.
On July 15, 2014, Mraz's fifth studio album, Yes!, was released. It is his first acoustic album, and was recorded with all-female folk rock band Raining Jane. They had previously co-written "A Beautiful Mess" for Mraz's 2008 album We Sing. We Dance. We Steal Things. Aside from a cover of the Boyz II Men song "It's So Hard to Say Goodbye to Yesterday", every song on Yes! was written by Mraz and Raining Jane.
In 2012, Mraz wrote the song "Have It All" with Raining Jane and producers David Hodges, JKash, and Andrew Wells. The song was released as the lead single to the new album on April 27, 2018, and accompanied by a video filmed with performing arts students from his hometown of Richmond. With the announcement of the album in June 2018, Mraz released a second track off of Know, called "Unlonely".
In July 2018, Mraz shared the lyric video for the song "More Than Friends", a duet with Meghan Trainor.
Mraz has sold more than seven million albums, and more than 11.5 million in digital singles. His musical style, from rhythmic feeling to his use of nylon string guitars, has been heavily influenced by Brazilian music.
Hire Jason Mraz for your party or event!
Jason Mraz may be available for your next special event!
Book Jason Mraz, now!
For other great suggestions for booking music acts, look here.

Genre: Rock 3
Styles:
.Alternative/Indie Rock. / AlternativeIndieRock
.Adult Alternative Pop/Rock. / AdultAlternativePopRock
.Alternative Singer/Songwriter. / AlternativeSingerSongwriter
.Contemporary Singer/Songwriter. / ContemporarySingerSongwriter
.Contemporary Pop/Rock. / ContemporaryPopRock


Years active:
x00s, x10s, x20s
1999-present

Born: ..in Virginia / born nVirginia
Born: ..in Richmond area / born RichmondVA area
Born: ..in Mechanicsville / born MechanicsvilleVA
Born: Jun 23, 1977

Raised: ..in Virginia
Raised: ..in Mechanicsville

Based: ..in US
Based: ..in California / based nCalifornia
Based: ..in San Diego / based SanDiegoCA