Visit new page >>>
JEWELL
How To Book JEWEL For Your Event!
Jewel Kilcher may be available for your next special event!


How to Hire JEWEL For Your Event!
Popular requests:
BOOKING FEE (booking price, booking cost)
.
Jewel Kilcher is an American singer-songwriter, actress, and author.
She has received four Grammy Award nominations and, as of 2021, has sold more than 30 million albums worldwide.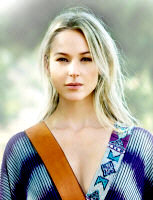 Hire Jewel for your festival or concert plans!
Jewel is a soprano. Caitlin Gibson of The Washington Post described Jewel's vocal versatility, stating that "she can summon many voices—deep and powerful, girlish and sweet, piercing and agile." Gibson also commented about Jewel's debut: "In an era still gripped by grunge, [she] climbed to the top of the pop charts with sweet, simple folk tunes".
Her fifth studio album, 0304 (2003), was a departure from her previous folk rock-oriented albums and incorporates a more general pop sound. Stephen Thomas Erlewine of AllMusic wrote about 0304, describing it as "A record that (is) lyric-driven, like Cole Porter stuff, that also has a lot of swing... that combined dance, urban, and folk music. [...] [it is] an original-sounding album, something with more imagination than the average dance-pop record. Better still, it sounds more authentic (and boasts a better set of songs) than her previous records, which were either too ramshackle or too self-serious and doggedly somber to really reveal much character."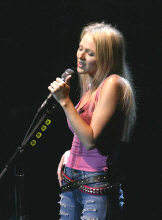 Hire Jewel for a special anniversary!
Perfectly Clear (2008) was influenced by her appreciation for country music, while Picking Up The Pieces (2015) saw Jewel "going back to [her] folk/American roots that [she] began with."
Since she started writing songs at the age of 17, Jewel Kilcher's music has been a direct, open expression of her life at the time, a series of intimate portraits of the artist as a composer, performer, and human being. Her debut album, released when she was 20, reflected the heart and mind of a teenaged girl; her second those of a rapidly maturing young woman. Both musically and lyrically, Jewel displays many different sides of her talent and her personality.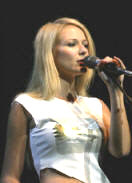 Hire Jewel for a memorable evening of entertainment!
Whether alone on stage with just her guitar or fronting a band of musicians, Jewel has always been a charismatic live performer. Along the way, she has earned the respect of the likes of Bob Dylan and Neil Young, both of whom invited her to open their shows. Since the release of her first album, she has forged a powerful, intimate bond with concert-goers around the globe. On top of numerous tours across North America, Jewel has also performed to sell-out crowds in Asia, Australia, and Europe, where she was acclaimed by the influential Times of London as "the most sparkling female singer-songwriter since Joni Mitchell."
Hit songs include --
Foolish Games
Intuition
Serve The Ego
Stand
Standing Still
You Were Meant For Me
Hands
Who Will Save Your Soul
Down So Long
Only One Too
Stronger Woman
Again and Again
Break Me
Good Day
2 Become 1
Satisfied
Ten
Two Hearts Breaking
Hire Jewel for your party or event!
Jewel may be available for your next special event!
Book Jewel, now!
For other great suggestions for booking music acts,
look here.

Genre: Rock 1
Styles:
.Adult Alternative Pop/Rock. / AdultAlternativePopRock
.Alternative/Indie Rock. / AlternativeIndieRock
.Contemporary Singer/Songwriter. / ContemporarySingerSongwriter
.Pop/Rock. / PopRock
.Pop. / xPop


Years active:
x90s, x00s, x10s, x20s
1994-present

Born: ..in Utah / born nUtah
Born: ..in Payson / born PaysonUT
Born: May 23, 1974

Raised: ..in Alaska / nAlaska
Raised: ..in Homer / HomerAK

Based: ..in US
Based: ..in Tennessee / based nTennessee
Based: ..in Nashville / based NashvilleTN