How To Book JIMMY EAT WORLD For Your Event!
Jimmy Eat World may be available for your next special event!



Hits include: "The Middle", "Pain", "Work",
"My Best Theory", "Sweetness", "Big Casino",
"Always Be", "A Praise Chorus", "Futures",
"Bleed American", "Coffee and Cigarettes",
"I Will Steal You Back", "Chase The Light",
"Sure and Certain", "Love Never",
"Something Loud".
How to Hire JIMMY EAT WORLD For Your Event!
Popular requests:
BOOKING FEE (booking price, booking cost).
Jimmy Eat World is an American rock band formed in 1993 in Mesa, Arizona.
The band is composed of lead vocalist and lead guitarist Jim Adkins, rhythm guitarist and backing vocalist Tom Linton, bassist Rick Burch, and drummer Zach Lind. They have released ten studio albums, the last nine featuring the current lineup.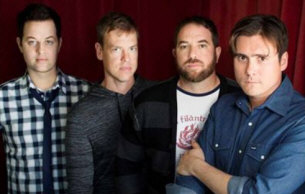 Hire Jimmy Eat World for your festival or concert plans!
The four-piece's commercial breakthrough came with the release of several singles from their album, Bleed American (2001), four of which charted within the top 20 positions of the Alternative Songs chart, with "The Middle" reaching No. 1. Their follow-up album, Futures (2004), featured the No. 1 song "Pain".
The RIAA certified Bleed American platinum and Futures gold, rewarding the two albums for selling more than 1.5 million records between them. Jimmy Eat World's sixth LP, Chase This Light (2007), became their highest-charting album and peaked at No. 5 on the Billboard 200. The band released their tenth album, Surviving, in October 2019.
In early 2004, the band joined up with Trombino to work on their album, Futures, but the collaboration was short lived. As the sessions began, the band decided that they did not have enough material for a cohesive album. The band's desire to spend more time writing songs conflicted with Trombino's availability. Instead, the band brought in producer Gil Norton, well known for his work with Pixies and Foo Fighters. Lind explained in 2007, "After we left the studio with Trombino, we came up with 'Polaris', 'Work', 'Pain', '23' – the songs that really gave Futures its heartbeat. "Futures was released in October 2004, with "Pain" serving as the lead single.
In 2005, having already toured the U.S. alone and with Taking Back Sunday, the band signed on to tour with Green Day. In September 2005, the band released the Stay on My Side Tonight EP, which contained reworked versions of demos recorded with producer Mark Trombino that were not used for the album. The album was eventually awarded Gold status in the US by the RIAA.
After its tour, Jimmy Eat World headed home to Tempe and started working on material for a sixth album. The band decided to self-produce the album, enlisting Chris Testa (Dixie Chicks) and John Fields (Switchfoot, Mandy Moore) as co-producers and Butch Vig (Nirvana, Garbage, The Smashing Pumpkins,) as executive producer.
On October 16, 2007, Chase This Light was released with "Big Casino" as the lead single. The last single off the album was "Always Be" and was released in December 2007.
In 2013, the band began working on their 8th album and on April 10, 2013, a lead single titled "I Will Steal You Back" was revealed via the band's website. The title track "Damage" appears on the 7-inch Damage EP along with a cover version of the Radiohead song "Stop Whispering".
In April 2016, Apple debuted an ad to promote Apple Music which featured Taylor Swift lip syncing and dancing to Jimmy Eat World's "The Middle". This caused significant renewed interest in the band; their song "The Middle" rose to #32 on the iTunes Top Songs Chart, while Pandora noted a 325% increase in Jimmy Eat World station ads in the first day after the ad premiered.
Their discography includes ten studio albums, twenty-three singles, seven extended plays, three live albums, one compilation album, one video album, and one song on the "various artists" compilation, What's Mine Is Yours.
Hire Jimmy Eat World for your party or event!
Jimmy Eat World may be available for your next special event!
Book Jimmy Eat World, now!
For other great suggestions for booking music acts, look here.

For more suggestions, proceed to the next page.
Click here --
Alternative Music Roster
Or, click on one of the below links --
Music Menu
Fast Index
Entertainers Directory
Home