How To Book JO DEE MESSINA For Your Event!
Jo Dee Messina may be available for your next special event!



How to Hire JO DEE MESSINA For Your Event!
Popular requests:
BOOKING FEE (booking price, booking cost).
If there's anyone who believes in the transformative power of dreams, it's Jo Dee Messina. The double-platinum redhead with the raucous laugh, survivor's heart and full-tilt passion for life has seen her love of music carry her to summits and thrills that are world's away from her Holliston, Massachusetts, birthplace and hometown.
A multiple Female Vocalist of the Year nominee, Jo Dee Messina won the Country Music Association's prestigious Horizon Award recognizing career growth, the Academy of Country Music's Top New Female Vocalist Award and the Boston Music Awards' Artist of the Year – besting such hometown faves as Aerosmith, Paula Cole, the Mighty Mighty Bosstones and Rob Zombie for the honor – on her way to becoming Billboard's Most Played Country Female of 1999 by virtue of having two of the Top 10 Songs of the last two years (1998's #2 "Bye, Bye" and #4 "I'm Alright" and 1999's #3 "Lesson In Leavin'" and #7 "Stand Beside Me").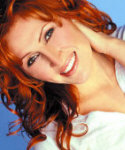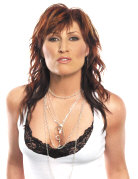 Hire Jo Dee Messina for your festival or concert plans!
Messina says, "Music has always effected me – it gives me energy and helps me keep going."
With more than two million copies of I'm Alright already sold, unprecedented radio success and solid years on the road, Jo Dee Messina knows what she wants. It gives her an edge in creating a signature song style and sound that has just enough bounce to keep her moving. But, being so sure of what she wants also creates little speed bumps in the process in terms of getting exactly what she has in mind.
"So much has happened! My career is working better than ever and my personal life is in a more secure place. But I had to go through Hell to get there," she says.
"Once you've been burned, you never forget that. It also comes with living and learning. And I think my albums seem to reflect where I am in my life, because I need to relate to my songs on that level."
"Someone said to me, 'As much as you give away of yourself in your music, do you worry about being too honest?' And you know, I don't think you can be too honest. When you've been hurt or have been through some rough experiences, you don't want someone else to go through it. It's awful…and if by being honest about a broken heart or whatever, you can maybe keep someone else from making that mistake, who wouldn't?"
Though Jo Dee Messina has always worn her heart and her dreams on her sleeve, the success she's enjoyed in her career, the interaction with the fans and a settling in her personal life have certainly helped add perspective.
After completing the Judds' Power To Change Reunion tour, Messina spent a year balancing her headlining concerts with special guest appearances on both Vince Gill's and George Strait's Country Festival Stadium tour. In addition, she made her acting debut on "Nash Bridges" and then quickly landed a role as a candy factory worker with a crisis of faith on "Touched By An Angel."
Along the way, Jo Dee Messina has also re-written the history books a time or two. She set and then tied her own record for longest run in the Top 30 – 35 weeks! She became the first woman in the history of Billboard's Country Singles chart to have three consecutive multiple week #1s hits: "Bye, Bye," "I'm Alright" and "Stand Beside Me."
For Messina, it comes down to having a center and being generous. Having learned solid values and a hardcore Northeastern work ethic from her single mother, she wants to inspire her audience as much as she wants to thrill them.
The notion of friendship is something Messina takes seriously. Though many of the fans may only have a passing moment with her, she thrives as much on that interaction as they do. And given the limited time most people will get to spend with her, Jo Dee Messina works very hard to make sure her albums go out of their way to truly say something – even as they also catch people up in their feel-good performances.
"To me, it's all life…some of it is hard and you have to get through it; some of it is sweet and you should enjoy it. Don't miss that good stuff!
"So many of my fans are under 25 or 26," Messina explains. "To see a 16-year old out in the audience with a guy who's yelling at her or pulling on her arm, that breaks my heart, because you know at that age, you don't necessarily know there's anything else. I've been there. I've dated the jerk and I've got my heart broken…"
Helping people is perhaps the greatest pay-off for Messina. Having bounced back from some dire career issues in '97, the freewheeling woman, who's been described by Teen People as "country's Bonnie Raitt" and by several radio personnel as "the voice of the people," is all about what lies down the road.
"Country radio and the fans reached out to me and helped me at a difficult time," Messina enthuses. "They made the difference in my life. I like the idea that I can give some of that back! Now that things aren't in such a lowdown state, I'm able to help other people more."
"Since it's not just about keeping my head above water, I'm able to reach out to help others. And you know what? Of all the stuff that's happened to me over the last couple years, that's what I live for: being able to help everybody else. As long as I've got my songs to sing and a roof over my head and I'm able to do things for others, then I'm complete."
You could say Jo Dee Messina has figured out how to live the life she dreamed. It's not always been easy, but she's more than willing to pay the price, do the work and just keep believing.
Awards include --
Hit songs include --
Bring On The Rain
Bye Bye
I'm Alright
My Give A Damn's Busted
Stand Beside Me
That's The Way
Burn
Heads Carolina, Tails California
Lesson in Leavin'
Downtime
You're Not in Kansas Anymore
Because You Love Me
I Wish
A Joyful Noise
That's The Way
Was That My Life
Dare to Dream
Delicious Surprise (I Believe It)
Not Going Down
It's Too Late to Worry
Hire Jo Dee Messina for your party or event!
Jo Dee Messina may be available for your next special event!
Book Jo Dee Messina, now!
For other great suggestions for booking music acts, look here.

Genre: Country
Styles:
.Neo-Traditionalist Country. / NeoTraditionalistCountry
.Contemporary Country. / ContemporaryCountry


Years active:
x90s, x00s, x10s, x20s
1995-present

Born: ..in Massachusetts / born nMassachusetts
Born: ..in Holliston / born HollistonMA
Born: Aug 25, 1970

Based: ..in US
Based: ..in Tennessee / based nTennessee
Based: ..in Nashville / based NashvilleTN