Visit new page >>>
JOAN JETT
How To Book JOAN JETT For Your Event!
Joan Jett & The Blackhearts may be available for your next special event!



How to Hire JOAN JETT & The Blackhearts For Your Event!
Popular requests:
BOOKING FEE (booking price, booking cost).
Joan Jett was one of the most successful U.S. female singers to emerge from the rock scene of the '70s. She spent most of her childhood in the Baltimore, Maryland area, where she learned guitar as a child, playing along to favorite rock 'n' roll records. In 1972, her family relocated to Los Angeles, where she became enamored with artists including David Bowie, Suzi Quatro, T. Rex and Gary Glitter.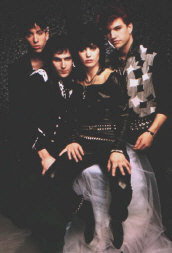 Hire Joan Jett & The Blackhearts for your festival and concert plans!
At the age of 15 she began infiltrating the Los Angeles rock scene and formed her first band. Producer Kim Fowley took the band under his wing and named it The Runaways, procuring a record contract with Mercury Records. They recorded three punk-tinged hard rock albums that were unsuccessful in the USA but hits in Japan, where they recorded a live album. Also successful in England, they recorded their swan-song, "And Now ... The Runaways," in that country in 1979.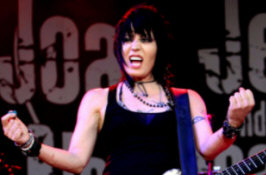 Hire Joan Jett & The Blackhearts for your very special event or occasion!
After the dissolution of the Runaways, Joan Jett moved to New York and teamed up with producer Kenny Laguna, who became her manager. Laguna had previously been involved with a number of '60s bubblegum hits. He produced Jett's first solo album, which was released on the European Ariola label. When no US label picked it up, they issued it on their own Blackheart Records and the album sold well, becoming one of the bestselling US independent releases of that era. This led to a contract with Neil Bogart's Boardwalk Records, who reissued it as Bad Reputation (a title inspired by the less than enthusiastic industry response to Jett after the Runaways), and saw it reach number 51 in the US charts.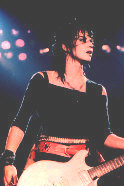 - Hire Joan Jett and The Blackhearts -
In November 2007, Joan Jett & the Blackhearts appeared with Motörhead and Alice Cooper in a UK arena tour; Jett opened eight American shows on Aerosmith's 2007 World Tour.
In June 2010, Joan Jett & the Blackhearts opened for Green Day on their UK tour alongside acts such as Frank Turner and Paramore. The band was the opening act for Aerosmith's September 2010 Canadian tour.
Jett, along with the Blackhearts, was scheduled to join Mötley Crüe and Def Leppard on the 2020 The Stadium Tour as an opening act along with Poison. However, the tour was postponed to the summer of 2021 due to the COVID-19 pandemic.
With her band The Blackhearts (guitarist Ricky Byrd, bass player Gary Ryan and drummer Lee Crystal), Joan Jett recorded "I Love Rock-N-Roll" in late 1981, produced by Laguna and Ritchie Cordell. The title track, originally an obscure b-side for UK band, the Arrows, became a major hit, largely owing to a big push from MTV, and spent seven weeks at number 1 in the USA in early 1982 (it also reached the UK Top 5). The follow-up single, a cover version of Tommy James And The Shondells' "Crimson And Clover," was itself a US Top 10 hit, reaching number 7 in 1982. Also, on the album was an update of a Jett song from the Runaways era, "You're Too Possessive."

- Hire Joan Jett & The Blackhearts -
With Neil Bogart's death, the band signed to MCA Records, which then distributed Blackheart Records. However, subsequent outings on that label were not nearly as successful as the Boardwalk releases. "Glorious Results Of A Misspent Youth" again retreated to Jett's past with the Runaways, this time on a revision of "Cherry Bomb." "Good Music" saw some intriguing collaborations, with members of the Beach Boys and Darlene Love guesting, and an unlikely rap duet with Scorpio of Melle Mel And The Furious 5. The album also saw the departure of Lee Crystal and Gary Ryan, the former permanently replaced by Thommy Price.
Meanwhile, Joan Jett found time to make a second movie appearance (following "We're All Crazy Now"), playing Michael J. Fox's sister in "Light Of Day" and also sang the Bruce Springsteen-penned theme.
"Up Your Alley" brought another US Top 10 hit with "I Hate Myself For Loving You," before 1990's "The Hit List," an album of cover versions, which included a duet with Ray Davies on "Celluloid Heroes." "Notorious" saw her collaborate with Paul Westerberg of the Replacements on the co-written "Backlash," but by the advent of "Pure and Simple," Byrd was no longer a permanent member of the band. This set saw a guest appearance from L7 on a track entitled "Activity Grrrl," emphasizing Jett's influence on a new generation of female rockers (by this time, Jett had also produced Bikini Kill, in addition to late '70s L.A. punk band The Germs).
The following year, Joan Jett recorded a live album with the Seattle punk band The Gits. She revived the Blackhearts name for 1999's "Fetish," a collection of previously released material, new songs and live tracks.
Hit songs by Joan Jett include --
I Hate Myself for Loving You
Light of Day
Little Liar
Dirty Deeds
Good Music
Everyday People
Hit songs by Joan Jett & The Blackhearts include --
I Love Rock 'N Roll
Crimson and Clover
Fake Friends
Do You Wanna Touch Me (Oh Yeah)
Summertime Blues
The French Song
Everyday People
Bad Reputation
Hire Joan Jett & The Blackhearts for your party or event!
Joan Jett & The Blackhearts may be available for your next special event!
Book Joan Jett & The Blackhearts, now!
For other great suggestions for booking music acts, look here.

Genre: Rock 1
Genre: Rock 2
Styles:
.Album Rock. / AlbumRock
.Arena Rock. / ArenaRock
.Hard Rock. / HardRock
.Contemporary Pop/Rock. / ContemporaryPopRock
.Rock & Roll. / RockNRoll


Years active:
x70s, x80s, x90s, x00s, x10s, x20s
1975-present

Born: ..in Pennsylvania / born nPennsylvania
Born: ..in Philadelphia area / born PhiladelphiaPA
Born: ..in Wynnewood / born WynnewoodPA
Born: Sep 22, 1958

Raised: ..in Maryland / nMaryland
Raised: ..in Baltimore / BaltimoreMD

Based: ..in US
Based: ..in New York / based nNewYork
Based: ..in Long Beach / based LongBeachNY