How To Book JOANN ROSARIO For Your Event!
Joann Rosario may be available for your next special event!



How to Hire JOANN ROSARIO For Your Event!
Popular requests:
BOOKING FEE (booking price, booking cost).
Joann Judith Rosario (born June 3, 1974) is an American gospel/CCM singer, and a pastor.
She began her professional career in 1997 as a background singer for Marvin Sapp, then left in 1999 to be a member of Fred Hammond's Radical for Christ. Hammond helped her launch a solo career in 2001 with her Spring 2002 debut album, More, More, More.
Our testimony can be one of the most powerful tools we have. The word itself can be defined as 'something that serves as evidence' or 'a public declaration regarding an experience.'
Noticing trouble with her voice in late 2002, Joann Rosario was diagnosed in January 2003 with nodules on her vocal chords and had lost function of both her speaking and singing voice. For someone who has been singing all her life this was now more than a challenge – it was a test to the strength of her faith in the God she serves.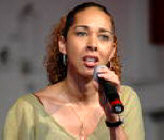 Hire Joann Rosario for your festival or concert plans!
"He took me through this time as a walk of faith. I learned that my worship is not just in song. I had to rest on God and wait for Him to call on me to do His will," explained Rosario.
As an anointed singer and songwriter, Joann Rosario was officially introduced to the world on her 2002 Verity Records/F.Hammond Music debut release, "More, More, More." The world was only able to get a glimpse of the impressive and powerful music minister that lies within Joann Rosario. Under the continued covering and influence of her father, the Apostle Nahum Rosario, Joann continues to serve as National Music Director of Maranatha World Revival Ministries, a worldwide ministry with more than 300 churches across the globe as well as serving as worship leader at her home church in Chicago.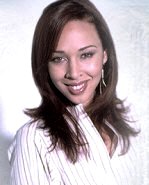 Hire Joann Rosario for your special event!
Singing since she was 3, she was raised to understand the anointing and power of God, that has since shaped her into a musical vessel able to lead the people of God into the presence of the Lord. "My Dad, as both my father and my pastor, has had a great impact on my life. He raised me with Hispanic values which are very close to biblical values which has aided me in life."
She began traveling with her father to his various churches, singing and ministering in Central and South America, Europe, Africa, Canada, and the United States. That experience advanced her bilingual skills to a point where she can "completely minister both in Spanish and English fluently."
She also attended Oral Roberts University (ORU) in Tulsa, Oklahoma. She was a member of ORU's gospel choir and recorded with Bishop Carlton Pearson and the Azusa Mass Choir. While in Tulsa, her gift caught the attention of ORU President, Richard Roberts, and for two years she sang as one of the Richard Roberts Television Singers.
"My time with Richard Roberts taught me great discipline – that God's favor and God's music is not a respecter of culture, through that time he showed me that when you serve God the anointing will cross the barriers of race, color, and denomination. And I know that all different people will feel my music because it comes straight from my heart …I think 'More, More, More' is not limited to just one genre of the gospel population. My anointing is that musically and through ministry I am able to cross all cultural barriers."
It was while she was singing with the group ETW at Azusa that Fred Hammond heard her voice. As the story goes, Fred, drifting in and out of sleep, watched TV late that night and was awakened by the sound of Joann's voice. As he listened to her, his first response was "Wow, she has an amazing voice, I would really like to work with her someday." They met shortly thereafter and actually wrote a song together – "You Mean That Much To Me" (which can be heard for the first time on her album). It was almost ten years later that the purpose for their relationship was completely revealed.
"'If It's Not You' is very special to me because I co-wrote it with Fred and Marcus Cole while on tour for 'Been There Done That'. We just started building together and came up with that song. Unconsciously, much of what that song speaks about is the common thread in the album."
"It talks about my true feeling of how much God means to me - that we should get rid of anything that hinders our relationship with God or accept anything that's not really what is supposed to be for us. The songs ends with the line 'I want what's real...' I sang that from the bottom of my heart."
"I am able to have joy and to worship in the midst of all sorts of circumstances," Rosario explained. "Worship is not an issue of tempo or grand lyrics, but an attitude of the heart - like a sincere prayer set to music."
Contributions from noted producers such as Fred Hammond, Alex Ward, Michael-Anthony Taylor and Donald Lawrence appear on her project, "Now More Than Ever... Worship."
"Worship is about relationship with God and is not dependent on a beat or certain tempo of a song. It's all about the feeling you get from a song, the emotion that pulls you in. Worship comes in many different ways. You can look up at a tree and begin to appreciate God and find yourself in His presence," explained Rosario.
Listeners are taken on a spiritual journey unlike any other. Rosario unabashedly lays bare her testimony with hopes that only God receives the glory and the victory, and that the resounding message of devotion and sincere worship of God is declared.
Hit songs include --
Other notable songs include --
A Song of Strength
Your Name is Jesus
What Is This
Think of Me
When I Pray
Serve You Only
Life So Wonderful
You Mean That Much to Me
Hire Joann Rosario for your party or event!
Joann Rosario may be available for your next special event!
Book Joann Rosario, now!
For other great suggestions for booking music acts, look here.
Listen to music:
YouTube Music | Spotify

Genre: Gospel
Styles:
.Contemporary Gospel. / ContemporaryGospel
.CCM. / xCCM


Years active:
x00s, x10s, x20s
1997-present

Born: ..in Illinois / born nIllinois
Born: ..in Chicago / born ChicagoIL
Born: Jun 3, 1974

Based: ..in US
Based: ..in Illinois / based nIllinois
Based: ..in Chicago / based ChicagoIL