Visit new page >>>
JODECI
How To Book JODECI For Your Event!
Jodeci may be available for your next special event!



Hits include: "Nobody Wins",
"Stay", "My Heart Belongs To U",
"Forever My Lady", "Get On Up",
"Gotta Love", "Every Moment",
"I'm Still Waiting", "Cry for You",
"Feenin'", "What About Us",
"Freek'n You", "Love U 4 Life",
"Come and Talk to Me".
How to Hire JODECI For Your Event!
Jodeci is an American R&B quartet with members DeVanté Swing, Mr. Dalvin, K-Ci, and JoJo.
Formed in 1989 in Charlotte, North Carolina, Jodeci's members began their musical careers as two duos of brothers and, after years of limited success, joined forces. After signing with Uptown Records in 1991, the group began to work on their debut album, Forever My Lady, which brought them mainstream success with the Billboard Hot 100 single "Come and Talk to Me" and the album's titular track.

Jodeci has sold more than 20 million records worldwide to date. Complex magazine ranks the group 1st on their "1990s Male R&B Group Pyramid of Excellence" list in 2014, one of the most influential groups of the 1990s, and the best R&B group of all time.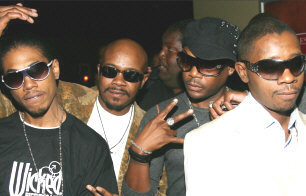 Hire Jodeci for a company event!
To date, Jodeci remains well respected and revered among most hip-hop circles for their street-flavored sound and urban appeal. The group has been mentioned and sampled in songs by a number of hip-hop artists including Notorious B.I.G., Twista, Jay-Z, Insane Clown Posse, Big K.R.I.T., David Banner, Bump J, Wale, Freddie Gibbs, Bun B, Tyga, CyHi the Prynce, Young Thug, Bryson Tiller and most notably Drake, who, along with J. Cole released a song titled "Jodeci Freestyle" in June 2013. The song pays homage to the group and samples "4 U", an interlude from The Show, the After Party, the Hotel.
On October 19, 2014, a Drake song titled "How About Now" leaked to the internet. The song samples Jodeci's "My Heart Belongs To U", and was later released in 2015 as a bonus track on the physical release of Drake's album/mixtape, If You're Reading This It's Too Late.

Mariah Carey repeatedly mentions Jodeci in her song "The Impossible" from her album Memoirs of an Imperfect Angel, which sampled "Forever My Lady". She also samples Jodeci's "Freek'n You" in her song "Makin' It Last All Night" featuring Jermaine Dupri. Additionally, she sampled a line from "Bring On Da' Funk" in her song "Don't Stop (Funkin' 4 Jamaica)" on her album Glitter.

Cardi B also mentions Jodeci in Bruno Mars' and her song "Please Me".
Hire Jodeci for your party or event!
Jodeci may be available for your next special event!
Book Jodeci, now!
For other great suggestions for booking music acts,
look here.

For more suggestions, proceed to the next page.
Click here --
R&B Music Roster
Or, click on one of the below links --
Music Menu
Fast Index
Entertainers Directory
Home