How To Book JOESF GLAUDE For Your Event!
Joesf Glaude may be available for your next special event!



Guitarist/composer Joesf Glaude is truly a gypsy spirit, a bohemian in the truest sense of the word. He has spent his life living in places as diverse as Nova Scotia, Canada - Kerela, India - Ashton Under Lyne, England - Santiago Attitlan, Guatemala - Zaire, Africa - and all over the U.S. His experiences bring a refreshing spirit to his talent as a guitarist and composer.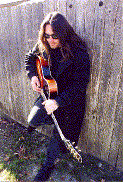 Joesf Glaude draws on this wide range of influences to create "an instrumental art form of textures, moods and melody. It is an improvised music based on very structured ideas." His style is influenced strongly by artists as varied as African guitarist Ali Farka Toure, sitar player Ravi Shankar, and from jazz artists Duke Ellington and Eric Dolphy to classical composers such as C.P.E Bach to Stravinsky.
"From Classical I learned the importance of structure and melody. From jazz I learned freedom. From world music I learned to challenge myself with new ideas. From the liturgies and vespers at mass and from the Poor Claire nuns I learned the value of silence and spirit. Music has as much to do with where we are as who we are. We are influenced, stylistically, by our experiences as well as by what we hear."
More than just a guitarist, Joesf Glaude also plays mandolin, banjo, tenor banjo, tenor guitar, harmonica, melodica, flute, dulcimer, bass and violin.
"I have often been asked why I don't overdub the instruments instead of writing parts for others. The answer is quite simple – I believe that music should breathe ... it is alive and the interpretation of those parts by others enhances the musical experience. I have never heard a CD in which one person recorded all the parts that did not sound one-dimensional. I also enjoy playing (even in the studio) with musicians."
"In the studio, all recordings are done live; As Thelonius Monk said, if you can't do it in three takes you can't do it. Classical and jazz artists have recorded that way for years. I am not anti-technology, but do tend to avoid overusing technology. I don't want to separate the natural sound of the instruments from the listener."
Joesf's love of music came very young. " I remember, it was the late sixties and the Beatles song 'She Loves You' came over the radio; I can still describe the whole scene – even what my mother was wearing. I knew then that I wanted to be a musician and that Christmas I got a harmonica. I drove my family nuts playing 'Love Me Do' and Dylan songs."
At the age of ten he decided he wanted to play guitar, so his Grandfather Glaude gave him his tenor banjo. "It's not that I was unappreciative, I just really wanted a guitar. So, I tried learning a lot of folk music, stuff by Lobo, Peter, Paul and Mary, The Kingston Trio and Ian and Sylvia as well as any ragtime or New Orleans music I could find." He also learned to play the Autoharp that was at his church. "Sister Mary Paschel always had time for us kids."

It was at this time that he discovered Bluegrass and the Mandolin. " It was a revelatory thing. I discovered the similarities between instruments – anything I could play on tenor banjo, I could play on mandolin and with a few adjustments, the guitar."
"I got my first mandolin at a yard sale and my first guitar by trading some of my Beatles cards, an Elvis poster, my X-men comics and half my collection of 45's."
This convinced his parents of his commitment to music, so his father got him guitar lessons from Charlie Johnson, a local jazz guitarist. Mr. Johnson tried to ground Joesf in basic theory and chord structures, but it was at the same time that he discovered girls and opted to form a punk rock band "Tropical Skin Disease."
Mr. Johnson's lessons were not completely wasted because he left with an appreciation of theory and the knowledge that in order to write good music you must know what good music is. That means understanding why it is good and how to re-create it. Ultimately, you do play what you hear. "Even though I was playing in a punk rock band I was still listening to a variety of music."

By his senior year in high school he was playing tenor guitar and dulcimer in a folk band (Oracle), 5-string banjo, mandolin, acoustic guitar and bass in a country/bluegrass band (90 Proof) and 12-string guitar in a Christian folk/rock band (Clipper).
By college, Joesf Glaude discovered a real passion for the guitar – theoretical as well as practical. As a guitar major at Christopher Newport College in Virginia he began playing with the Williamsburg Chamber Orchestra, as well as in a jazz combo (The Wiz Kids) and a swing band (Duke Ellington). "The Wiz Kids also played Dixieland and I would switch between guitar and tenor banjo."
His longest running band was Mirrors and Changes, a jazz/fusion group (in the vein of "Weather Report," " Headhunters," etc.) for whom he played guitar, keyboard and six string bass.
In 1994, he moved to Tulsa, Oklahoma, and became Head Guitar Instructor at Oral Roberts University. In 1999 Joesf Glaude returned exclusively to the performing arts, focusing on small groups or solo acoustic music (which he refers to as neo-classical) and jazz.
In March 2002, he began a designing project with a local guitar craftsman which resulted in the production of his own custom-made, one-of-a-kind, all-wood harp guitar. This newest addition to Joesf's collection of more than 20 guitars and stringed instruments provides listeners with even more of the wonderful music that originates from Joesf's hands and the moving sounds that can only come from Joesf Glaude.

Joesf's philosophy of music, regardless of style, is a very "jazz" philosophy – one in which you play free ... and "if you play it the same way twice you are doing something wrong."
Music should evoke a spectrum of thoughts, ideas and emotions, without having to surrender to words. Music, like life, is about growth and growth means change. What Joesf Glaude conveys in his music is life experience and faith – and to his listeners it is a wonderful experience.
What others say --
Jeffery Hiatt-Frink - Composer, Recording artist and guitar aficionado:
"Joesf's music is lyrical and provocative. He joins Jazz technique with original melodic ideas.... very enjoyable listening."
Joesf Glaude may be available for your next special event!

Genre: Jazz
Genre: Classical
Genre: New Age
Styles:
.Neo-Classical. / NeoClassical


Years active:
x90s, x00s, x10s, x20s

Born: ..in Virginia / born nVirginia
Born: ..in Newport News / born NewportNewsVA
Born: in 1962

Based: ..in US
Based: ..in Oklahoma / based nOklahoma
Based: ..in Tulsa / based TulsaOK