How To Book JOHN ANDERSON For Your Event!
John Anderson may be available for your next special event!



John Anderson is an American country music singer and songwriter with a successful career that has lasted more than 40 years.
He is a rare artist who can consistently surprise and delight us without severing his musical roots or resorting to gimmicks.
Acknowledged as country music's "first New Traditionalist," John Anderson also numbers many rock stars among his admirers.
Most country performers sing about the rural life, but Anderson deliberately and passionately lives it. "When I decided to move out to Smithville (Tennessee)," John says, "one of the main reasons was to get somewhere that I thought was conducive to good country music. It was for the creativity. I moved there as a songwriter. I thought that just being in the country and living a country life might be a way to come up with some good, honest country music."
He creates music for every man – yet he sings like no other man.
"I probably will be country 'til I die, the way it's looking," he says with a chuckle. Then he adds, pointedly, "It's cool to be country these days, but it's been pretty cool and hip for me for all these years. I was very fortunate to get an early start."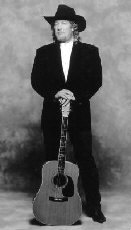 Early indeed. The Florida native first came to Nashville at 17. Within a few years, he and artists like Emmylou Harris were re-establishing the primacy of pure country music and paving the way for the New Traditionalists movement of the early 80's.
After winning the Country Music Association's prestigious "Horizon" award in 1983, Anderson stayed true to his roots through several lean years before seeing his faith rewarded with one of the most stunning career turn-arounds in country music history – the huge success of "Seminole Wind" and "Solid Ground," capped by the 1994 ACM Career Achievement award.
John Anderson's success in recent years has enabled him to focus to an even greater extent than before on the crucial process of writing and selecting songs for new albums.
"We've gained a lot of new and young fans the last couple years, people who maybe weren't around or weren't into country back in '83," he says. That, of course, is when "Swingin'" hit No. 1, on its way to becoming the No. 30 jukebox hit of all time, according to the Amusement and Music Operators Association (AMOA). (The Beatles' "Hey Jude" is No. 31).
Awards include --
CMA Album of the Year 1994
Academy of Country Music Career Achievement 1993
Music City News Country Song of the Year 1984 for "Swingin'"
CMA Horizon Award 1983
CMA Single of the Year 1983 - for "Swingin'"
Hit songs include --
Black Sheep
Money in the Bank
Straight Tequila Night
Swingin'
Wild And Blue
Seminole Wind
Bend It Until It Breaks
I've Got It Made
She Sure Got Away With My Heart
When It Comes To You
I Wish I Could Have Been There
I'm Just An Old Chunk of Coal (But I'm Gonna Be A Diamond Someday)
Would You Catch A Falling Star
1959
I Just Came Home To Count The Memories
Let Go of the Stone
Chicken Truck
Honky Tonk Crowd
Let Somebody Else Drive
Down In Tennessee
If Her Lovin' Don't Kill Me
Nobody's Got It All
You Ain't Hurt Nothing Yet
Takin' the Country Back
Somebody Slap Me
Long Hard Lesson Learned
Paradise
Mississippi Moon
Country 'Til I Die
John Anderson may be available for your next special event!
Watch videos
YouTube

Genre: Country
Styles:
.Outlaw Country. / OutlawCountry
.Honky Tonk. / HonkyTonk
.New Traditionalist. / NewTraditionalist
.Traditional Country. / TraditionalCountry
.Contemporary Country. / ContemporaryCountry
.Acoustic Guitar. / AcousticGuitar


Years active:
x70s, x80s, x90s, x00s, x10s, x20s
1974-present

Born: ..in Florida / born nFlorida
Born: ..in Apopka / born ApopkaFL
Born: Dec 12, 1955

Based: ..in US
Based: ..in Tennessee / based nTennessee
Based: ..in Smithville / based SmithvilleTN