How To Book JOHNNY REID For Your Event!
Johnny Reid may be available for your next special event!



"Male Artist of the Year"
Canadian Country Music Association Awards:
2008 and 2009
Hits include: "Dance With Me",
"Today I'm Gonna To Try And Change The World",
"Old Flame", "You Still Own Me",
"Sixty to Zero", "Missing An Angel",
"Time Flies", "Darlin'", "Honey Honey",
"Love Sweet Love", "Kicking Stones",
"Thank You", "Out of The Blue",
"A Woman Like You", "Baby I Know It",
"Born to Roll", "Gypsy in My Soul",
"Let's Go Higher", "Hands of a Working Man",
"You Gave My Heart a Home",
"Fire It Up", "Baby I Know It",
"Dedicated To You", "A Picture of You".
How to Hire JOHNNY REID For Your Event!
Popular requests:
BOOKING FEE (booking price, booking cost)
.
John Kirkland Reid, known professionally as Johnny Reid, is a Scottish-Canadian country music artist.
Johnny Reid moved to Canada in July 1988 when he was 13. His father, a diesel mechanic, wanted to give Reid and his brother opportunities he did not think they would have in Scotland. He graduated from Turner Fenton Secondary School in Brampton, Ontario, in 1992. Reid went on to attend Bishop's University in Lennoxville, Quebec, where he met his wife (and was a kicker on the varsity football team).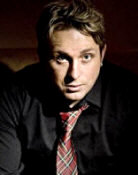 Hire Johnny Reid for your festival or concert plans.
Reid moved to Nashville, Tennessee, to make country music; he and his family reside in Nashville. He was nominated for the 2008 Juno Award for Country Recording of the Year for Kicking Stones. Reid was named Male Artist of the Year at both the 2008 and 2009 CCMA Awards. He also performed at the Canada Day celebrations on Parliament Hill on July 1, 2010, which the Queen and Prince Philip attended.
Johnny Reid has captured the hearts of fans and audiences around the world. Born and raised in Lanark, Scotland, the blue collared soul singer is widely known for his lyrical honesty and musical ability, as demonstrated by album sales totaling more than 1 million units, countless awards and multiple sold out national arena tours.
Already a chart-topping, multi-platinum selling artist in Canada, Reid's songwriting resonates with audiences across the globe. Widely known for his energetic stage performances and talent for finding the grandeur in the highs and lows of everyday life; he's an extraordinary talent, unique in his field, making him one of the most loved and celebrated artists of his time.
"From a young age, I listened to all kinds of music," Reid says. "My mother was a big fan of Stax and Detroit soul. My father was a big fan of all music as long as it told a story. I have taken the instrumentation, performance, and energy of soul and annexed that with storytelling of things that really matter in this world: family, love, and friendship."
Having released seven best-selling albums and 2 multi-platinum certified DVDs, Reid's massive success has caught the attention of famed artists such as Joe Cocker, for whom he penned the platinum-selling single "Fire It Up" and famed producer Bob Ezrin (Lou Reed, Kiss, Pink Floyd, Peter Gabriel), with whom he shares a recording partnership.
2012 marked the release of Johnny Reid's second album for EMI, Fire It Up. The title track was released on January 10 to Canadian radio and iTunes. The album features Canadian guest artists Carolyn Dawn Johnson and Serena Ryder.
His recordings are filled with classic rock riffs laced with blue-collar roots and a voice that brims with force and honesty. He's an undeniable fan favorite, writing songs that chronicle the working class hero and have a blue-collar everyman feel, filled with fervent honesty and just the right mix of both personal and universal storytelling.
Connecting with audiences of all ages, Johnny Reid thrives as a performer and songwriter sharing his stories and songs around the world with incalculable influence. He's a modern day working class hero with long standing collective appeal – one that captures the hearts of many one song at a time.
His discography includes ten studio albums and twenty-five singles. Reid has sold more than 11 million albums worldwide.
Hire Johnny Reid for your party or event!
Johnny Reid may be available for your next special event!
Book Johnny Reid, now!
For other great suggestions for booking music acts, look here.

For more suggestions, proceed to the next page.
Click here --
Country Music Roster
Or, click on one of the below links --
Music Menu
Fast Index
Entertainers Directory
Home