How To Book JORJA SMITH For Your Event!
Jorja Smith may be available for your next special event!



Hits include: "Blue Lights",
"Loose Ends", "Teenage Fantasy",
"On My Mind", "Let Me Down",
"February 3rd", "On Your Own",
"The One", "Where Did I Go",
"Don't Watch Me Cry", "Goodbyes",
"Be Honest", "By Any Means",
"Come Over", "Addicted",
"Gone", "Bussdown".
How to Hire JORJA SMITH For Your Event!
Jorja Smith is an English singer-songwriter.
Born and raised in Walsall, West Midlands, England, she has been writing songs since the age of 11. In 2012, Smith's friend uploaded her cover of Labrinth's "Earthquake" to YouTube, which led to her discovery by record producer Guy Moot. After her first two singles received broader recognition, she signed with Sony/ATV in 2016, releasing two EPs throughout 2016 and 2017.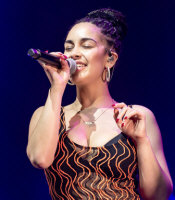 Hire Jorja Smith for a wonderful night of entertainment!
Her debut studio album, Lost & Found, was released in 2018 to critical acclaim, and peaked at number three on the UK Albums Chart. The same year, Jorja Smith won the Brit Critics' Choice Award. In 2019, she was named Best British Female Artist at the Brit Awards and was also nominated for the Grammy Award for Best New Artist. Her third EP Be Right Back, which was released in May 2021, received favorable reviews.

Jorja Smith grew up listening to reggae, punk, hip-hop, and R&B, and wrote her first song at the age of 11. She describes being "obsessed" with Amy Winehouse's 2003 debut album, Frank, as a teenager and was inspired by the singer's raw approach to songwriting.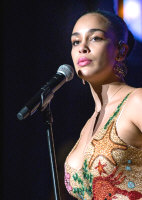 Smith said her songs are about social issues: "When things are going on in the world, I think it's important to touch on them, because as a musician, you can make people listen. As soon as people press play, you've got their attention." She cites Lauryn Hill, Adele, Amy Winehouse, Sade, Nina Simone, Alicia Keys, Mos Def and the Streets as influences. Style wise, Smith cites Rihanna as the sole fashion icon by which she is inspired.
Hire Jorja Smith for your party or event!
Jorja Smith may be available for your next special event!
Book Jorja Smith, now!
For other great suggestions for booking music acts,
look here.

For more suggestions, proceed to the next page.
Click here --
R&B Music Roster
Or, click on one of the below links --
Music Menu
Fast Index
Entertainers Directory
Home