José Montserrate Feliciano García (born September 10, 1945) is a Puerto Rican musician, singer and composer. He recorded many international hits, including his rendition of the Doors' "Light My Fire" and his self-penned Christmas song "Feliz Navidad".
Jose was born blind, to humble beginnings on September 10, 1945, in Lares, Puerto Rico. One of eleven boys, his love affair with music began at the age of three when he first accompanied his uncle on a tin cracker can. When he was five, his family immigrated to New York City. Young Jose learned to play the concertina at age six, using a handful of records as his teacher. At eight, he performed for his classmates at PS 57, and at nine, performed at The Puerto Rican Theater. Wanting to venture beyond the accordion, he taught himself to play the guitar with undaunted determination and again, with nothing but records as his teacher for as many as 14 hours a day. Exposed to the rock-n-roll of the 50's, Jose was then inspired to sing.
At 17, Jose quit school. His father was not working at the time and he needed to help his family. He played coffee houses in Greenwich Village and for his salary they passed the hat. He played his first professional engagement that same year in Detroit. Shortly thereafter, a music critic writing of his performance at Gerde's Folk City referred to him as a "10-fingered wizard who romps, runs, rolls, picks and reverberates his six strings in an incomparable fashion." And added, "If you want to witness the birth of a star, catch Mr. Feliciano before he leaves tomorrow night."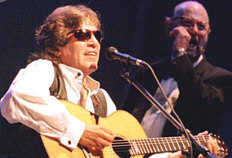 Hire Jose Feliciano for your special event!
By the time he was 23, he had won two Grammy Awards, had performed over much of the world, and had recorded songs in four languages. But Jose Feliciano was not satisfied. He had a desire to expand his career to include acting and made a number of dramatic TV appearances.
Venturing into another artistic genre, he was invited, in the early 90's, by legendary author, Ray Bradbury, to write the music to his play, "The Wonderful Ice Cream Suit." He did so with the grace of a veteran.
One of Jose's most memorable moments came the day he joined other entertainment legends in having his star permanently implanted on the Hollywood Walk of Fame. (In respect to similar accolades, Jose has also been given a star on the Walk of Fame in his native Puerto Rico alongside Jose Ferrer and Raul Julia. In addition, Jose had his hands cast for the world famous Wall of Fame in Madame Tussaud's in London, England. His 'hands' are now on display among artists such as Phil Collins, Andrew Lloyd Weber, Michael Jackson and The Backstreet Boys. The induction took place on June 23, 1998 in London.)
Jose Feliciano earned his sixth Grammy Award in 1991 and is the only performer who has won pop music awards in two language categories. On January 8, 1997, Jose's "Americano" album was nominated for a Grammy, marking his fifteenth nomination.
Jose Feliciano is one of just of few artists to have signed a multi-tiered record contract with a major label to record in both English and Spanish, as well as classical. Even the local government of New York City has honored Jose by re-naming Public School 155 in East Harlem dedicating it as The Jose Feliciano Performing Arts School.
Three songs that have been milestones for Feliciano are: 1) "Light My Fire," which was number one on the charts in 1968 and according to the song publisher, now is a "standard" due to Jose's interpretation. 2) "Che Sera," a mega-success in Europe, Asia and South America and of course, 3) "Feliz Navidad," the Christmas song that has now become a tradition worldwide during the holiday season every year.
From a historical point of view, it should be noted that Jose Feliciano was the first artist to ever stylize the National Anthem and perform it publicly. He did so during the world series on October 7, 1968, and it was the first time the anthem became a charted Top-40 recording. He opened the door for new generations of stylization; the national anthem is rarely sung in its strictly traditional form since his historic performance.
Over the years, the world has enjoyed many Feliciano songs, including: "Rain," "Chico and the Man," "California Dreamin'," "Destiny," "Affirmation," "Ay Cariño," "Ponte A Cantar," "Cuando El Amor Se Acaba," "Porque Te Tengo Que Olvidar?" and countless others.
During mid-1994, Jose Feliciano charted on Billboard with a dance-single called "Goin' Krazy" under the moniker of "JF." This was unprecedented for a classic Pop Artist such as Jose, who had never recorded or released a dance single.
The end of 1994 brought one of Jose's greatest honors – an invitation to Rome to star on "Christmas at the Vatican" and to have a private audience with Pope John Paul II.
Likewise, Jose Feliciano has been part of many historic co-billed events where he has shared the stage with other internationally renowned artists. One such event that Jose enjoyed occurred in August of 1995. Jose co-headlined with Paul Simon and James Taylor at the internationally-acclaimed 'Back To The Ranch Benefit' on Long Island for an estimated twelve thousand people. In the past, artists such as Billy Joel and Sting have been invited to perform on this show. Jose Feliciano was honored to be ranked among the caliber of past performers invited to co-headline at this unique benefit.
Throughout 1995 there were numerous TV specials in which Jose appeared. He performed in the USA and Canada, as well as England, Switzerland, Italy, Vienna, Germany, Poland, Hungary, Japan, Korea, New Zealand, Australia, The Philippines, Chile, Argentina and Brazil. Also that year, Jose had a cameo appearance in the Academy Award Winning motion picture "Fargo" in which he performed "Let's Find Each Other Tonight," a Feliciano composition. He filmed this in 1995. During the month of March 1995, he taped a TV special for PBS in which he performed with the Puerto Rican Symphony.
In 1996, the double album entitled "Present Tense" was released in Europe. It is a retrospective collection of songs that spans his 30 years in the music industry. The following year, the same recording was released in North America entitled "On Second Thought." Also in 1996, Jose was selected to receive the honor of Billboard Magazines' Lifetime Achievement Award.
In November of 1997, PolyGram released "Americano" worldwide and he, again, began to tour non-stop in support of this album. It earned for Jose Feliciano his fifteenth Grammy nomination while the single "No Me Miras Asi" reached the top 10 position in many markets and attained #1 status in New York and Miami.
PolyGram released Jose's most important recording in many years, entitled, "Señor Bolero." This album marks a return to his musical roots. Having revolutionized the sound of the bolero early in his career, he rises to a new standard with this classic and very romantic torch song, for which he has long been associated. The first single from Señor Bolero, "Me Has Echado Al Olvido," shot straight to number one in New York and is considered to be truly on its way to national and international success. In less than six weeks after the release of Señor Bolero, it had earned its first platinum status in the U.S. and Puerto Rico. Shortly thereafter, it was nominated by NARAS for Best Latin Pop Album of the year, marking Jose's sixteenth nomination.
The Christmas Season of 1998 was particularly festive as Jose Feliciano was invited to attend and perform at the 75th Annual "Pagaent of Peace" Christmas Tree Lighting Ceremony in Washington, D.C., along with artists Tony Bennett and opera great, Leona Mitchell. Afterwards, Jose and his family were invited by the President and Mrs. Clinton to attend their Christmas reception at the White House.
Jose Feliciano has recorded more than 60 albums in his impressive career. Still humble with all the successes he has had, he feels that his career is just beginning and that he has just started to share his talents with the world.