How To Book JOSS STONE For Your Event!
Joss Stone may be available for your next special event!



Hits include: "Don't Cha Wanna Ride",
"Spoiled", "Tell Me 'Bout It", "Free Me",
"Joss Stone", "Bruised But Not Broken",
"Tell Me What We're Gonna Do Now",
"Right To Be Wrong", "Somehow",
"While You're Out Looking For Sugar".
How to Hire JOSS STONE For Your Event!
Popular requests:
BOOKING FEE (booking price, booking cost).
GRAMMY AWARD winning Joscelyn Eve Stoker, known professionally as Joss Stone, is an English singer, songwriter and actress.
She rose to fame in late 2003 with her multi-platinum debut album, The Soul Sessions, which made the 2004 Mercury Prize shortlist.
Throughout her career, Joss Stone has sold more than 15 million records worldwide, establishing herself as one of the best-selling soul artists of the 2000s, and the best-selling British artists of her time. Her first three albums have sold more than 2,722,000 copies in the US, while her first two albums have sold more than 2 million copies in the UK.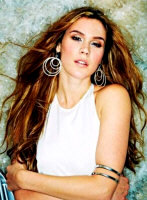 Hire Joss Stone for a company event!
Joss Stone grew up listening to a wide variety of music, including 1960s and 1970s American R&B and soul music performed by such artists as Dusty Springfield and Aretha Franklin. As a result, she developed a soulful style of singing like her idols. "My first CD that I owned was Aretha Franklin: Greatest Hits. And I saw the advert on TV and it was just like little clips of her songs. I had no idea who she was—I was only like 10 or so. I said, 'Oh yeah, that looks really good', so I wrote it down and I said to my mum, 'Can I have that for Christmas?' So, she told my friend Dennis, who always gets me good music anyway, and he got that for me. So, that was one of my first albums that I loved."
She would later tell MTV News: "I kind of clicked into soul music more than anything else because of the vocals. You've got to have good vocals to sing soul music and I always liked it ever since I was little."
Joss Stone possesses the vocal range of a mezzo-soprano and contralto. She often performs barefoot and has been described as "the white Aretha Franklin" since her debut in music industry.
Hire Joss Stone for your party or event!
Joss Stone may be available for your next special event!
Book Joss Stone, now!
For other great suggestions for booking music acts, look here.

For more suggestions, proceed to the next page.
Click here --
R&B Music Roster or Rock Music Roster
Or, click on one of the below links --
Music Menu
Fast Index
Entertainers Directory
Home